Main content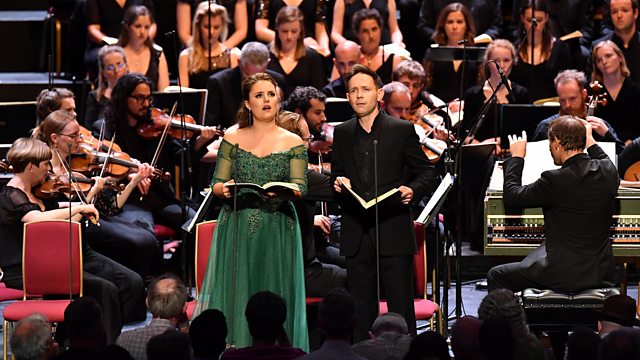 Live at BBC Proms: Handel's Theodora with Louise Alder as Theodora and Arcangelo directed by Jonathan Cohen.
Live at BBC Proms: Handel's Theodora with Louise Alder as Theodora and Arcangelo directed by Jonathan Cohen.
Live from the Royal Albert Hall, London.
Presented by Donald Macleod
Handel Theodora
Louise Alder (soprano) Theodora
Iestyn Davies (counter-tenor) Didymus
Benjamin Hulett (tenor) Septimius
Ann Hallenberg (mezzo-soprano) Irene
Tareq Nazmi (bass) Valens
Arcangelo Chorus
Arcangelo
Jonathan Cohen (conductor)
Parts 1 and 2 (beginning)
c. 20.25 Interval: Professor Suzanne Aspden and opera director John Ramster discuss Handel's Theodora, including the staging and its 18th century context. Recorded earlier at Imperial College Union. Presented by Louise Fryer.
Parts 2 (end) and 3
In a battle between love and faith, which will triumph? Following the success of last year's Israel in Egypt, the Proms continues its journey through Handel's oratorios with the composer's own favourite and one of the most powerfully dramatic works he ever produced.
An all-star cast is led by Louise Alder and Iestyn Davies as tragic lovers Theodora and Didymus. Jonathan Cohen directs his period ensemble Arcangelo.
Last on

Synopsis
Part  1
It  is  the  birthday  of  the  Emperor  Diocletian,  and  in  the  occupied  region  of  Antioch  (near  the  modern-day  border  between  Turkey  and  Syria)  the  Roman  governor  Valens  commands  that  all  subjects  must  give  praise  to  the  pagan gods  or  face  death.  Didymus,  a  young  Roman  officer,  asks that  dispensation  be  granted  to  those  who,  while  loyal to  Rome,  do  not  worship  the  same  gods.  Valens  refuses.  Didymus  asks  his  superior  officer,  Septimius,  for  help. Septimius  sympathises,  but  the  law  is  the  law.
Meanwhile  the  Christian  community  have  gathered  to pray.  Theodora,  a  princess  of  the  royal  house  of  Antioch, renounces  worldly pleasures,  thus  inspiring  her  friend  Irene. A messenger rushes in with  news  of  Valens's  decree:  the Christians  choose  not  to  flee  but  to  trust  instead  in  God.  Septimius,  arriving  to  enforce  the  order,  is  scornful,  and  when Theodora  defies  him  he  reluctantly  arrests  her,  warning  her that  she  will  be  condemned  to  prostitution.  As  she  is  led  away she  prays  for  death.  Didymus,  who  is  in  love  with  Theodora, now  enters  and,  hearing  of  her  fate,  vows  to  rescue  her  or  die in  the  attempt. 
Part 2
In  the  Temple  of  Venus  the  Romans  are  singing  the  praises of  Flora  and  Venus,  the  goddesses  of  love  and  beauty.  Valens commands  Septimius  to  go  to  Theodora  and  see  if  she  will submit,  before  continuing  with  his  careless  revelries.
Theodora  is  in  prison.  She  wrestles  with  thoughts  of  death  but rallies  when  she  envisions  the  joy  that  awaits  her  in  heaven.
Didymus reveals  to  Septimius  that  he  himself  is  a  Christian. He  asks  Septimius  to  help  him  gain  access  to  Theodora's  cell, and  Septimius,  already  uneasy  about  Theodora's  arrest,  agrees. Didymus,  his  face  covered,  enters  Theodora's  cell,  where  he finds  her  asleep.  Theodora  wakes  with  a  start,  but  is  relieved to  find  that  it  is  Didymus,  who  urges  her  to  change  clothes with  him  so  that  she  can  escape.  She  asks  rather  that  Didymus kill  her  so  that  she  can  die  with  her  virginity  intact,  but  he eventually  persuades  to  her  to  follow  his  plan,  and  the  two bid  each  other  an  emotional  farewell.
Irene  and  the  Christians  keep  vigil,  recalling  the  triumph  over death  represented  by  the  story  of  how  Jesus  brought  back  to life  the  son  of  the  Widow  of  Nain.
Part 3
Irene  sees  a  figure  approach  whom  she  assumes  to  be  Didymus, but  who  is  revealed  to  be  Theodora  in  disguise.  The  Christians pray  for  Didymus's  safety,  but  a  messenger  now  brings  news  that  he  is  to  be  put  to  death, along  with  Theodora  should she  be  recaptured.  Theodora  decides  to  give  herself  up  for Didymus's  sake.
Valens  questions  Didymus,  dismissing  his  explanations  and demanding  repentance  or  death.  Theodora  enters  and  offers herself  instead.  Theodora  and  Didymus  continue  to  argue about  who  should  die  for  the  other –  to  the  wonderment  of the  watching  Romans –  until  Valens  briskly  declares  that  both will  suffer.  Didymus  reassures  the  sorrowful  Septimius  that heaven  awaits  them,  before  joining  Theodora  in  death.  The  remaining  Christians  pray  that  their  faith  may  be  no  less  strong.
Synopsis  ©  Lindsay  Kemp
Broadcast

Featured in...
We broadcast more live and specially-recorded concerts and opera than any other station.