Main content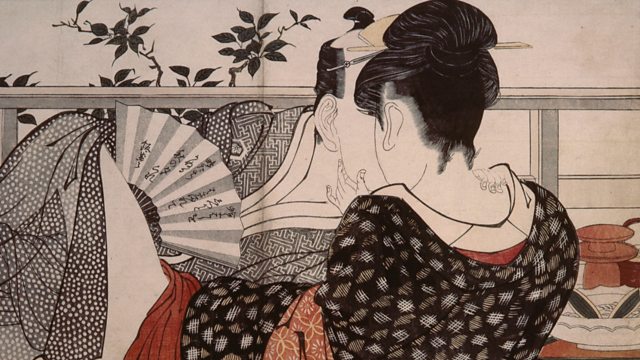 Pictures of the Floating World
With readings by Alice St Clair and Peter Marinker, this programme moves from snapshots and haikus inspired by C17th Japan via Kyoto water chimes to the Antarctic and the Chilterns
With readings by Alice St Clair and Peter Marinker, this programme moves from Japanese haikus to the Antarctic and ballooning in the Chiltern hills.
Pictures of the floating world have a way of lodging in our minds. Whether we realise that they've actually fluttered there all the way from 17th century Japan or not. Just think for a moment – a huge, spume-topped wave curling and about to crash; a symmetrical snow-capped peak; ornamental cherry blossom against an equally ornamental moon; black- haired courtesans in silky sleeves stooping to serve tea or sake to their customers; threads of rain stitched onto a landscape; or maybe just lovers locked in a close embrace. These are just some of the images we associate with Edo – or Tokyo as we now call it – a place where peace has reigned for more than two hundred years and where however hierarchical the society the common goal is pleasure. It's somewhere that bears more than a passing resemblance to our own world and this evening's Words and Music takes this as a starting point. Almost immediately we're in the "pleasure district" - the realm of sex and fashion and the heart of any floating world with a simple invitation to follow our heart's desire. Side by side with this urgent hedonism though there's the kind of quiet contemplation that gave rise to the haiku – each a kind of snapshot but also a spell, like the one cast by the Kyoto water chime that you'll hear near the beginning of the programme. Before long the emphasis shifts and the idea of floating takes over and we drift from century to century. This is not without jeopardy as falling is one aspect of floating.
The actors, Alice St Clair and Peter Marinker take us on a trip from Basho and Saikaku, via Pope and Coleridge to Ian McEwan, Jenny Diski and James Hamilton-Paterson. Mendelssohn, Django Reinhardt, Takemitsu and Ravel amongst others keep us sonically buoyant - all you'll need are your ears, a mind prepared for weightlessness and maybe some metaphorical water wings!
Producer: Zahid Warley
Music Played
Timings (where shown) are from the start of the programme in hours and minutes
Asai Ryoi, translated by Daniel Lewis Barber, Ohio State

From Tales of the Floating World, read by Peter Marinker

Fukuda Chiyo-ni, translated by Patricia Donegan and Yoshi Ishibashi

Morning Glory, read by Alice St Clair

Matsuo Basho, translated by Lucien Stryk

Muddy Sake, read by Peter Marinker

Fukuda Chiyo-ni, translated by Patricia Donegan and Yoshi Ishibashi

A single spider's thread, read by Alice St Clair

Matsuo Basho, translated by Lucien Stryk

In the garden, read by Peter Marinker

Fukuda Chiyo-ni, translated by Patricia Donegan and Yoshi Ishibashi

On the road, read by Alice St Clair

Matsuo Basho, translated by Lucien Stryk

Town Merchants, read by Peter Marinker

Fukuda Chiyo-ni, translated by Patricia Donegan and Yoshi Ishibashi

Sound of things, read by Alice St Clair

Unknown (text appears on a fan in a print by Utamaro)

Its beak caught firmly, read by Peter Marinker

D.H. Lawrence

From Chapter XX, Women in Love, read by Alice St Clair

Alexander Pope

From The Rape of the Lock, read by Alice St Clair

Ihara Saikaku, translated by Ivan Morris

From The Life of an Amorous Woman, read by Peter Marinker

Ian McEwan

From Enduring Love, read by Alice St Clair

Katharine Towers

The Floating Man, read by Peter Marinker

Samuel Taylor Coleridge

From The Rime of the Ancient Mariner, read by Alice St Clair and Peter Marinker

Seamus Heaney

A Kite for Aibhin, read by Peter Marinker

Jenny Diski

From Skating to Antarctica, read by Alice St Clair

Marianne Moore

A Jelly-Fish, read by Alice St clair

James Hamilton- Paterson

From Seven Tenths, read by Peter Marinker