Main content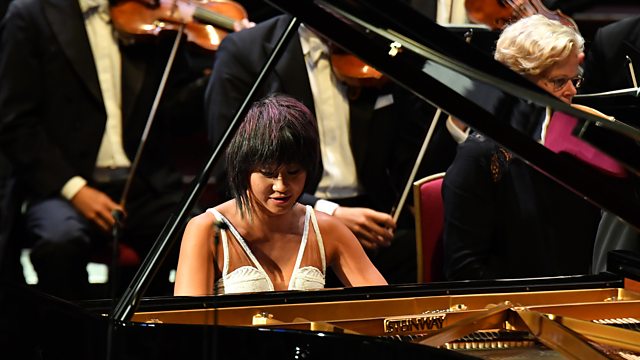 Prom 66: Berlin Philharmonic, Kirill Petrenko, Yuja Wang perform Dukas, Schmidt and Prokofiev
Live at BBC Proms: Berlin Philharmonic conducted by Kirill Petrenko in ballet music by Dukas and Franz Schmidt's Symphony no 4, plus Prokofiev's Piano Concerto No 3 with Yuja Wang
Live at BBC Proms: Berlin Philharmonic conducted by Kirill Petrenko in ballet music by Dukas and Franz Schmidt's Symphony no 4, plus Prokofiev's Piano Concerto No 3 with Yuja Wang as soloist.
Live from the Royal Albert Hall, London.
Presented by Martin Handley.
Dukas: La Péri – Fanfare and Poème dansé
Prokofiev: Piano Concerto No 3 in C major
8.20pm
Interval: Proms Plus Talk: Musicologist and broadcaster Erik Levi introduces Schmidt's Symphony No. 4.
8.45pm
Franz Schmidt: Symphony No 4 in C major
Yuja Wang (piano)
Berliner Philharmonic
Conductor Kirill Petrenko
A landmark concert sees the Berlin Philharmonic perform for the first time in London under its new Chief Conductor Designate, Kirill Petrenko. 'In this work Mahler's spirit is resurrected,' said a colleague of Franz Schmidt's Fourth Symphony, a piece whose Romantic character is charged with the grief of personal loss. Dynamic pianist Yuja Wang is the soloist in Prokofiev's Third Piano Concerto, with its explosive closing battle of wills between soloist and orchestra. The concert opens with Dukas's exotic, Impressionistic ballet score La péri, prefaced by the arresting curtain-raising fanfare the composer later added.
Clips