Main content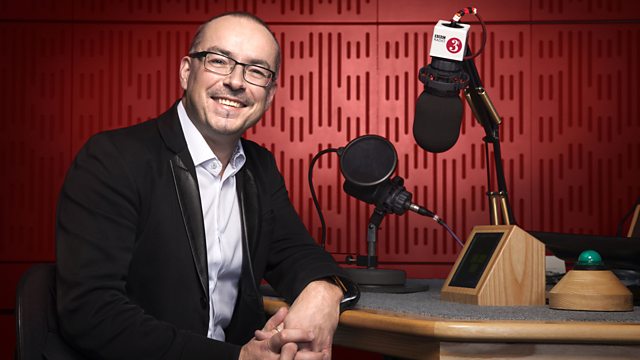 Andrew McGregor with Simon Heighes and Ariane Todes
Simon Heighes chooses five indispensable recordings of works by featured Proms composer Handel and explains why they need to be heard. Plus this week's outstanding new releases.
Proms Composer: Handel
Each Saturday during Summer Record Review, one of the programme's stalwart chooses five indispensable recordings of a great composer featured in the Proms. Today, Simon Heighes plays his top five Handel discs and tells us why you need to hear them.
11.00
Ariane Todes compares 2 CD boxes of recordings made by some of the most legendary of violinists: a 15-CD set of Joseph Szigeti and a 10-CD set of Max Rostal, both for Milestones of a Violin Legend.
11.45
Proms Recording:
Each week during Summer Record Review, we select a major work from the Proms and play you the current Building a Library recommendation. Today, it's an extract from Mendelssohn's A Midsummer Night's Dream performed by Kathleen Battle and Frederica von Stade as first and second fairies and Dame Judi Dench as the narrator with the Tanglewood Festival Chorus and Boston Symphony Orchestra conducted by Seiji Ozawa.
Last on

Summer Record Review
9.00am
Brahms: Ein deutsches Requiem (chamber ensemble orchestration by Iain Farrington)
Yale Schola Cantorum
David Hill
Hyperion CDA68242
https://www.hyperion-records.co.uk/dc.asp?dc=D_CDA68242
Stenhammar: Sangen
Charlotta Larsson (soprano)
Martina Dike (alto)
Lars Cleveman (tenor)
Fredrik Zetterström (baritone)
Children's Choir of Norrköpings musikklasser
Gothenburg Symphony Chorus
Gothenburg Symphony Orchestra
Neeme Järvi
BIS BIS2359 SACD (Hybrid SACD)
http://bis.se/conductors/jarvi-neeme/stenhammar-sangen-symphonic-cantata-1
Louis Couperin: Suites for Harpsichord
Christophe Rousset (harpsichord Ioannes Couchet du Musée des Instruments)
Harmonia Mundi HMM902501.02 (2 CDs)
https://www.mdt.co.uk/couperin-suites-for-harpsichord-christophe-rousset-harmonia-mundi-2cds.html
Janáček: Glagolitic Mass, Sinfonietta, Taras Bulba and The Fiddler's Child
Czech Philharmonic
Jiří Bělohlávek
Decca 4834080 (2 CDs)
9.30am – Proms Composer: Simon Heighes on Handel
Handel: Carmelite Vespers (1707)
Taverner Choir and Players
Andrew Parrott
Erato 5615792 (2CDs)
http://www.warnerclassics.com/shop/400070,0724356157927/parrott-andrew-handel-carmelite-vespers
Handel: Athalia
Emma Kirkby (soprano)
Joan Sutherland (soprano)
Aled Jones (treble)
David Thomas (bass)
Anthony Rolfe Johnson (tenor)
James Bowman (counter-tenor)
The Academy of Ancient Music
Choir of New College, Oxford
Christopher Hogwood
Decca 4832049 (2 CDs)
http://www.hogwood.org/recordings/index.html?composer_id=4&group_id=1
Handel: Concerti grossi Op. 6 Nos. 1-12 HWV319-330
Academy of Ancient Music
Andrew Manze
Harmonia Mundi HMG50722829 (2 CDs)
http://www.harmoniamundi.com/#!/albums/246
Handel: Alcina
Arleen Augér (soprano)
Eiddwen Harrhy (soprano)
Patrizia Kwella (soprano)
Della Jones (mezzo-soprano)
Kathleen Kuhlmann (mezzo-soprano)
Maldwyn Davies (tenor)      
John Tomlinson (bass)
Opera Stage Chorus & City of London Baroque Sinfonia
Richard Hickox
Warner Classics 0880212 (3CDs)
Handel: Concerti a Due Cori
Freiburger Barockorchester
Petra Müllejans
Gottfried von der Goltz
Harmonia Mundi HMM905272
http://www.harmoniamundi.com/#!/albums/2318
10.20am – New Releases
Debussy: Preludes; Satie: Gymnopedies, Gnossiennes
Fazil Say (piano)
Warner Classics 9029570567
http://www.warnerclassics.com/shop/380578,0190295705671/fazil-say-debussy-preludes-satie-gymnopedies-gnossiennes
American Concertos
Bernstein: Serenade for Violin, Strings, Harp and Percussion (after Plato's "Symposium", 1954), Symphonic Dances from West Side Story, Korngold: Concerto D major op. 35 for Violin and Orchestra, Rózsa: Concerto op. 24 for Violin and Orchestra
Baiba Skride (violin)
Gothenburg Symphony Orchestra
Tampere Philharmonic Orchestra
Santtu-Matias Rouvali
Orfeo C932182A (2 CDs)
https://www.orfeo-international.de/pages/cd_c932182i_e.html
September Songs
Includes Bernstein's Some Other Time, Cole Porter's Just One of Those Things, Gershwin's Someone to Watch over Me
Thomas Allen (baritone)
Lucy Crowe (soprano)
Stephen Higgins (piano)
Champs Hill Records CHRCD144
https://www.champshillrecords.co.uk/cddetail.php?cat_number=CHRCD144
10.55 - Reissues: Ariane Todes on great violinists
Max Rostal - Milestones Of A Violin Legend
Max Rostal (violin)
Documents 600473 (10 CDs)
Joseph Szigeti - Milestones Of A Violin Legend
Joseph Szigeti (violin)
Documents 600465 (10 CDs)
11.45am – BAL Proms Choice Mendelssohn's Incidental Music to A Midsummer Night's Dream as chosen by Richard Morrison on 25th June 2005
Mendelssohn: A Midsummer Night's Dream - incidental music, Op. 61
Kathleen Battle (soprano)
Frederica von Stade (mezzo-soprano)
Judi Dench (narrator)
Tanglewood Festival Chorus
Boston Symphony Orchestra
Seiji Ozawa                          
DG 4398972
Broadcast