Main content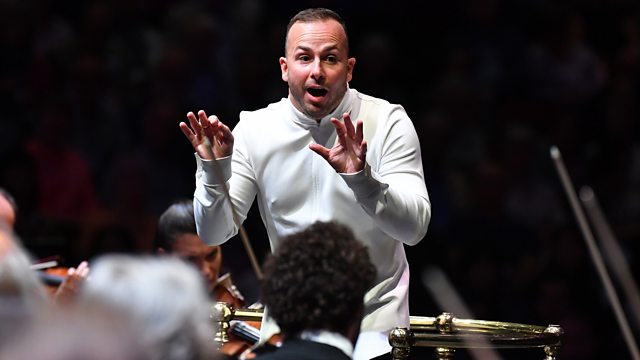 Live at the BBC Proms: Yannick Nezet-Seguin & Rotterdam Philharmonic are joined by pianist Yefim Bronfman for Liszt's Second Piano concerto, followed by Bruckner's Fourth Symphony
Live at BBC Proms: Yannick Nézet-Séguin & Rotterdam Philharmonic are joined by pianist Yefim Bronfman for Liszt's Second Piano concerto, followed by Bruckner's Fourth Symphony.
Live from the Royal Albert Hall, London
Presented by Penny Gore
Liszt: Piano Concerto No. 2 in A major
c.7.55pm
Interval: Proms Plus: Sebastian Faulks, OBE, author of best-selling novels including Charlotte Grey and Birdsong, comes to the Proms to talk about his new novel Paris Echo. It tells the story of Hannah, a 31-year-old American, who is researching the lives of French women during the German occupation of Paris in 1940-1944. Set against this is the tale of Tariq, a 19-year-old boy who has run away from his home in Morocco, searching for sex and adventure. Does history and a greater cultural awareness help us lead better lives? Presented by Anne McElvoy
c.8.15pm
Bruckner: Symphony No 4 in E flat major 'Romantic'
Yefim Bronfman, piano
Rotterdam Philharmonic Orchestra
Yannick Nézet‐Séguin, conductor
The Rotterdam Philharmonic Orchestra celebrates its 100th anniversary with its first visit to the Proms in five years, under the baton of Chief Conductor Yannick Nézet-Séguin. Subtitled the 'Romantic' by the composer, Bruckner's Fourth Symphony draws deeply on the German Romantic tradition of Weber and Wagner for its colourful musical drama. Yefim Bronfman is the soloist in Liszt's Second Piano Concerto, a work originally conceived as a 'concerto symphonique', which offers a fascinating reimagining of the traditional relationship between soloist and orchestra.
Featured in...
We broadcast more live and specially-recorded concerts and opera than any other station.