Main content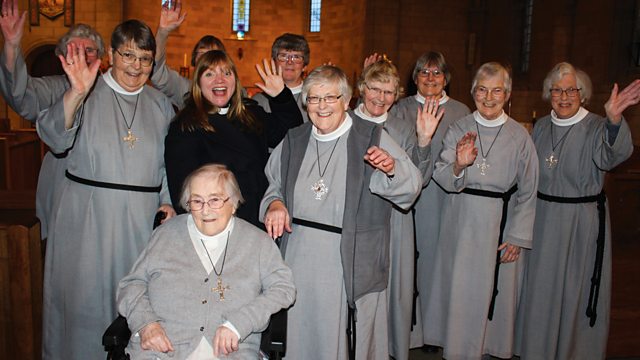 Whitby
The Rev Kate Bottley visits Whitby, North Yorkshire, to discover how Quaker values impacted Captain James Cook's life, and how the life of St Hilda of Whitby influenced the town.
The Rev Kate Bottley pays a half-term visit to Whitby in North Yorkshire to discover how Quaker values impacted the life of explorer Captain James Cook, and how the life of St Hilda of Whitby influenced the town. Josie d'Arby visits a Christian-run project in Newcastle which makes lunches during the half-term holiday for children who normally have free school meals. On board a replica of Captain Cook's boat Endeavour, author Vanessa Collingridge explains how Cook conducted himself with honesty and integrity influenced by the Quakers of Whitby. Most of our hymns are from churches across northern England, including One More Step, King of Kings Majesty, Mighty to Save, Oceans, and He Who Would Valiant Be.
Music:
One More Step Along the World I Go from Albert Hall, Nottingham
He Who Would Valiant Be from Christ Church, Birkenhead
King of Kings, Majesty from Kendal Parish Church
The Lord Is My Shepherd from Our Lady's Church, York, performed by Ischia Gooder and Raphael Bellamy Plaice
Mighty to Save (Everybody Needs Compassion) from Sale Salvation Army
Oceans from St Aidan's Church, Leeds performed by Jessica Clemmons
The Old Rugged Cross from the Church of St Thomas the Martyr, Newcastle upon Tyne with Philippa Hanna
Stories
Captain Cook's early career
Captain Cook expert and author Dr Vanessa Collingridge shows Kate the house where Cook lived when he learned his trade as an apprentice, and how he would have been strongly influenced by the Quakers of Whitby who had formed in the 17th Century.  Quaker values of simplicity and attention to detail would stay with Cook throughout his life as an explorer.

Saint Hilda of Whitby
Kate visits St Hilda's Priory, named after the town's patron saint. In the 7th Century Hilda convened the Synod of Whitby which brought about unity for English Christianity. At the priory the community of nuns, many of whom once worked in war-torn parts of Africa,  are still inspired by Hilda today as they look towards a big move into a new purpose-built centre.

Half term lunch club
Josie d'Arby visits the West End area of Newcastle where children who normally receive free school meals are given lunches during half term. Margaret Robson who runs the Make Lunch club explains how she was inspired to serve local families because of her own experience of growing up in poverty. The Make Lunch clubs are funded through national Christian charity TLG.

Captain Cook at sea
On a replica of Captain Cook's boat Endeavour, author Dr Vanessa Collingridge explains to Kate how Cook's integrity had a powerful influence on his sailors.  His personal values, inspired by Quakerism, led to a strong sense of religious observance on board during his voyages across the Pacific Ocean to regions such as Australia, New Zealand and Antarctica.
Credits
| Role | Contributor |
| --- | --- |
| Presenter | Kate Bottley |
| Presenter | Josie D'Arby |
| Producer | Mark Warburton |
| Series Producer | Matthew Napier |
| Executive Producer | Cat Lewis |
| Executive Producer | Emyr Afan |
| Production Company | Avanti Media |