Main content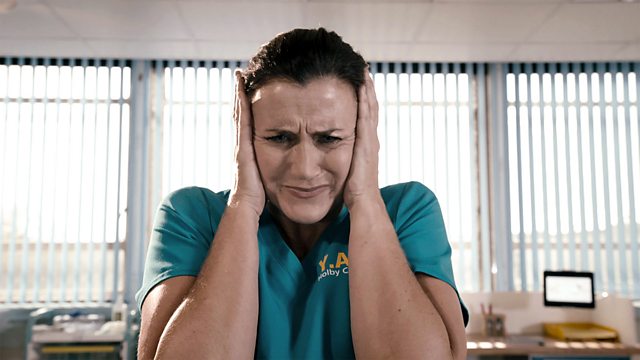 As Holly's condition weighs on Ange, a heartbreaking decision divides Holly's family. A smitten Cameron sets out to impress new locum Chloe.
While Holly's condition weighs heavily on an emotionally invested Ange, Holly's distraught parents must put their differences aside to make a heartbreaking decision, but are they prepared for what lies ahead?
When new locum Chloe covers on Darwin, a smitten Cameron sets out to impress, but with a tricky patient keeping him on his toes will Cameron step up to the plate?
There's no love lost between Xavier and Carole, so when a disgruntled Xavier is tasked with treating spiritual Carole, it's clear she's not the only one in pain.
Credits
| Role | Contributor |
| --- | --- |
| Ange Godard | Dawn Steele |
| Chloe Godard | Amy Lennox |
| Nicky McKendrick | Belinda Owusu |
| Cameron Dunn | Nic Jackman |
| Essie Di Lucca | Kaye Wragg |
| Xavier 'Zav' Duval | Marcus Griffiths |
| Henrik Hanssen | Guy Henry |
| Serena Campbell | Catherine Russell |
| Dominic Copeland | David Ames |
| Adrian 'Fletch' Fletcher | Alex Walkinshaw |
| Carole Copeland | Julia Deakin |
| Holly Cartwright | Emma Curtis |
| Ruth Cooper | Marianne Oldham |
| Mr Burman-Roy | Amerjit Deu |
| Michael Cartwright | Christopher Harper |
| Andy Gray | Tom Durant-Pritchard |
| Writer | Ed Sellek |
| Producer | Vikki Tennant |
| Producer | Ailsa Macaulay |
| Director | Ruth Carney |