Main content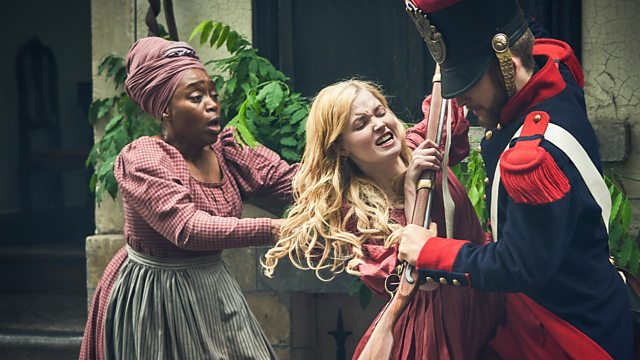 Classic drama. The revolutionaries fight on. Jean Valjean is conflicted over Marius and Cosette's love and seeks Marius at the barricade. Javert confronts Valjean.
The revolutionaries and the army prepare for the next assault. The fighting becomes more bloody and desperate. Jean Valjean arrives at the barricade to find Marius, conflicted over his feelings about the man who promises to take Cosette from him. Valjean's heroic efforts to keep the soldiers back are applauded by his new comrades. Meeting each other again, the captured Javert is left baffled and infuriated by Valjean's behaviour towards him.
The battle at the barricade reaches a tragic and bloody end. Valjean escapes through the sewers with the badly wounded Marius over his shoulder. Javert does not give up the hunt.
Valjean's selfless actions shatter Javert's world view, sending him into a personal turmoil from which he never recovers.
Believing he is doing the best for his adoptive daughter, Jean Valjean makes a heartbreaking decision, but underestimates the depth of the love of those closest to him.
More episodes
Next
You are at the last episode
Credits
| Role | Contributor |
| --- | --- |
| Jean Valjean | Dominic West |
| Javert | David Oyelowo |
| Thenardier | Adeel Akhtar |
| Gillenormand | David Bradley |
| Marius | Josh O'Connor |
| Cosette | Ellie Bamber |
| Eponine | Erin Kellyman |
| Enjolras | Joseph Quinn |
| Grantaire | Turlough Convery |
| Courfeyrac | Archie Madekwe |
| Rivette | Enzo Cilenti |
| Gavroche | Reece Yates |
| Nicolette | Emma Fielding |
| Despiat | Daniel Tuite |
| Toussaint | Angela Wynter |
| Daniel | Mwanza Goutier |
| Matelote | Leah Harvey |
| Older Boy | Tommy Finnegan |
| Younger Boy | Ollie Harnett |
| Grizzled Army Officer | Victor Gardener |
| Writer | Andrew Davies |
| Producer | Chris Carey |
| Director | Tom Shankland |
| Executive Producer | Faith Penhale |
| Executive Producer | Bethan Jones |
| Executive Producer | Andrew Davies |
| Executive Producer | David Oyelowo |
| Executive Producer | Dominic West |
| Executive Producer | Rebecca Eaton |
| Executive Producer | Eurydice Gysel |
| Author | Victor Hugo |
| Composer | John Murphy |
| Director of photography | Stephan Pehrsson |
| On-line editing | Paulo Pandolpho |
| Casting | Robert Sterne |
| Production Designer | Richard Bullock |
| Costume designer | Marianne Agertoft |
| Make-up Designer | Jacqueline Fowler |
| Line Producer | Diana Barton |
| Production Company | BBC Studios |
| Production Company | Lookout Point Limited |
| Production Company | Czar TV |