Main content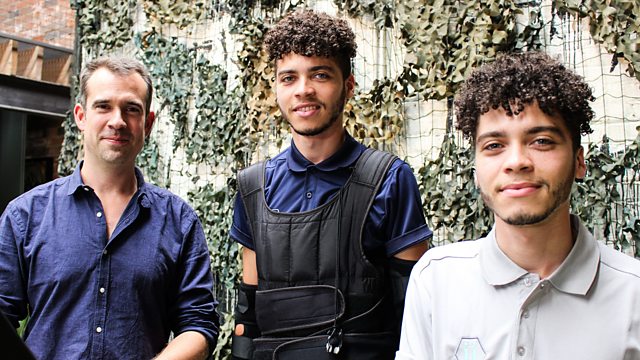 Identical twins put health theories to the test. Twins test the best way to kick a habit, see if hand-washing keeps you healthy and try to improve concentration.
In this episode, identical twins explore two regimes for quitting smoking. Chris and Xand meet Gareth and Mason, 23-year-olds from London. They are '10-a-day' smokers and have been for so long that their lungs actually resemble those of a 40-year-old. They need to quit!. Chris has arranged for Mason to spend a month undertaking an intensive course in Cognitive Behavioural Therapy. CBT is a technique pioneered in the 60s to help patients understand what is known as 'automatic thoughts'. In Mason's case - these thoughts fuel his desire to smoke. By enabling him to understand those thoughts, he and his therapist can build a mental tool kit that might allow him to change his behaviour and quit the nicotine. CBT does have a proven track record when it comes to quitting cigarettes, but will it work for Mason? Meanwhile Xand is introducing Gareth to acupuncture. Unlike CBT, there is plenty of controversy in the medical world with many physicians doubting its efficacy. As a smoking treatment, it's no longer available on the NHS. Yet there is evidence that shows it does work for some people. Xand explains that this could be down to the placebo effect - so Gareth will be testing this out. The twins will spend a month following their regimes yet their biggest challenge is their lifestyle. Gareth and Mason like to party and there's a huge correlation between alcohol consumption and willpower reduction.
Next it's a focus on hand hygiene. In recent years, there's been a growing trend to replace traditional soap and water with alcohol gels. If you're a surgeon or a chef, alco-gels are the right thing to use but research suggests the rest of us should stick with soap and water. Half of our twins spend four days washing their hands with soap, while the other half use alcogels. The bacteria from their hands is taken to the lab and bacterial colonies allowed to grow. Which regime will win out?
Finally Chris and Xand look at concentration by putting two anti-distracting regimes head-to-head. Chris is going with classical music. Recently scientists have looked at whether or not classical music can improve our focus, memory and concentration. Meanwhile Xand is using chewing gum and how it could potentially boost your brain. The guys go head-to-head at the fairground to complete an array of tests designed to test their focus, with surprising results.
Last on

Music Played
Timings (where shown) are from the start of the programme in hours and minutes
Credits
| Role | Contributor |
| --- | --- |
| Presenter | Chris van Tulleken |
| Presenter | Xand van Tulleken |
| Director | Andy Hall |
| Series Producer | Helga Berry |
| Series Editor | Dan Tapster |
| Production Company | Wall to Wall Media |
| Executive Producer | Leanne Klein |
| Executive Producer | Emily Shields |
| Expert | Lisa Cross |
| Expert | Jack Lewis |