Main content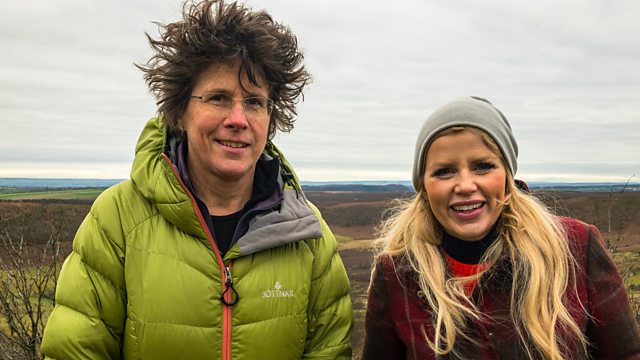 North Yorkshire
Turner Prize-winning artist Rachel Whiteread shows us her sculpture, commissioned to mark the Forestry Commission's centenary.
Matt Baker explores Dalby Forest as the Forestry Commission marks its centenary, and Turner Prize-winning artist Rachel Whiteread shows us her sculpture, commissioned to mark the anniversary.
Ellie Harrison captures the winter beauty of this county's diverse landscape. John Craven meets the wood carver known as Stick Man.
We go dolphin spotting with Paralympian Hannah Cockroft and Adam Henson is meeting the ex-England rugby player who has traded in world cups for prize-winning cattle. Tom is on the trail of the dog thieves targeting the countryside.
Music Played
Timings (where shown) are from the start of the programme in hours and minutes
Dalby Forest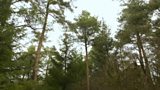 Matt visits Dalby Forest, one of the first forests established by the Forestry Commission. 
He meets Alan Eves, the Forest Director for Yorkshire, to hear more about the history of Dalby.
And he learns how the approach of the Forestry Commission has changed radically over the past hundred years. 
Matt gets involved in planting a new stand of trees for the future and discovers that about 40,000 trees are still planted here every year by hand.
Winter Landscapes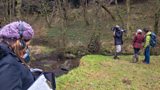 On a crisp winter morning before dawn, Ellie meets up with award-winning photographer Lizzie Shepherd in Whitby to enjoy a masterclass in landscape photography. 
As the sun starts to come up, they have to work fast to capture that perfect shot of the pier.
Then it's time to move on to a very different landscape: the dramatic North York Moors.
Here, Ellie and Lizzie are joined by a local group of amateur photographers who are also keen to learn some top tips. Finally, they head off to capture one final shot in Dalby Forest.      
Dog Theft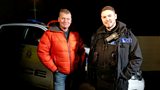 Tom investigates the rise in dog theft and discovers how the gangs targeting the countryside are becoming more organised and sophisticated.He meets dog-owners like Bibby Curtis, whose beloved spring spaniel Amo was stolen from a game fair last year.It's the valuable and highly-trained working dogs and gundogs that the thieves have in their sights - and Tom sees how they are even using hi-tech devices like trackers to stalk their prey.And he sees inside a "dog dungeon" on a derelict farm that was used by thieves to hide stolen pets before trying to sell them online.
Rachel Whiteread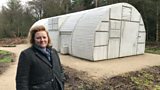 Rachel Whiteread is an internationally-renowned contemporary artist who won the Turner Prize in 1993 for her sculpture 'House' - a concrete cast of the interior of an entire terraced house. 
Now, Rachel has created a sculpture for Dalby Forest to mark the Forestry Commission's centenary. 
A cast of the inside of an original Nissen Hut, the sculpture recognises and honours the importance of these functional buildings in the Commission's history.
These huts were used to house the workers who created so many of the new forests after the war.
Hannah Cockroft - Dolphin Spotter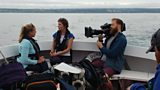 Paralympian athlete Hannah Cockroft heads to Cardigan Bay in west Wales to join Katrin Lohrengel - the monitoring officer for the Sea Watch Foundation - as she sets out to sea to survey bottle nosed dolphins. 
The Cardigan Bay pod is one of just two semi-resident populations of bottle nosed dolphins in the UK.
Once they're spotted from the boat, Hannah has a go at taking photos of them as they leap out of the water. 
Photos like these are used by Katrin to identify the individual dolphins by the markings on their dorsal fins. 
Rugby Star Farmer
Adam visits a 460-acre farm straddling the border of Leicestershire and Northamptonshire, which is home to one of his sporting heroes: former England rugby star Julian White.
Julian was one of the  all-conquering  England World Cup winning squad of 2003.
During his illustrious - trophy-laden career - Julian won just about everything going for club and country.
But the silverware Adam sees today aren't to do with rugby but Julian's other passion: his prize-winning South-Devon cattle.
Stick Man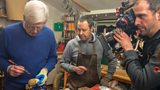 John visits Duncombe Park to meet Keith Pickering, also known as the Stick Man. 
For the past 30 years, Keith has made his living crafting walking sticks, many of which have beautifully-carved handles resembling British animals and birds. 
John helps cut lengths of hazel from the local woodland, a job that happens in the winter when the trees aren't in leaf. 
Then it's back to Keith's workshop where John learns how the seasoned lengths of hazel are straightened and how blocks of wood are carved to produce these bespoke handles.
Monumental Maze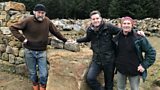 Matt meets Mark Ellis, the designer and builder of another project underway at Dalby Forest to celebrate the Commission's centenary.
This is a monumental dry stone wall maze - and it will be the biggest in the world when completed.
Matt finds out more about the maze and how the team behind it are also letting visitors make their own mark on the work by inscribing initials into some of the stones.
So, after meeting expert stone carver Peter Maris, Matt gets to work with inscribing Countryfile's initials on this monumental maze.
Credits
| Role | Contributor |
| --- | --- |
| Presenter | Matt Baker |
| Presenter | Ellie Harrison |
| Presenter | John Craven |
| Presenter | Adam Henson |
| Presenter | Hannah Cockcroft |
| Presenter | Tom Heap |
| Executive Producer | Bill Lyons |
| Series Producer | Becky Pratt |