Main content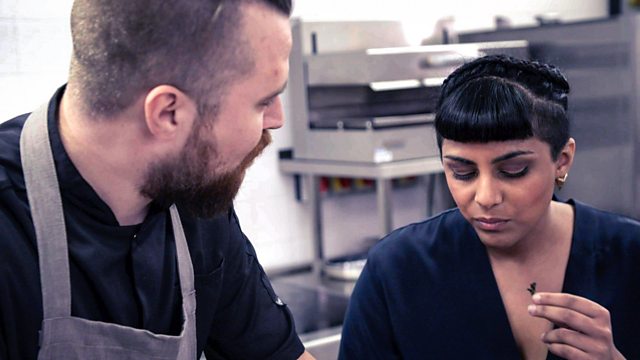 New International
Three new restaurant ideas battle for a life-changing investment - a Nordic concept, a New-Spanish supper club and a Quebec diner.
Amongst those pitching are married couple Jonas Lorentzen, 34, and Naina Gupta, 32, who want to bring Michelin-style Nordic cuisine to the UK. With MATR they host pop-ups throughout the year serving dishes such as carrot sauteed for 1.5 hours in aromatic flowers and Viking-style herbal buttermilk, with fresh cheese, grilled salsify and smoked bacon. Their vision is centred around a Viking dining hall, or Hof, which they intend to build from scratch and they are after £970,000 to do it.
Going up against them are three industry friends, Jamie Duffield, 32, Dave Bone, 36, and Anthony Power, 46, whose restaurant idea is inspired by the Camino de Santiago pilgrimage through Portugal and Spain. Jamie walked part of the pilgrimage and came up with the idea of new Spanish cuisine based around the regional food and produce of Castile y Leon. Having run two successful pop-ups, the trio have given up their full-time jobs in a bid to get Pilgrim off the ground, with signature dishes such as salt-baked king scallop, mushroom and sherry consommé, trompettes and samphire served with a glass of Xeco Fino sherry. Pilgrim is seeking £400,000 to open as a new Spanish restaurant and bar.
Finally, a French-Canadian diner, specialising in poutine - crispy skin-on fries, Quebec-style cheese curds and a rich veal or mushroom gravy. Married couple Graham Gartside Bernier, 40, and Vincent Bernier, 40, are seeking £200,000 for The Blue Caribou Canteen. They came up with the idea after frequent travels to Quebec, where poutine is widely available, and where Vincent grew up. The Blue Caribou Canteen has traded for two years, mainly at markets in Liverpool and Manchester. Now the couple want to take this French-Canadian speciality to the high street and compete in the popular lunchtime market against dishes like burritos.
Each of the three ideas pitches to a panel of four investors, all keen to back the next hit international cuisine on the high street - Jamie Barber, Atul Kochhar, Matt Farrell and Darrel Connell.
Credits
| Role | Contributor |
| --- | --- |
| Presenter | Fred Sirieix |
| On-line editing | Nick King |
| Colourist | Nick Adams |
| Sound Mixer | Liam Milner |
| Graphic Designer | Dan Hoare |
| Camera Assistant | Tom Askew |
| Camera Assistant | Rhys Plume |
| Camera Assistant | Dan Henderson |
| Camera Operator | John Ryan |
| Camera Operator | Arron Bowen |
| Camera Operator | Chris Stephens |
| Director of photography | Jon Kassell |
| Director of photography | Tristam Cones |
| Director of photography | Olly Wiggins |
| Sound | Glen Gooden |
| Sound | Fabio Santucci |
| Sound | Monica Gonzalez |
| Sound | Doug Martin |
| Sound Supervisor | Sam Mathewson |
| Lighting | Toby Phillpott |
| Lighting | Matt Chalk |
| Lighting | Ian Cook |
| Lighting | Ian Dolan |
| Lighting | Damien Ramsey |
| Lighting | Paul Tait |
| Lighting | Paul Tibbles |
| Lighting Director | James Tinsley |
| Art Director | Joe Mccann |
| Makeup Artist | Megan Skinner |
| Makeup Artist | Andrew Suleman |
| Makeup Artist | Nadia Harrison |
| Researcher | Charlotte Booth-Hulme |
| Casting | Rhia Douty |
| Casting | Sam Wilton |
| Casting | Glyn Harrison |
| Casting | Nicola Copley |
| Assistant Producer | Laura Neal |
| Assistant Floor Manager | Simon Pinkus |
| Production Secretary | Heather Wake |
| Production Coordinator | Heather Torrance |
| Production Coordinator | Jess Abrahams |
| Producer | Aoife Carey |
| Director | Aoife Carey |
| Producer | Tom Reeves |
| Director | Tom Reeves |
| Producer | Oliver Barber |
| Director | Oliver Barber |
| Producer | Alex Reynolds |
| Director | Alex Reynolds |
| Editor | Pete Benn |
| Producer | Sam Roubicek |
| Producer | Sharon Tucker |
| Casting | Mel Walden |
| Director | Adam Jarmain |
| Executive Producer | Meredith Chambers |
| Series Editor | Mark Leslie |
| Production Company | Electric Ray |
| Editor | Miles Green |