Main content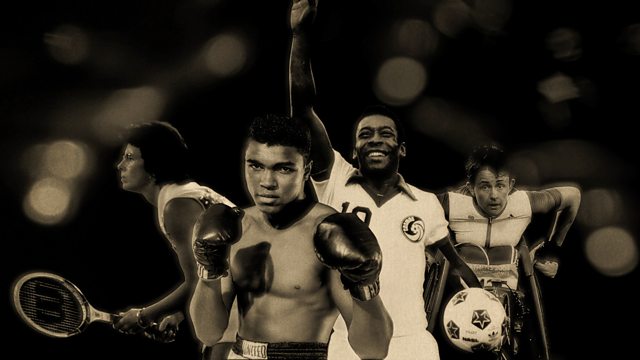 Exploring the achievements of the greatest figures of the 20th century. Exploring the legacies of sports stars Pele, Muhammad Ali, Billie Jean King and Tanni Grey-Thompson.
Clare Balding examine the achievements of four of the 20th century's most influential sports stars. Clare will be assessing the legacies of Pele, Muhammad Ali, Billie Jean King and Tanni Grey Thompson. Each of them transcended their sport, and had an impact on the century far beyond their professional record. As the 20th century began, sport largely belonged to those who could afford leisure time, and was often an amateur pursuit. By the year 2000, sport provided some of the most watched moments in human history - often uniting billions. The 20th century also saw records smashed and previously unimaginable sporting feats achieved. Increasingly, the work of our greatest sport stars highlighted urgent social issues. From the democratisation of sport to the battle for equal pay, the talents of these icons helped shape the world we know today.
Pele was far more than just the greatest footballer of all time, he showed the world that anyone, from any background, could become the world's most renowned sports star - if they had the talent. He took the world by storm, helping to secure Brazil's sporting reputation and football's place as
the sport of the 20th century.
Muhammad Ali's talent and charisma secured the love of his fans, but his attitudes towards race, religion and America's role in the Vietnam War all challenged society. He boldly took up an anti-war stance that saw him banned from boxing for three years in his prime.
Billie Jean King is tennis' greatest talents, and also a tireless campaigner for equality. She fought for prize-money parity, was instrumental in the first women's professional tennis tour, founded the Women's Tennis Association, and beat Bobby Riggs in the Battle of the Sexes.
Tanni Grey-Thompson was born at a time when the physical and political landscape for disabled people was far from enlightened, she became one of Britain's most successful paralympians. She secured 16 paralympic medals (11 gold), smashed over 30 world records and won the London
Marathon six times. She also played a key part in securing the London 2012 Olympics.
At the end of the programme, the public can vote for the greatest sports star of the century who, along with the finalists from the other categories, is put through to the live final at the end of the series.
Last on

Music Played
Timings (where shown) are from the start of the programme in hours and minutes
Explore how impactful icons are and discover the truth behind their reputations