Main content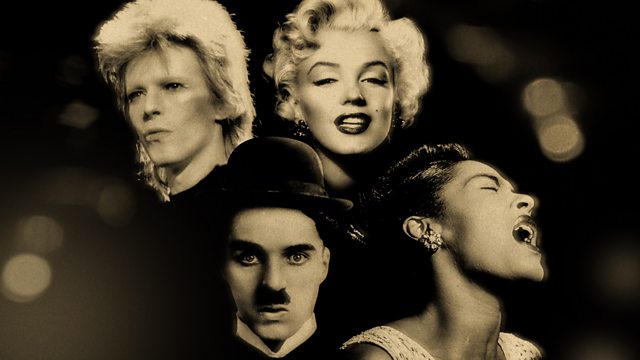 Exploring the achievements of the greatest figures of the 20th century. Kathleen Turner looks at Charlie Chaplin, Billie Holiday, Marilyn Monroe and David Bowie.
The fourth in the series, this episode charts the story of entertainment in the 20th century. This episode sees Hollywood star Kathleen Turner examine the achievements and legacies of four of the century's greatest entertainers. The story of entertainment in the 20th century ranged from vaudeville clowns to Space Oddities, and everything in between. This was 100 years where technological developments changed the face of entertainment forever - giving rise to our first movie stars, recording artists, and creating a cult of celebrity. In short, the 20th century was the 100 years in which we fell in love with the people who entertained us. These stars were each innovative and groundbreaking, but because we were the ones who placed them on their pedestal by going to see their films, buying their records or putting their posters on our walls, they belonged to us in a way that almost no other icons could.
The four icons examined by this documentary were not only towering figures in their industries, but people who rebelled against the establishment, threatening to tear down social barriers which had been in place for generations. Each was seen as a threat by people who should have had the power to silence them, but were so adored by their fans that their unique talents instead went down in history.
Kathleen examines the lives of Charlie Chaplin, Billie Holiday, Marilyn Monroe and David Bowie. She uncovers their greatest achievements and explores their legacies.
Chaplin spent much of his childhood in poverty, before becoming the world's first international movie star. Chaplin took on the powers of the studio system, before using his most famous film, the Great Dictator, to send a powerful message about the dangers of fascism.
Raised in abject poverty, Holiday's unique singing technique saw her become one of the world's great recording artists before she chose to shine a light on one of the darkest corners of humanity when she released Strange Fruit.
Marilyn Monroe used her image to propel her from starlet status to that of arguably the most iconic film star in the world. She pushed to expand the flimsy roles offered to her, fought the powerful studios for more creative control, and she took control of her image in a way that was revolutionary.
David Bowie landed on the London music scene and, with the help of Ziggy Stardust, transformed it at once giving rise to an army of young, previously disenfranchised fans. He challenged stereotypes of gender and sexuality and would carry on challenging society both socially and artistically for the next 45 years.
At the end of the programme, the public can vote for the greatest entertainer of the century who, along with the finalists from the other categories, is put through to the live final at the end of the series.
Last on
Music Played
Timings (where shown) are from the start of the programme in hours and minutes
00:09

Dan Leno

The Tower of London (The Beefeater)

00:19

Cab Calloway & His Orchestra

Jitter Bug (Digitally Mastered 1989)

00:23

Mississippi Fred McDowell

You Gotta Move

00:23

Billie Holiday

Gloomy Sunday

00:24

Cab Calloway

Long About Midnight

00:28

Billie Holiday

Don't Explain

00:31

Bob Dylan

The Times They Are A-Changin' 

00:31

U2

Sunday Bloody Sunday

00:33

Duke Ellington & His Famous Orchestra, Duke Ellington, Ray Nance

Take The "A" Train (1986 Remastered)

00:33

Ella Fitzgerald With Sy Oliver & His Orchestra

Lullaby of Birdland

00:34

Kay Starr

Wheel Of Fortune

00:35

Marilyn Monroe

How To Marry A Millionaire

00:36

Marilyn Monroe

Diamonds Are A Girl's Best Friend

00:38

Hugo Winterhalter and His Orchestra, The Ramblers, Perry Como

Don't Let The Stars Get In Your Eyes

00:39

Frank Sinatra

Fly Me to the Moon

00:45

Lieutenant Pigeon

Mouldy Old Dough

00:48

David Bowie

Ziggy Stardust

00:49

Robbie Williams

Don't Say No

00:55

David Bowie

'Heroes'

00:55

David Bowie

Let's Dance

00:57

David Bowie

Changes
Explore how impactful icons are and discover the truth behind their reputations