Main content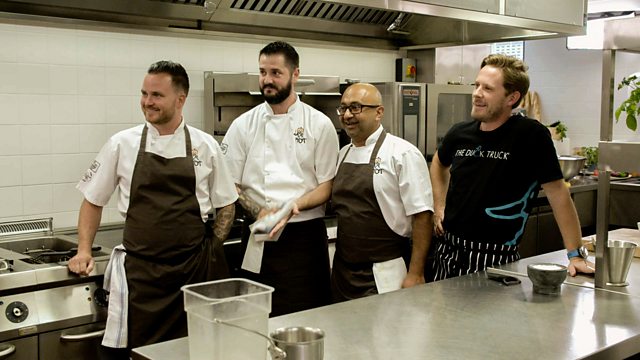 The Duck Truck, BBQ Dreamz & Jah Jyot - Fast Casual
Three restaurant ideas battle for a life-changing investment - a Filipino food van, a duck stall and an Indian street-food stall.
Fred Sirieix oversees a battle for investment between three restaurant ideas, who think their take on fast and fresh flavours, delivered in a Nando's or Wagamama-style restaurant, will secure them the chance for big-money backing to open on the high street. First, they must pitch to four of the industry's top investors for the opportunity to open for business in Manchester. The single idea with the most investment potential is given a two-day trial to prove themselves worthy of the money they are seeking. However, only those investors with the most passion and interest in the idea will follow it to Manchester.
Amongst those pitching is 36-year-old Ed Farrell, who thinks the UK public is ready for an all-duck concept, The Duck Truck. A former new product development manager for Gressingham Foods, Ed ate duck every day and never grew tired of it. In fact it just made him love it even more! He is after £250,000 to take The Duck Truck and his signature traditional crispy duck wrap - rotisserie cooked crispy duck, hoisin sauce, cucumber and spring onion, hugged by a toasted tortilla wrap - into a casual restaurant setting.
Going up against Ed are couple Lee Johnson and Sinead Campbell, both 35, whose food van, BBQ Dreamz, is taking the street food scene by storm, with modern twists on Filipino food. Lee was born in the Philippines and raised in Northampton, where he grew up with his grandmother's food. Four years ago, the two of them packed in their jobs to gamble on BBQ Dreamz, offering dishes like Lechon Kawali - 24 hour sous-vide crispy pork belly with radish, celery and coriander salad. Will the investors back a cuisine that is relatively unknown in the UK? Lee and Sinead are after £350,000 to do just that.
Finally, seeking £707,000, is a former BMW sales manager and dad-of-three Ranie Sirah, 46, who decided to pursue his passion for cookery after his young son suggested he do something he love. A chance meeting with two chefs in his local pub, saw the idea for Jah Jyot born, inspired by Ranie's mum's home cooking. They now sell their signature dishes like masala chaat dosa - Punjabi dry spiced curries within a crispy fried 'fermented pancake' - around local markets in Lewes and Horsham, and have won awards for their street food.
Each of the three ideas pitches to a panel of four investors, all looking to back the next hit 'fast-casual' idea on the high street. The first investor is Charlie McVeigh, who has been shaping London's bar, club and restaurant scene for two decades, having started out with legendary nightclub Woody's. He ended up establishing and running the hugely successful pub chain, Draft House before selling to beer giants BrewDog in early 2018 for a reported £16.5m. After taking some time out, Charlie's keen to get back in the game and 'make some serious money'. The next is Maurice Abboudi, an experienced operator and investor who has developed and sold several businesses in the sector and acted as head of business development at Domino's Pizza. Recently he was involved in the sale of a chain of 17 pizza sites, which he sold to Pizza Express in 2016, and was chairman of an online ordering system for restaurants which he sold to UberEats in 2018. Maurice is currently an executive director of K10 Japanese restaurants. The third investor is Jane O'Riordan, who has been involved in the acquisition, growth and development of companies such as Nando's, Gourmet Burger Kitchen, Pizza Express, Ask, Zizzi as part of the Yellowwoods investment team, over the past 20 years. She is part of the team who grew Nando's internationally and throughout the UK. She has a 1st class BSc in mechanical engineering and an MBA from Harvard Business School. Last is Scott Collins, the co-founder of MEATailer Ltd, the company that owns eight MEATliquors in London, Leeds & Brighton, as well as MEATmarket and MEATmission. The first permanent MEATliquor opened on 11/11/11. With an annual turnover of £15m, they have since expanded to 12 restaurants, from London to Brighton and Leeds.
In each episode the winning idea has two days in a brand new 50-seater restaurant, in the heart of Manchester's bustling bar and restaurant district, to prove that their food, menus, pricing, service, team-management and business plans are worth the big money investment they are asking for. On the first night they open for a half-price soft launch to the public and the investors, before being grilled in detail on their numbers and business plans the following morning. Finally, they open for a full-priced lunch service, during which the investors must consider whether to invest or not. As the investors are in competition with each other, Fred sets them a deadline by which time they have to return to the restaurant if they intend to invest. With final service over, the operators face an anxious wait with Fred to see if anyone returns. All they need is for one investor to walk through the doors and make them an offer, and their business fortune
More episodes
Previous
You are at the first episode
Credits
| Role | Contributor |
| --- | --- |
| Presenter | Fred Sirieix |
| On-line editing | Nick King |
| Colourist | Nick Adams |
| Sound Mixer | Liam Milner |
| Graphic Designer | Dan Hoare |
| Camera Assistant | Tom Askew |
| Camera Assistant | Rhys Plume |
| Camera Assistant | Dan Henderson |
| Camera Operator | John Ryan |
| Camera Operator | Arron Bowen |
| Camera Operator | Chris Stephens |
| Director of photography | Jon Kassell |
| Director of photography | Tristam Cones |
| Director of photography | Olly Wiggins |
| Sound | Glen Gooden |
| Sound | Fabio Santucci |
| Sound | Monica Gonzalez |
| Sound | Doug Martin |
| Sound Supervisor | Sam Mathewson |
| Lighting | Toby Phillpott |
| Lighting | Matt Chalk |
| Lighting | Ian Cook |
| Lighting | Ian Dolan |
| Lighting | Damien Ramsey |
| Lighting | Paul Tait |
| Lighting | Paul Tibbles |
| Lighting Director | James Tinsley |
| Art Director | Joe Mccann |
| Makeup Artist | Megan Skinner |
| Makeup Artist | Andrew Suleman |
| Makeup Artist | Nadia Harrison |
| Researcher | Charlotte Booth-Hulme |
| Casting | Rhia Douty |
| Casting | Sam Wilton |
| Casting | Glyn Harrison |
| Casting | Nicola Copley |
| Assistant Producer | Laura Neal |
| Assistant Floor Manager | Simon Pinkus |
| Production Secretary | Heather Wake |
| Production Coordinator | Heather Torrance |
| Production Coordinator | Jess Abrahams |
| Producer | Aoife Carey |
| Director | Aoife Carey |
| Producer | Tom Reeves |
| Director | Tom Reeves |
| Producer | Oliver Barber |
| Director | Oliver Barber |
| Producer | Alex Reynolds |
| Director | Alex Reynolds |
| Editor | Phil Ashby |
| Editor | Niels Bellinger |
| Editor | Michael Benjafield |
| Producer | Sam Roubicek |
| Producer | Sharon Tucker |
| Casting | Mel Walden |
| Director | Adam Jarmain |
| Executive Producer | Meredith Chambers |
| Series Editor | Mark Leslie |
| Production Company | Electric Ray |