Main content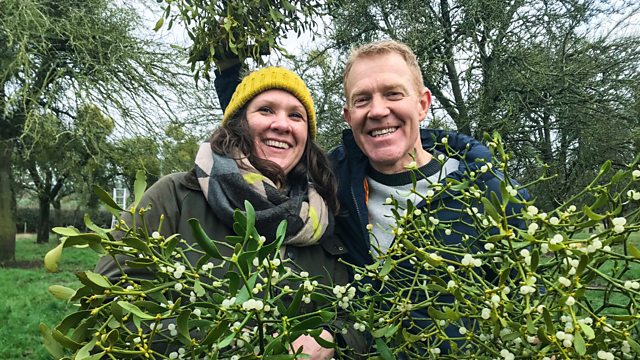 Christmas Special
Matt Baker and the team are in the small village of Elsdon in Northumberland, where preparations are in full swing for a big Christmas bash.
Matt Baker and the team are in the small village of Elsdon in Northumberland, where preparations are in full swing for a big Christmas bash. Matt helps get the Bird in Bush pub all decked out for the party and meets some of the locals for whom the pub is much more than merely a place for a quiet drink. Steve Fletcher is out and about picking sloes for a festive tipple with a difference. Anita Rani turns to blacksmithing for an unusual Christmas decoration. John Craven is in the woods with the foragers looking for pine needles to give their cookies a seasonal twist. Ellie Harrison heads to Wallington Hall to see the red squirrels in all their winter pomp. Tom Heap joins the choir spreading good cheer door to door in a bid to combat isolation among the more elderly in the community. And Adam Henson is in Worcestershire at the biggest mistletoe market in the country.
Festive Hub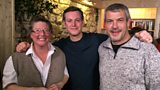 It's Christmas and up and down the country people are heading to their local pub to celebrate the festive season - and Countryfile is no different!
Matt is in Elsdon in Northumberland to spend the day in the Bird in Bush, a village pub which has been brought back to life over the past couple of years. 
Matt meets the pub's owners, Katie and Stephen, who are preparing for a big Christmas party for the whole village.
They're creating a festive social hub for the locals and are expecting a big turn out...so it's all hands on deck! 
Festive Forge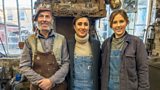 What's Christmas without decorations? 
Anita heads to a traditional forge to meet a family of blacksmiths who are going to help her craft something beautiful for the Christmas tree.  
Ashlee Donaldson is a fourth generation blacksmith who works alongside her dad in the family forge creating bespoke work.Together, they help Anita make a festive decoration inspired by the natural world.   
Lonely This Christmas?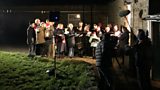 Tom joins up with a community choir looking to spread some Christmas cheer to those people who might otherwise feel isolated in the countryside.
Feelings of loneliness can hit anyone, anywhere - in fact it's estimated from one in twenty adults to as many as one in five are affected.
But in rural areas remoteness coupled with a lack of transport and services can really add to the problem.
That's why the local Song Reivers community choir make their way across Northumberland delivering their carols by car... and a dose of real Christmas spirit.
If you've been affected by any of the issues in this film, you can find organisations offering help and support by clicking on the links below:
Bereavement
Mental Health
The Farming Community Network
Age UK
Christmas Porter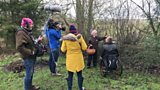 Steve meets Red and Sam Kellie who run a micro-brewery behind the Bird in Bush pub. 
The couple are using local hedgerow fruits to brew a Christmas Porter fit for the party at the pub.
Steve lends them a helping hand before taking the used grains to a local farmer who feeds it to his herd of Belted Galloways.
Wallington Squirrels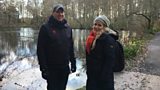 Ellie is on the hunt for the red squirrels which are thriving on the Wallington Estate. 
The estate's countryside manager, Paul Hewitt, shows Ellie how they monitor their squirrel population before taking her to their festive hide to try to spot one. 
But will Ellie get the Christmas present she wants - and catch a glimpse of these elusive creatures?
Mistletoe Market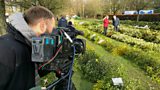 With its bright green leaves and pearly white berries sprouting from long dormant wintering trees mistletoe has been cut as decoration at this time of year for hundreds - if not thousands - of years. 
Adam's down in Herefordshire to pick a fine selection before stepping across the border into Shropshire to sell it at one of the oldest Christmas auctions in the country.
Festive Forage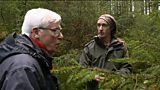 John is out in Kielder Forest with local foragers Linus Morton and Louise Hepworth, searching for the wild ingredients needed to conjure up some festive treats. 
Like all good foragers, the couple like to cook out in the wild - and John joins them in their ex-army truck kitchen-on-wheels to turn their finds into some Christmas biscuits. 
Pub Party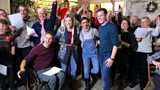 With guests and the Countryfile crew assembled, the party can start!
And what's a party without music? Roddy Matthews entertains the crowd with traditional Northumberland music before the obligatory sing-song begins!
Credits
| Role | Contributor |
| --- | --- |
| Presenter | Matt Baker |
| Presenter | Steve Brown |
| Presenter | John Craven |
| Presenter | Ellie Harrison |
| Presenter | Tom Heap |
| Presenter | Adam Henson |
| Executive Producer | William Lyons |
| Series Producer | Joanna Brame |