Main content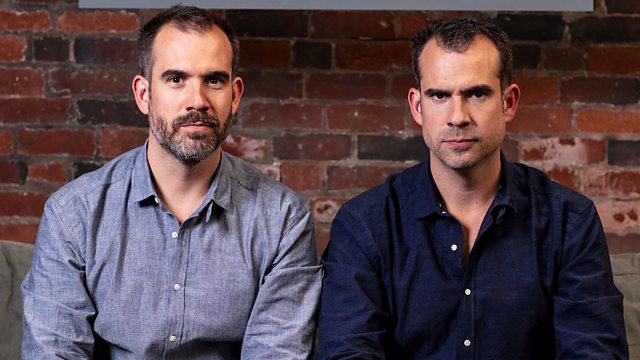 Identical twins put competing health theories to the test. This episode tests the best way to lose weight, improve memory and beat pain without pills.
In the heart of Birmingham, doctors Chris and Xand van Tulleken have set up a unique centre for science. But theirs is no ordinary lab because inside it is crammed with 30 pairs of identical twins! Thanks to their matching DNA, identical twins are the perfect candidates for scientific comparison. Chris and Xand use this principle in The Twinstitute to put contrasting health theories to the test. Pairs of twins are split into two groups and each challenged to carry out a task. The results, from diet tips to health tricks, reveal ways we could all make lifestyle improvements. This is New Year New You tested scientifically!
First up is one of the biggest questions of them all - is there a best way to lose weight? The Twinstitute pits diet against exercise. With over 60 per cent of Brits currently either overweight or obese, losing weight is a priority for many of us, but which is the healthier way? To find out, two pairs of identical twins are going to go head to head for science. On Chris's team are Ken and Lyn, who are going to be spending a month hitting the gym for two hours every single day. The goal is that they burn 1,000 extra calories each day for a full month. Meanwhile, their identical twin siblings, Graham and Jen, have paired up with Xand. Their month-long regime is to lower their calorie intake by the very same 1,000 calories. Thanks to expert Professor Susan Jebb, Graham and Jen are given a tailor-made diet that they must follow for the full month. And this is where the unique twist of The Twinstitute comes in - thanks to their identical DNA, the only difference between twins is the regime that they are on. But after a month of two seriously demanding regimes, which twins will return to the Twinstitute having lost more weight? Will they all be able to stick to the program and will our twin doctors find a weight-loss regime that may work for all of us?
Next is a story that is all about pain where Chris and Xand put their own identical twin bodies on the line. An increasing number of British adults take painkillers on a daily basis which is not what doctors recommend, so our human guinea pigs want to find a way of treating pain without pills - a way that could work for everyone. To do just that, the guys are putting two pill-free pain remedies to the test. Chris is going to spend two weeks learning to meditate. Meditation has a proven track record of helping with pain. The theory is it lets the brain filter the signals it receives so the perception of pain is reduced. But will it work? And more importantly, will it work better than Xand's technique which is a little more unusual: swearing! A 2011 study showed that visceral swearing out loud can dull pain by releasing adrenaline...the flight-or-fight hormone that boosts pain tolerance. But can that really be true? To find out once and for all, the guys put their pain regime methods to the test by getting tattooed for science. And these aren't normal tattoos - the guys have in fact chosen to get branded on the most painful part of the body - the sole of the foot. But will either of their quests for a pill-free panacea for pain have worked? Who will win out in meditation versus swearing?
The third part of this episode is another classic story that is perfect to have identical twins put to the test. If you want to pass an exam, or - and perhaps more importantly - if you want to boost your memory, which of these two techniques should you employ? Cramming or planning? To find out, Chris and Xand oversee the biggest experiment of the episode as five pairs of twins put their brains on the line. 'Team Plan' are given a 24-page dossier of Twin Trivia written by a world-memory champion. They have five days to revise it where they are allowed 30 minutes each day. Meanwhile, their sibling counterparts in 'Team Cram' have the same two and a half hours, just all in one go - the night before the exam. The twins chosen for this experiment were selected because earlier tests indicated that they had IQs almost as identical as their DNA. As a result, the only difference between twins is the regime they were on. But come a Mastermind-style quiz at the end of the study periods, which team will win out?
Using the latest science, and bringing a new visual flair to health programming, The Twinstitute aims to reveal tips and tricks that can help us all live a healthier life!
More episodes
Previous
You are at the first episode
Credits
| Role | Contributor |
| --- | --- |
| Presenter | Chris van Tulleken |
| Presenter | Xand van Tulleken |
| Expert | Susan Jebb |
| Expert | Catherine Loveday |
| Expert | Leanne Klein |
| Expert | Emily Shields |
| Director | Ed Watkins |
| Series Producer | Helga Berry |
| Series Editor | Dan Tapster |
| Production Company | Wall to Wall Media |