Main content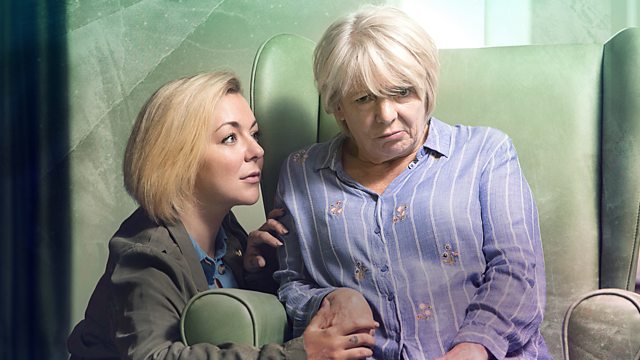 Care
Drama from Jimmy McGovern about a struggling single mother who finds herself having to care for her elderly mother when the local health authorities refuse to take responsibility.
Jenny Northwood is a single mother struggling to raise her two girls, Sophie and Lauren since feckless husband Dave left her for another woman. Jenny's widowed mother, Mary, is her lifeline, helping out with the kids and allowing Jenny to hold down a full-time job at a supermarket. But when Mary suffers a devastating stroke that results in vascular dementia, Jenny's world comes crashing down. She and her sister, Claire, assume that their mother will be cared for in hospital, but they're horrified to discover that, once she's recovered from the stroke, the hospital want their bed back and Mary will have to go into a nursing home. But none of the local authority homes are even remotely equipped to cater for Mary's comprehensive needs. Unable to afford private healthcare, and with Claire living 80 miles away, Jenny is forced to give up her job and look after her mother at home, but the stress of caring for Mary takes its toll as Jenny and the kids reach breaking point.
As well as facing the day-to-day realities of being a full-time carer, Jenny also has to face her own insecurities as a new romance appears on the horizon in the shape of builder Nick. Jenny and Claire then discover that their mother should qualify for NHS Continuing Healthcare, which means all Mary's health costs would be paid for by the NHS. This fact is withheld from them by the cash-strapped health authority, sending the sisters into battle against a broken system, determined to secure the level of care their mother deserves.
Clips

Credits
| Role | Contributor |
| --- | --- |
| Jenny | Sheridan Smith |
| Claire | Sinead Keenan |
| Mary | Alison Steadman |
| Sophie | Macy Shackleton |
| Lauren | Lola Shaw |
| Bride | Gemma Dobson |
| Receptionist | Stephanie Bishop |
| Patient | Steven Hillman |
| Attendant | Moey Hassan |
| Dave | Anthony Flanagan |
| Nurse Jamaal | Tanya Moodie |
| Nurse Darwin | Alexandra Afryea |
| Therapist 1 | Andrew Joshi |
| Nurse Josh | James Dryden |
| Mr Evans | Mark Chatterton |
| Amanda | Rochenda Sandall |
| Diane | Jodie Barchha Lang |
| Doctor O'Sullivan | Richard Huw |
| Hilary | Kerri Quinn |
| Helen | Elizabeth Rider |
| Nurse Brown | Lois Chimimba |
| Nick | Michael Nardone |
| Police Officer 2 | Joanna Higson |
| Claire's Boss | Karen Taylor |
| Frank Gilmour | Robin Bowerman |
| Rebecca | Olwen May |
| David Tully | Lee Toomes |
| Chairman | Kevin Doyle |
| Shirley | Lynn Roden |
| Angela | Jessica Hall |
| Producer | Colin McKeown |
| Producer | Donna Molloy |
| Writer | Jimmy McGovern |
| Writer | Gillian Juckes |
| Director | David Blair |
| Production Manager | Jac Ashton |
| Editor | Patrick Hall |