Main content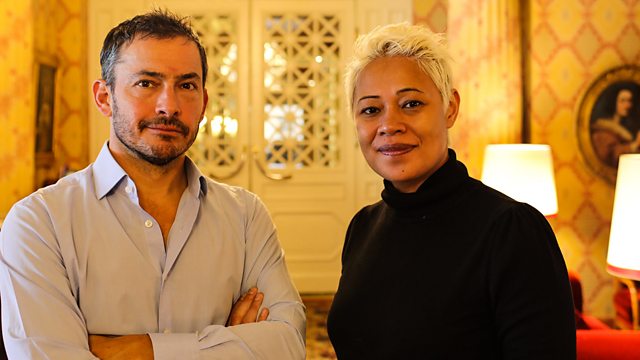 Christmas Special - St Moritz, Switzerland
In a Christmas special, Giles and Monica travel to Kulm Hotel, St Moritz. The Swiss Alpine hotel was the birthplace of winter tourism more than 150 years ago.
In this Christmas special, Giles and Monica travel to Kulm Hotel, St Moritz. This Swiss Alpine hotel was the birthplace of winter tourism more than 150 years ago. The Kulm's owner, Johannes Badrutt, made a bet with summer guests that if they returned in the winter and didn't enjoy themselves he would pay for their stay. The guests stayed for the season - and a new industry of winter leisure and sports was born. The current managers of the Kulm (one of whom was born there!) try to embrace the hotel's history whilst finding new ways to attract younger generations. Giles launches into the traditional grand hotel's life by being fitted up for a bellboy's uniform to work alongside veteran head concierge Silvio. With 44 years at the Kulm under his belt, Silvio dispatches Giles to collect the luggage of departing guests with a plane to catch. Armed with no apparent sense of direction, Giles wrestles a brass trolley with a mind of its own through the warren of corridors and lifts, just about managing to deliver the cases intact.
Monica helps joint MD Jenny transform her office into a private dining room for the evening. It is in the oldest part of the hotel and used to be the living room of the hotel's first owner, Badrutt. Using the first hotelier's original dinner service, silverware and glassware, today's office is restored to late-19th-century style for a nostalgic candlelit dinner. Badrutt's bet triggered a flood of privileged guests to this Alpine winter wonderland, who began devising forms of snow-bound entertainment. Jenny's husband Heinz shows Giles the hotel's historic Sunny Bar, which celebrates the 1884 creation of the infamous Cresta Run - an ice track that winds down to the village and is a forerunner of Olympic skeleton. Giles tries his hand at a favourite apres-ski challenge, and in the hotel archives he leafs through old magazines created by early guests: the 19th-century version of Instagram. In the present day, Monica heads up the slopes to get to grips with the monsters of the mountains - the piste-bashing machines that groom the slopes, including those forming the longest floodlit ski run in Switzerland. With head concierge Silvio, Giles delivers mail and meets one of the hotel's permanent residents (the largest serviced apartment here can cost £250,000 a year). Giles also learns that Silvio is about to retire and discovers how Silvio has loved and lost during his nearly five decades at the Kulm.
Giles and Monica take the cable car to the highest accessible point on the mountain to meet suppliers of the hotel's Swiss whisky. In this high altitude cave, where lack of oxygen assists the ageing process, the presenters help to decant whisky into a wine barrel and hear how the producers hope to open one of the world's highest distilleries. Down in the hotel, Monica prepares dinner service with blue-haired Peruvian chef Claudia, whom Heinz hired to shake up the hotel's culinary offerings. As they make ceviche together, with the aptly-named 'tigers' milk' (hangover cure) dressing, Monica learns how bringing Peruvian cuisine to the Alps felt like a big risk but offers a refreshing Alpine alternative. Giles joins Heinz and Jenny for family time in a shepherd's hut and meet Heinz's parents, who ran the Kulm for 30 years, to gain their perspectives on some of the changes taking place. Heinz then takes Monica on a forward-thinking excursion that he's starting to offer guests - a helicopter ride to an isolated mountain peak for a cheese, champagne and truffle fondue (it is all very James Bond). On much lower slopes, Giles faces his lifelong distaste for skiing by working alongside ski instructor Matteo and accelerates from novice skier to leading (and not wiping out) a class of children.
By the end of the process Giles develops a tentative approval of the sport and a love of barking instructions in German. Finally, Giles and Monica's double dog date takes them across St Moritz's frozen lake, often used for winter polo matches, and provides them with a fresh view of the hotel.
Last on

Credits
| Role | Contributor |
| --- | --- |
| Reporter | Giles Coren |
| Presenter | Monica Galetti |
| Executive Producer | Rebecca Templar |
| Executive Producer | Samantha Anstiss |