Main content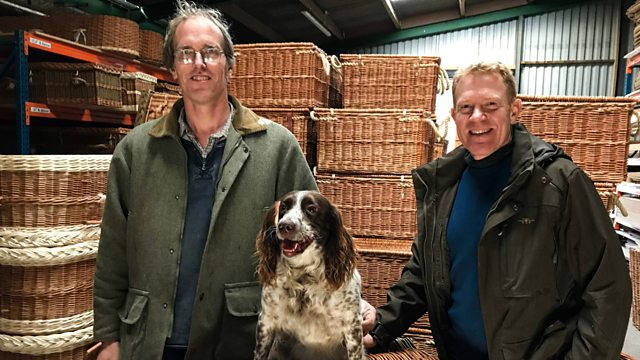 County Durham
Countryfile is in County Durham, where Helen Skelton finds out about the traditional rapper dance of the region and Steve Brown finds out about fancy pigeon showing.
Countryfile is in County Durham, where Helen Skelton finds out about the traditional rapper dance of the region. She meets the High Spen Pink Diamonds rapper troupe who show her a few steps and how to dance with an 18-inch strip of sprung steel! She also meets Shona Branigan, an artist who uses a blow torch and raw wood to make stunning prints.
Steve Brown enters the rare world of fancy pigeon showing. He meets 11-year-old Joseph Morrow, a champion pigeon fancier, to pick up tips on what it takes to show a prize-winning pigeon. He also speaks to a stained glass artist drawing inspiration from nature.
Also in this programme Adam Henson finds out that whilst harvest time may be long past, in Somerset it's still going on. But then willow isn't your usual crop! And Tom Heap looks at how some farmers have been accused of trying to cash in by tampering with their livestock TB test.
Music Played
Timings (where shown) are from the start of the programme in hours and minutes
Rapper Dancing
What are a group of local Durham lasses doing down the pub, dancing it up with a whole load of swords?
Sounds like a dangerous mix but Helen's in her element as the High Spen Pink Diamonds put her through her paces on the dancefloor.
Not for the faint-hearted, rapper dancing is a centuries-old tradition straight from the pits that's still going strong today.
Fancy Pigeons
Steve meets 11-year-old pigeon-fancier Joseph and his family from the east of the county - who enter their prized birds into pigeon-showing competitions.
There are all kinds of breeds from Dutch Tumblers to Holly Croppers with plumes of gorgeous feathers protruding from their feet and their necks.
From preening and cleaning to clipping and combing, Steve finds out what it takes to show a winning pigeon.
TB Test Fraud
Tom investigates concerns that innocent farmers are being wrongly accused of tampering with the TB test results of their livestock.It's a rare but serious crime carried out by a minority of wrongdoers looking to get their hands on compensation pay-outs.But are the investigations into allegations of foul play by farmers robust enough?
Burnt Tree Art
Helen is on the banks of the River Derwent, which grows thick with oak. 
Here, Helen meets an artist, whose passion for this local wealth of trees has led her to practising a rarely-seen printing technique. 
Using the beautiful natural resources of the woods she immortalises the story hidden inside these pillars of the landscape. 
And, blow-torch at the ready, Helen gives it a go...
Stained Glass
Steve gets inspired by nature right in the heart of the city of Durham when he meets Janet Rogers, an award-winning glass artist.
Janet's work uses vibrant and colourful kiln-fused glass, which reflects the colours of the countryside.
Well known for her intricate and detailed stained glass windows Janet will show Steve how to design and make his own.
Credits
| Role | Contributor |
| --- | --- |
| Presenter | Helen Skelton |
| Presenter | Steve Brown |
| Presenter | Adam Henson |
| Presenter | Tom Heap |
| Executive Producer | William Lyons |
| Series Producer | Joanna Brame |