Main content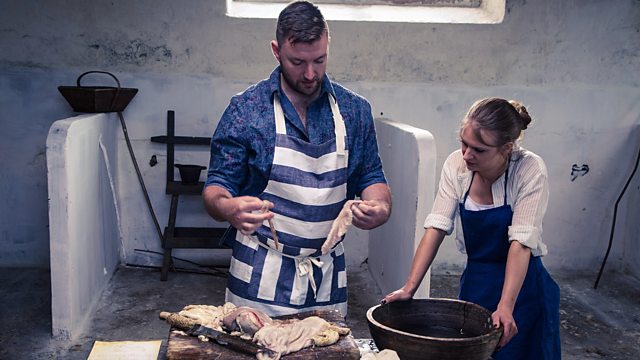 Cheese
The makers arrive in Wensleydale in the Yorkshire Dales, home of one of Britain's most loved cheeses, to discover its surprising story.
Britain produces more varieties of cheese than France and is one of the biggest cheese producers in the world. In this episode our makers arrive in Wensleydale in the Yorkshire Dales, home of one of Britain's most loved cheeses, to discover its surprising story. They explore how Wensleydale cheese started out being made by French monks, moving into rural farmhouse kitchens and then into Britain's supermarkets. Generations of skill and innovation has created a cheese loved by the nation and championed by Wallace and Gromit. Presenter Steph McGovern takes the makers through the ages and they are guided by award-winning master cheesemonger Andy Swinscoe.
The journey begins in the Monastic period where the makers attempt to produce the very earliest Wensleydale made by Cistercian monks. It presents its own challenge for Jason, who hesitantly announces that he hates cheese. He is joined by Claire for their first job, milking a sheep. Jason takes to it like a duck to water. For potter Claire and presenter Steph, it is a bit more of a struggle. They are surprised at how difficult it is to get even a drop of milk.
Meanwhile, Katie and Charlton have the unenviable task of extracting 'rennet' from a sheep's stomach. They learn it is an enzyme that is vital in cheesemaking. Katie struggles with handling a sheep's insides, while Charlton attempts to re-inflate the stomach like a balloon. The final cheese isn't very much like the crumbly Wensleydale we know and love today. Charlton thinks it tastes a lot like roquefort - it is much more like a French blue cheese at this early stage.
Moving swiftly on to the Victorian era, our makers discover there is now a massive gender divide in cheesemaking. Katie and Claire take the lead, sending Charlton and Jason to collect 20 litres of milk each in heavy back cans. It is highly physical, but it is exactly what would have been done in the 19th century. Both end up soaked, but Jason enjoys the physical challenges involved in this kind of work.
Claire and Katie now have to make farmhouse Wensleydale cheese, typically made by Victorian farmwives in the local area. They are surprised at how much women had to do on the farm alongside cheesemaking. The girls enjoy the tactile nature of separating the curds and whey by hand, but they are relieved they don't have to boil the snails that presenter Steph has skilfully collected. Back in the day snail slime was sometimes used as an alternative to rennet. With the introduction of the Wensleydale Railway in the late 19th century, the area was now beginning to become renowned for its cheesemaking skills.
Leaving the farmhouse behind, our makers are now propelled forwards in time to learn how to make early factory Wensleydale in the 1920s. Cheesemaking has changed dramatically. There is a lot of new equipment like curd cutters, thermometers and a water bath to heat milk. All this new technology is devised to make the process more predictable and consistent, as well as creating greater volumes of Wensleydale. Then it is on to the modern day where the makers go behind the scenes at the Wensleydale Creamery. Milk is delivered fresh from 43 local farms, and the creamery produces a whopping 4,000 tonnes of cheese a year. Surrounded by machines, the makers are glad to see that the cheesemakers don't rely completely on technology as the curds are still skilfully hand-checked. Today is a time of great innovation in cheesemaking and they get to experiment with making their own blend of sage Wensleydale cheese which hasn't been tried for generations. Much to Jason's surprise, he actually likes it.
Music Played
Timings (where shown) are from the start of the programme in hours and minutes
Credits
| Role | Contributor |
| --- | --- |
| Presenter | Steph McGovern |
| Executive Producer | Jo Bishop |
| Series Producer | Dunk Barnes |
| Director | Matthew Ainsworth |
| Production Company | DSP TV |