Main content
Christmas gift wrapping tips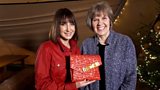 Christmas is on the way, and we'll soon be wrapping gifts. Here are some tips to make your presents look amazing.
1.  Never leave a raw edge of paper. Always fold the edges over.
2. Use double-sided tape wherever possible. Visible adhesive is more untidy.
3. Measure paper carefully to avoid having large amounts of excess to fold in;
-  Rectangular ended box – enough paper to go round the box plus 2 inches. Measure paper just short of the top at the sides. Fold paper down first then in from the sides.
-  Square ended box – enough paper to go round the box plus 2 inches. Measure paper half way up the sides. Fold paper in from the sides to form two points that meet in the middle.
4. Always work on a sturdy table or kitchen worktop of a good height. Sitting on the floor is never a good idea!
5. Use one pair of scissors for paper and another for ribbon. Ribbon needs sharp scissors and cutting paper will blunt them.
6. Use flexible materials to wrap awkwardly shaped objects, e.g. tissue, cellophane, spider's web, fabric.
7. Use your local florist wholesaler as an economical source of paper, ribbon, tissue and cellophane.
8. Re-cycle materials for use as gift wrapping, e.g. newspaper, old maps, old sheet music, magazines – especially brightly coloured features.
9. Plain wrapping paper is more versatile and can be teamed with a number of ribbon colours. Patterned papers are more limited in their application.
10. Placement of ribbon and bows can cover a multitude of minor flaws!
Superior Style Home Improvements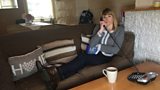 A Swansea home improvements firm has been cold-calling people on the Telephone Preference Service and using a salesman previously prosecuted for his tactics. 
Megan Lewis, from Carmarthenshire, was called twice by Superior Style Home Improvements, despite being on the Telephone Preference Service (TPS).
She said: "They phoned me, had the usual gumph about how they didn't know I was on the TPS list, and I , as usual, said this is illegal, you shouldn't be doing this, and they were quite rude and aggressive."
Megan refused to listen to their sales pitch. But 81-year-old Noreen Vaughan, from Pembrokeshire - who is also on the telephone preference service - stayed on the line to speak to Superior Style.
Noreen said: "A man rang me to say would you like some new kitchen doors, and they had a special offer on of 30 per cent off."
She agreed to a visit from one of their salesmen.
She said: "Somebody would come in, give me a quote and I had a whole year to make up my mind whether I wanted the kitchen or not and I thought, well, why not, I've got nothing to lose."
In July, a salesman called Alfie came to Noreen's home, but she says she soon found herself under pressure to pay a deposit of £800.
"He then said, oh, 'I'll have to take a deposit. Unless everything happens today, you won't get the 30% off', and so I was totally worried and put on the spot. I didn't quite know what to do."
Noreen was then asked to sign the paperwork.
She said: "I felt I was never going to get him out of my house unless I signed this piece of paper. The moment I signed the document he said this is the legal contract and you can't cancel it now."
Weeks later Noreen realised she should have had cancellation rights and wrote to Superior Style to demand her £800 back, but says she was then told by the salesman Alfie that there was no way that would happen.
It turns out, though, that he has a history. His real name is Keith Fury. Two years ago Rhondda Cynon Taf Trading Standards prosecuted him twice in the same year, once for misleading sales tactics, and the other time for an aggressive sales practice. In that case, he refused to leave the home of a widow until she signed the paperwork for another home improvements company.
After we contacted Superior Style's managing director, David Hurford, he paid Noreen back her £800. He said that mistakes by their previous data-provider had led them to inadvertently call people on the Telephone Preference Service. He said he'd employed Keith Fury as a salesman because, "people deserve the benefit of the doubt. In 38 years of practice, I had only heard of one instance that he has then been prosecuted, and that is 38 years of selling."
He disputed Noreen's account of what had happened, and added that Keith Fury had phoned her son from her home before the contract had been signed.
David Hurford said: "He confirmed the order and confirmed everything. If he had just wanted to take the order and leave and say you can't cancel, why would he go out of his way to ring the son? He's not going to that."
He claimed to have spoken to Noreen himself several times prior to her trying to cancel the contract.
"There was no mention of unhappiness or regret or remorse of buying, " he said. "It wasn't clear cut and dried. I can promise you that.
"We are not in it as a rogue company. It's me and my mothers' company that we are trying to build it right."
Credits
| Role | Contributor |
| --- | --- |
| Presenter | Omar Hamdi |
| Reporter | Rachel Treadaway-Williams |
| Series Producer | Joanne Dunscombe |