Main content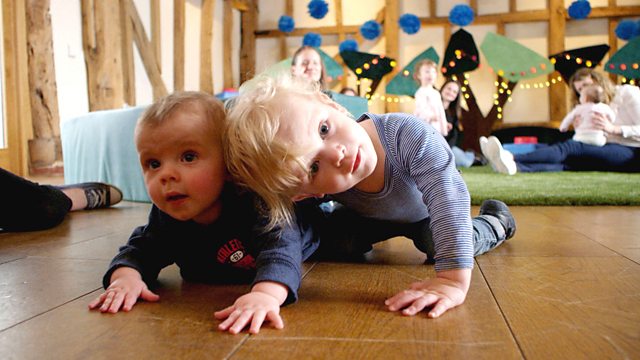 Documentary. This episode explores how changes in the first two years of life make us individuals, how tablet use affects our babies and where our biases come from.
Three-part science series presented by paediatrician Dr Guddi Singh. The series brings together over 200 babies and scientists from around the world to take part in one of the most ambitious scientific studies about babies ever attempted. With cutting-edge experiments, the show explores how the incredible changes that happen in the first two years of life make us who we are.
Episode one investigates the latest research into what makes us individuals. It begins with an experiment that looks at temperament. Scientists think that personality is shaped by our basic temperament, how we react to situations. In the lab, Dr Emily Jones finds out if it is possible to spot a baby's temperament at just six months old. She identifies three basic temperaments: calm, excitable and cautious.
Alongside the lab, the show is studying babies nationwide. Next, they look at babies' early language development and ask 2,000 families to record the first words their babies are saying. Dr Michelle Peter analyses the results to reveal that there is an explosion in language learning at 18 months and that the first words babies tend to use are social words like mamma, dada, grandma, and they are influenced by where we live. Dr Peter goes on to do an experiment with a family to see if she can increase the speed at which babies learn words by saying more words to them. Using a word tracker, she enlists the help of 21-month-old Percy and counts the number of words he says. She then asks his mother to deliberately increase the amount she talks to him to see if Percy also uses more language in response. The results reveal that his word count goes up by 13per cent.
Using a pool of families, the show looks at how babies develop their own distinct interests from a young age. Dr Nathalia Gjersoe analyses footage from family homes to see what babies are up to all day and explains that repeating the same activity strengthens pathways for that activity in the brain. Pathways that aren't being used are pruned back. The result is that children get better and better at the things they practice, shaping the brain in ways that will stay with them for the rest of their lives. The next experiment in the lab looks at the impact of technology on babies' development. Dr Tim Smith devises a set of practical exercises for tech users and non-tech users to see how touchscreens might be affecting babies' fine motor skills, such as picking up tiny objects, and gross motor skills which include walking and standing. He asks the toddlers to walk along a straight line, draw straight lines on a piece of paper and build a tower of small blocks. The demonstration and Tim's ongoing new research supports the theory that tech users have advanced fine motor skills for their age, perhaps because tapping and swiping encourages precision and dexterity.
Next, the team look at how early experiences might influence individual attitudes and opinions by attempting an experiment that has never been tried in the UK before. Professor Jessica Somerville investigates where personal preferences and biases towards other people come from. During the experiment, the babies are asked to choose between playing with an unfair white person who looks like them, or a fair Asian person who looks different from them. The experiment uses race because it is a clear visual difference that is easier for the babies to distinguish. The babies consistently choose to play with the unfair white person who looks like them, showing that already at a young age they are picking up a lot of social information. It reinforces the idea that exposure to diversity from a young age is important as babies are heavily influenced by their environment.
The scientists in the baby lab now turn their attention to something that will guide the course of our lives considerably: self-control, or the ability to manage our impulses. Dr Emily Jones sets up an experiment to find out how much self-control babies have by seeing how well they can resist the temptation of an exciting toy. At the same time she scans their brains to look for activity in the prefrontal cortex, the area of the brain involved in self-control. She shows that babies have varying degrees of self-control and some use distraction to help. Encouraging babies to explore independently helps them to learn how to control their emotions and behaviours.
The final experiment looks at one of the most hotly debate topics in modern society: gender. In the baby lab, Professor Uta Frith stages an experiment that was published in 2002 by Dr Diane Poulin Dubois and Lisa Serbin and their colleagues from Concordia University to see what babies understand about gender roles in the home. The babies are given mummy and daddy dolls and asked to choose what activities the dolls should do, from vacuuming and childcare to working on the car
.
Last on

BBC Two
except Northern Ireland & Northern Ireland HD
More episodes
Previous
You are at the first episode
Credits
| Role | Contributor |
| --- | --- |
| Presenter | Guddi Singh |
| Executive Producer | Sanjay Singhal |
| Executive Producer | Fiona Caldwell |
| Producer | Serena Davies |
| Director | Serena Davies |
| Producer | Helen Sage |
| Director | Helen Sage |
| Production Manager | Sally Finigan |
| Production Company | Voltage TV Productions Ltd |