Main content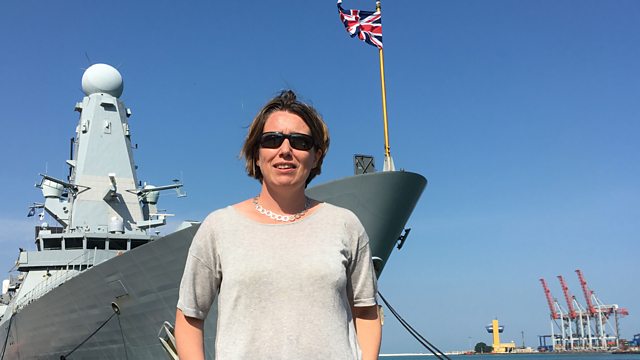 Documentary series. This episode follows three diplomats trying to aid Brits who find themselves in difficulty overseas.
The way most Britons come into contact with the Foreign Office is when they get into trouble overseas. We follow three diplomats as they try to aid Brits who unexpectedly find themselves in serious trouble on the other side of the world. Ten young backpackers are thrown into a squalid overcrowded jail in Cambodia, facing pornography charges they all deny, an elderly couple haven't been heard from since their house was destroyed by the most powerful hurricane ever to hit the Caribbean, and a 17-year-old girl in Iraq, about to be forced into a marriage, wants to escape back to the UK.
Anyone with a British passport anywhere outside of Britain is entitled to help from British diplomats when trouble strikes. From behind the grand facade of the Foreign Office headquarters in Whitehall, a surprisingly wide variety of consular missions are directed: all have to balance doing the right thing by British citizens with keeping within the delicate rules of diplomacy.
Sophie Lott is a former probation officer who used to work with perpetrators of honour-based violence in east London. Now at the Foreign Office's specialist Forced Marriage Unit, she is working to help victims. Her latest case involves a 17-year-old girl who was orphaned in Britain and sent to live with relatives in Iraq. As the girl approaches her 18th birthday, Sophie has discovered that her family in Baghdad have made it clear that if she doesn't marry her cousin, she will be killed. Using a secret communication lifeline, Sophie works with the consul at the British embassy in Baghdad to try to meet her, bring her to the embassy and arrange for her escape back to the UK before her family find out she has gone.
Gary Fisher leads the Asia Casework team in London. They work with British embassies on the most complicated death, hospitalisation and detention cases all over the continent. When news breaks in the international press that ten foreigners have been arrested and imprisoned for 'pornographic dancing', Gary is charged by the minister of State for Asia to work out what has happened. When the pictures released by the Cambodian police turn out not to feature any of the detained Brits, Gary has to work with the minister and the embassy in Cambodia to plan the diplomatic chess moves that might help get the prisoners out, but without interfering in another country's courts or upsetting our delicate relationship with its government.
Clare Gozdawa normally works as a political officer on the Ukraine desk in Whitehall. However, she also volunteers as part of the Foreign Office's rapid deployment team. When Hurricane Irma cuts its destructive path across the Caribbean, the FCO mounts a crisis response. This is run from a dedicated control centre deep in the Whitehall basement. Facing criticism about the speed of the government's response, ministers and senior diplomats are brought in on round-the-clock shifts, while officials from other departments come in to deal with the complexities of policing, health, aid, transport and military deployments. Consular experts put together patchy information from worried relatives to try to find individual Brits most in need and get help to them. Clare's rapid response team are sent to the British Virgin Islands which are almost totally flattened and set up base in the abandoned airport. She receives a call from a distressed daughter in the UK who hasn't heard from her ill elderly parents since their house was decimated by the winds. She sets off across the island with the British Army to try to find them.
More episodes
Next
You are at the last episode
Credits
| Role | Contributor |
| --- | --- |
| Series Producer | Michael Waldman |
| Director | Michael Waldman |
| Producer | Chris O'Donnell |
| Director | Chris O'Donnell |
| Executive Producer | Shona Thompson |
| Executive Producer | Jonathan Smith |