Main content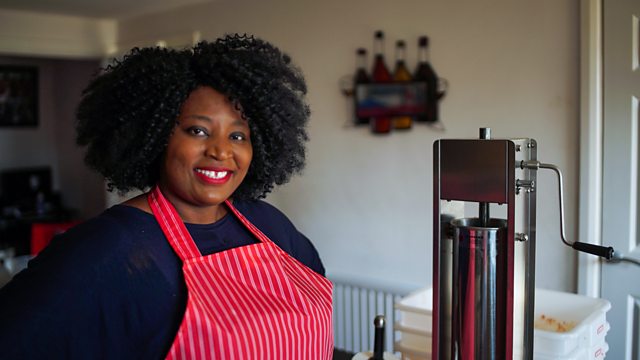 Series showing the effects an ethical loan can have. A loan helps a silversmith get his work in the spotlight, and a woman needs cash to get her sausages onto the high street.
Debbie needs a loan to avoid the astronomical interest charges on a 12-month catalogue debt. If she exceeds the yearly time limit in which to pay it back, the debt will almost double. Can the Cambrian Credit Union come to her rescue and help her pay off the debt with a low-cost loan?
In Manchester, Zimbabwe-born Dee desperately needs a £10,000 loan to get her homemade South African boerewors sausages onto the high street. It has taken Dee two years of local market trading to perfect her sausage recipe. She now needs a cash injection to make her sausages sizzle on the supermarket shelves.
A loan from a responsible lender in Glasgow helps a gifted young silversmith get his work in the spotlight. Hamish was so cash-strapped he couldn't afford to make a crucial exhibition piece for the Victoria and Albert Museum. Thanks to a loan of £7,000, Hamish completed the piece and the exhibition proved to be a turning point for his business.
The programme meets Suzie, a Cardiff solicitor, whose poor money management led to debts of £35,000 and brought her to the brink of bankruptcy.
Credits
| Role | Contributor |
| --- | --- |
| Narrator | Kevin Duala |
| Executive Producer | Claire Simpson |
| Executive Producer | Camilla Lewis |
| Executive Producer | Rob Carey |
| Series Producer | Angela Davison |
| Production Manager | Laura Tjia |
| Production Company | Curve Media Ltd |