Main content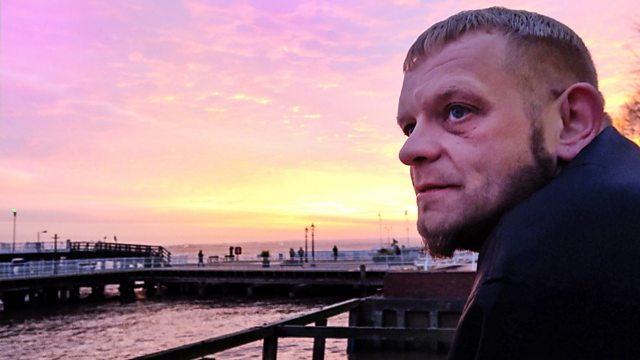 A Northern Soul
Documentary. Home in Hull, director Sean McAllister meets Steve - a struggling warehouse worker with a dream to take hip-hop to disadvantaged kids through his Beats Bus.
Director Sean McAllister returns to his hometown, Hull, as curator of its UK City of Culture opening. Back living with his 90-year-old parents and reflecting on changes to a city hit by cuts in public spending and divided by Brexit, Sean is drawn to the fringes of town where he encounters Steve - a struggling warehouse worker with a dream to take hip-hop to disadvantaged kids through his Beats Bus.
Sean is living with his parents for the first time in 20 years, observing tensions flare in a city where over one in three children are living in poverty and where 70% of people voted to leave the EU while at the same time the city is thriving in the renewed hope of the cultural spotlight. Eager to explore this further, Sean is drawn away from the bright lights of the blossoming city centre to the fringes of town, where he meets a struggling warehouse worker called Steve. He reminds Sean of himself 20 years ago - stuck in a dead-end factory job while harbouring creative dreams. Steve is a warehouse worker by day, hip-hop artist by night. He represents a forgotten generation whose dreams haven't been met. But Steve is also a deeply community driven optimist, who has also been trying to find a way to bring creativity and culture to the disadvantaged kids of the city. Kids like he once was - kids whose opportunities to build a better life are restricted by the world around them. Music has been his dream for 30 years and he saw the opportunity in the City of Culture year to start a project: the 'Beats Bus', a bus donated by his company and converted into a sound studio, allowing him to visit some of Hull's poorest schools and give kids a voice through music training and performance - a chance he never had.
Spending time with Steve, Sean also reflects upon his own story. Born and bred in Hull, Sean left school at 16 and went straight into dead-end factory work, eventually making a film in a pea factory that got him into film school. Sean has since enjoyed filming around the world - from Syria to Yemen - rarely looking back. But when Hull won the city of culture bid, Sean was asked to come 'home' to be creative director of the opening ceremony. Living with his 90-year-old parents Kath and Joe for the first time in years through 2017, Sean experienced the events through their eyes. Their running commentary recalls the opportunities and chances they had following a life at work. Their memories of the past also bring in a different perspective on Brexit - they remember how hard it was to join in the first place, and that this poets' city is built up of so many passing nationalities.
On the other hand, feeling abandoned and voiceless, Steve had voted to leave Europe in the Referendum. Observing the day-to-day frustrations of his life, you begin to understand why change - any kind of change - seems so appealing. Brought up by and back living with his single mother, Steve tries to compensate through his unwavering presence with his daughter and the complexities around seeing her is one of his biggest daily frustrations. Eromi lives with her mother several hours away by car, and he can only see her on days that he has enough time between shifts, and can find a friend to drive him there and back. Meanwhile the shadow of his estranged father looms large. Steve recognises that his misfortunes in childhood damaged his opportunities in life but they also equipped him better than most to step in and help these local kids in these crucial early years of development. Through the Beats Bus, he takes a group of children under his wing and they begin to thrive in no time. But it doesn't take Steve long to realise the price of culture, and of stepping out of his place to do something different. The more hours he puts into the Beats Bus the more his day job suffers and it eventually takes its toll - one mistake leads to warnings and finally to a demotion. We follow Steve over the course of the year as he struggles to balance his dream with his day-to-day work and life responsibilities.
As the film interweaves between Steve's story and daily struggles, and Sean's parents, their memories and echoes of the 'good old days', we see a proud industrial fishing town trying to reinvent itself through the spotlight that City of Culture brings. Steve soldiers on. But powerlessness, frustration and the entrapments of his life make his dreams all the more difficult to achieve.
Can Steve - against the odds - unlock the opportunities to build a better life? Is social mobility possible in cities like Hull? What role does culture have to play in this? How long do you hold onto your dreams for?
Clips

Music Played
Timings (where shown) are from the start of the programme in hours and minutes
00:26

John Fiddler

Strong Heart (Acoustic)

00:52

Chuck Berry

Jamaica Moon

00:55

Tkkg Junior

003 - Giftige Schokolade (Teil 34)
Credits
| Role | Contributor |
| --- | --- |
| Participant | Steve Arnott |
| Director | Sean McAllister |
| Participant | Kath McAllister |
| Participant | Joe McAllister |
| Producer | Elhum Shakerifar |
| Production Manager | Ruth Tilley |
| Editor | Johnny Burke |
| Composer | Terence Dunn |
| Executive Producer | Lizzie Francke |
| Executive Producer | Mandy Chang |
| Production Company | 10Ft Films Ltd |