Main content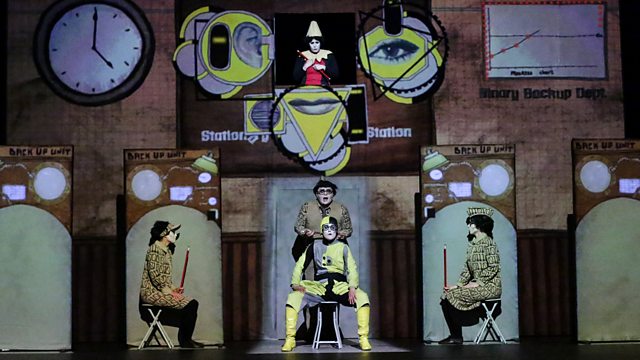 Golem
A dystopian fable about our over-reliance on machines, blending animation, live music and performance. Filmed at artsdepot, London.
The danger lies not in machine becoming more like man but in man becoming more like machine.
Like a giant graphic novel burst into life, Golem is theatre company 1927's multi-award-winning dystopian fable about our over-reliance on machines. A dark and fantastical tale of an extraordinary ordinary man, it is a vivid mix of handmade animation, sly wit, live music, storytelling and performance.
Dissecting the present and looking to the future, Golem is a parable for our times that cleverly and satirically explores one of the great questions of the modern world - who or what is in control of our technologies?
Created by Margate- and London-based theatre company 1927, Golem had its world premiere at the Salzburg Festival, Austria, in August 2014. Written and directed by Suzanne Andrade, it is a synchronised fusion of handcrafted animation by Paul Barritt entwined with live performance from 1927's ensemble of performers, alongside a live and recorded score composed by Lillian Henley. Acclaimed by audiences and critics alike since its UK premiere at London's Young Vic Theatre in December 2014, Golem has, over three and half years, been performed over 315 times, touring across the UK and internationally to 16 countries across five continents, including seasons in Taiwan, France, Russia, China, Switzerland, Spain, Australia, Italy, USA, Denmark, Portugal, South Korea, Luxembourg, Columbia and Kazakhstan.
Golem was created as a 1927, Salzburg Festival, Theatre de la Ville Paris & Young Vic co-production with development support from Harrogate Theatre, Stratford Circus and The Old Market. 1927 was supported by The Space to film Golem in 2018 at artsdepot, London.
Credits
| Role | Contributor |
| --- | --- |
| Annie, Jenny 1 and Courting Contraption Girl 1 | Dunne Genevieve |
| Julian, Phil Sylocate, PJ, and Voice of Pub Landlord | Nathan Gregory |
| Joy, Gran, Chef, Ruby and Wife of Les | Rowena Lennon |
| Robert | Philippa Hambly |
| Penny, Jenny 2 and Her | Felicity Sparks |
| Performer | Rew Lowe |
| Performer | Rose Robinson |
| Performer | Undine Francesca Selbach |
| Performer | Shamira Turner |
| Composer | Lillian Henley |
| Director | Nick Morris |
| Producer | Celia Moore |
| Writer | Suzanne Andrade |
| Animator | Paul Barritt |
| Producer | Joanna Crowley |
| Production Company | The Space |