Main content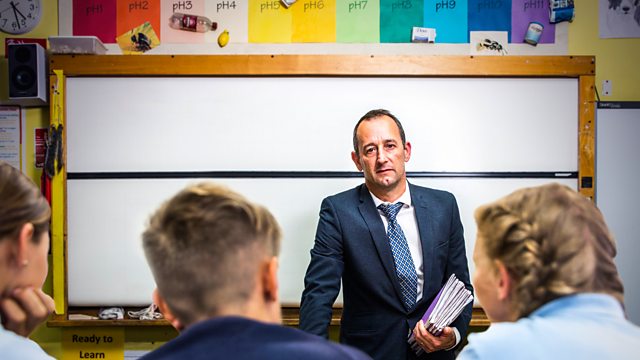 Documentary series following pupils, teachers, parents and school leaders across an academic year. The head teacher of Marlwood School in Gloucestershire faces a perfect storm.
Documentary series following the intimately connected experiences of pupils, teachers, parents and school leaders across an academic year, in all their complexity.
More public money is being spent on education than ever before, but financial pressures and the number of teachers quitting the profession continue to rise. The series unpicks the connections between key decisions and their human impact, right across the system. At stake is the future of Britain's next generation - what should we expect of our teachers, our children and ourselves?
It is the start of the school year and James Pope, head teacher of Marlwood School in south Gloucestershire, is facing a perfect storm. The school has been placed in special measures after being deemed inadequate by a damning Ofsted inspection. Eight per cent of British schools fall into this category. Caught between his loyal but demoralised staff and a core of fractious and rebellious students, he must contend with a fourth consecutive year of deep cuts to his budget whilst trying to improve his school's performance and attract new students to Marlwood. More pupils mean more money, but persuading parents to send their children to an 'inadequate' school is proving a challenge.
Applications for new teaching posts are at an all-time low, with no applicants for some subjects - despite Marlwood getting its best ever GCSE results in 2017. There aren't enough staff to maintain behavioural standards at break and lunch times. After a fight on school grounds is filmed on a fellow pupil's phone, 11-year-old Leo, in his first year at Marlwood, is identified as one of the perpetrators. Leo is struggling to adapt to secondary school. He wants to do well at Marlwood but regularly finds himself in trouble. Leo's behaviour must improve or he faces being transferred to another school.
15-year-old Henry is in his final year. Popular with his peers, Henry has a diagnosis of ADHD. He finds it very difficult to follow the rules, including turning up to lessons. A stand-off over uniform and insulting teachers leads Henry to the head teacher's office. The absenteeism of pupils like Henry is threatening the school's ability to hit Ofsted's strict attendance targets and hampering Mr Pope's attempts to cast off the school's 'inadequate' stigma.
With another Ofsted inspection looming, Mr Pope faces the greatest of headteachers' dilemmas: should he allow Henry - and others like him - to remain at Marlwood?
School is set in three secondary schools: Marlwood, The Castle and Mangotsfield. Together they form part of Castle School Education Trust (CSET), a large multi-academy trust in south Gloucestershire, where their budgets and fortunes are intertwined. Each of the head teachers answers to trust CEO William Roberts, who retrained to be a teacher after starting his career at a multinational corporation. Two thirds of all secondary state schools in England have academy status. Academies are funded and managed independently of Local Education Authorities and are increasingly grouping together to form multi-academy trusts (MATs), each managed by a single board of directors and CEO. The number of MATs in England has tripled in the past five years.
Clips

Credits
| Role | Contributor |
| --- | --- |
| Executive Producer | Lorraine Charker-Phillips |
| Executive Producer | Simon Dickson |
| Series Editor | Hamish Fergusson |
| Series Producer | Beatrice Smith |
| Director | Tim Lawton |
| Production Company | Label1 Television Ltd |