Main content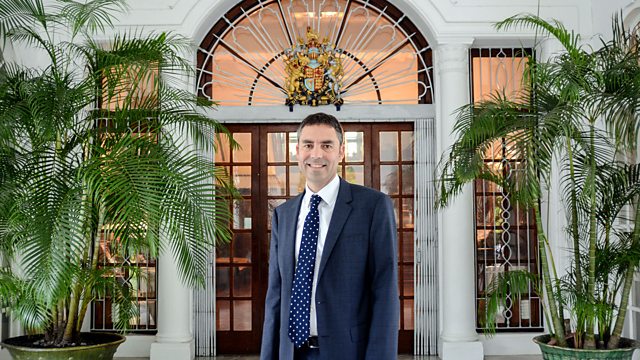 Keeping Power and Influence
Gaining privileged access over a compelling and turbulent year, film-maker Michael Waldman explores the strange and secretive world of British diplomats.
Keeping power and influence is the priority task of Sir Simon Macdonald, the permanent secretary - the chief civil servant - in a Foreign Office headed, for the moment, by foreign secretary Boris Johnson. Politicians may come and go, but civil servants remain. We follow the diplomats as they wrestle with a series of crises and challenges.
At the United Nations in New York, as world leaders gather for the special General Assembly week, the UK team juggles tasks from the delicate matter of who sits where - and the protocol status of Ivanka Trump - at the prime minister's session on modern slavery; to briefing Boris on what to say to his Russian opposite number Sergei Lavrov, as Russia continues to support the Assad regime in bombing Syria.
At the UK Mission to the UN, this special week is coordinated by Harriet O'Brien and Senay Bulbul. They give Waldman a spirited, secret, night-time guided tour of the Security Council. Neither diplomat fits the mould of the traditional British stereotype: Senay is the daughter of Turkish immigrants, and as Harriet says, 'I left state school at 16 - if you'd told my 16-year-old self that I'd be a diplomat based in New York, I'd have just... died!'
Their colleague, diplomat-lawyer Ahila Sornarajah, is trying to get all 15 members of the Security Council to agree to a UK-proposed resolution to enable Daesh (Islamic State) fighters to be prosecuted anywhere in the world. A distinct touch of glamour is brought to the proceedings as human rights lawyer Amal Clooney works with Ahila and the British team. Their boss is UK ambassador to the UN Matthew Rycroft. He has to host all the British ministers visiting this week - including the foreign secretary and the prime minister - as well as dealing with unpredicted events around the world. When the Rohinga refugee crisis suddenly erupts in Burma, sensitive, private diplomacy is needed to try to get the Burmese government to listen to the world's outrage. He rapidly organises a discrete lunch meeting with all the major players - including Nikki Haley of the US, the Russians, the Chinese and foreign ministers from Burma's neighbours - but persuading the Burmese themselves to turn up needs extra delicate diplomacy. As the ministers arrive in the next room, Boris Johnson is given a quick no-holds-barred briefing by UK officials on how to deal with the Burmese delegation.
More episodes
Previous
You are at the first episode
Credits
| Role | Contributor |
| --- | --- |
| Series Producer | Michael Waldman |
| Director | Michael Waldman |
| Producer | Chris O'Donnell |
| Executive Producer | Shona Thompson |
| Executive Producer | Jonathan Smith |