Main content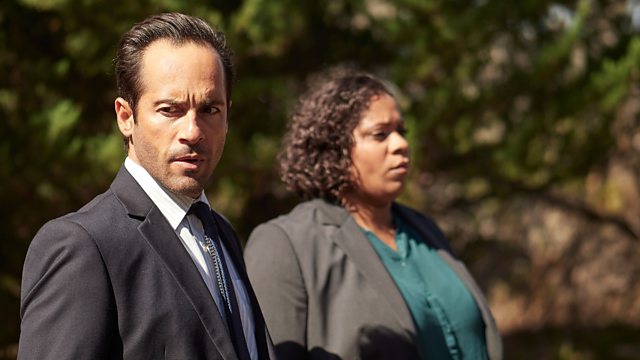 The investigation closed, the couple return to Scotland under constant media pressure. Ultimately, Joanna discovers the truth is worse than she could ever have imagined.
Joanna wakes in a hospital bed, she asks for Alistair. Elizabeth can't bring herself to answer.
We flashback to Australia; the police are winding down the investigation. Days later, Alastair takes Joanna to a new housing estate in Wilde Bay. He suggests they look around the show home. Joanna is bewildered but lets him lead her inside. Later she finds Alastair in the living room looking down at the floor, lost in thought. Joanna leans in close to him. She needs to know where Noah is. Alastair shrugs off her question and instead grabs her phone and takes a picture.
Joanna persuades Alistair to take her to where Noah is. He leads her along a beach path to a beautiful old tree indicating a spot underneath. Joanna falls to the ground, placing her head on the soft earth.
Alastair and Joanna return home to Scotland and a media frenzy. Joanna goes back to work but is struggling to cope. Alastair is let go from his job. Fossery is concerned Alastair's notoriety will rub off on the party. Alastair is furious.
Days later, Joanna returns home to find Alastair and the publicist, JEAN LOUISE celebrating a book deal and the offer of a new job. Joanna is bemused. How can Alastair be so hypocritical to accept a job representing parents who have lost their children?
Chloe and Elizabeth arrive from Australia. At dinner Chloe is belligerent. She tells Joanna people are still looking for Noah, keeping up an online presence, which is what they should be doing.
In court Alexandra is on the stand. She defends Joanna in the face of the prosecutor's assault. She maintains Alastair was not an easy man to love.
We flashback to Joanna and Alastair on their first date. Joanna is wearing the red dress. She runs into arms and they kiss passionately. The same location, a very different time. It's the day of Noah's first birthday. Alastair proposes to Joanna. Joanna is lost in sadness. Dully she accepts.
The couple return home to find Chloe has decorated the apartment and made a cake for Noah. Joanna is horrified. She runs out of the house. Alastair catches up with her and pleads with her not to upset Chloe. She's just a child. Joanna is livid.
The next day, Joanna is at Jean Louise's office. Jean Louise has a box of mail for her. Joanna goes through the letters one by one. She discovers a letter from Mrs Amery, the kind old woman who took Noah from her on the flight to Melbourne. Mrs Amery writes about how beautifully they cared for their baby. Alastair was so tender with Noah at the car hire desk, comforting him when he cried. Joanna reaches for the memory. She leaves the office and returns home to find Alastair playing cards with Chloe. Joanna sits, thinking. Elizabeth notices a picture on Noah on Joanna's laptop and reminds her what a good mother she was, Joanna should hold onto that memory. Joanna stares at Elizabeth, then Alastair. Citing cabin fever, she suggests she and Alastair go for a drive. Alastair looks surprised but follows her to the car.
They drive out of the city, up into the hills. Joanna asks Alastair whether he gave Noah medicine at the airport. Finally, Alastair admits he did give Noah medicine. Joanna persists, asking if he tasted it. No he didn't taste it. Joanna's world is collapsing. All this time Alastair let her believe it was her fault. That she killed her son.
In court an expert witness describes the conditions of the road that day and evidence from the crash.
In the hospital Joanna has been discharged. Elizabeth gives her some of Alastair's things. She opens the envelope and Alastair's phone slips out. The image on the screen is the photograph he took of Joanna at the show home in Wilde Bay. She stares at the picture for a long time.
In the police station Joanna is photographed and her finger prints taken.
In Dr Wallace's office, Joanna asks Dr Wallace whether she thinks she is telling her the truth. Dr Wallace evades the question.
Joanna is on the stand. She gives her testimony about the accident, asks the court to judge her as they see fit, to punish her as they see fit. She's already been to hell. Joanna lost her child and now she's lost Alastair, the only person who truly knew the truth of her pain.
Joanna is acquitted. She leaves the court and the crowd surge towards her. Amongst them stands Chloe, wordlessly holding up a photograph of Noah.
The Glasgow apartment lies empty. In Wilde Bay, Joanna unlocks the door to the new house she an Alastair visited all those months ago. Joanna leaves her bags at the door and gently lies on the floor.
More episodes
Next
You are at the last episode
Behind the scenes with the team behind the show.
Music Played
Timings (where shown) are from the start of the programme in hours and minutes
00:59

The Drifters

Under The Boardwalk
Credits
| Role | Contributor |
| --- | --- |
| Joanna | Jenna Coleman |
| Alistair | Ewen Leslie |
| Alexandra | Asher Keddie |
| Detective Peter Alexiades | Alex Dimitriades |
| Kirsty | Sophie Kennedy Clark |
| Chloe | Markella Kavenagh |
| Detective Lorna Jones | Shareena Clanton |
| Elizabeth | Stella Gonet |
| Defence Lawyer | Moyo Akande |
| Young Boy | Fox Curry |
| Morven Davis | Kate Dickie |
| David Fossery | Nicholas Farrell |
| Young Chloe | Kayla Kisielweski |
| Dr Wallace | Shauna Macdonald |
| Forensic Expert | Donald Morrison |
| Checkout Kid | Ollie Ivin Poole |
| Noah Robertson | Noah Rennie |
| Noah Robertson | Oliver Rennie |
| Jean-Louise Talbot | Anneika Rose |
| Mrs Amery | Amanda Walker |
| Writer | Jacquelin Perske |
| Executive Producer | Claire Mundell |
| Producer | Brian Kaczynski |
| Director | Glendyn Ivin |
| Production Company | Synchronicity Films Ltd |