Main content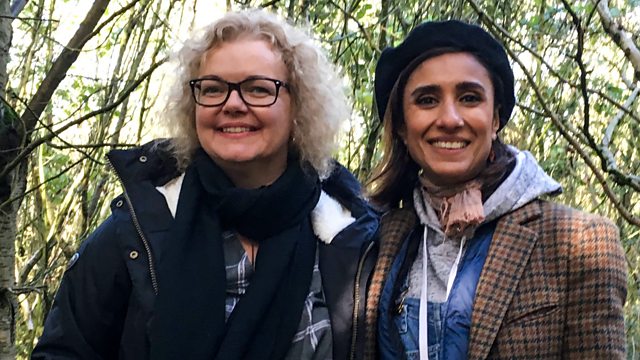 Autumn Special
Matt Baker is on the Isle of Skye otter spotting, Anita Rani visits the Ards Peninsular, and Steve Brown experiences the beauty of autumn leaves in miniature.
Countryfile celebrates all things autumn. Matt Baker is on the Isle of Skye otter spotting. Anita Rani meets a potter on the Ards Peninsular who is capturing the essence of the season in her work. Steve Brown experiences the beauty of autumn leaves in miniature and all their mighty magnificence.
In north Wales John Craven visits the kitchen garden where autumn produce is coming to a sticky end. Adam Henson meets a couple making the most of autumn's random apples. In South Yorkshire Margherita Taylor gets her hands dirty with a third-generation forager.
The programme visits a pumpkin farmer at his busiest time of year, and beauty expert Liz Earle explains why autumn is her favourite season on the family farm.
Kayak Safari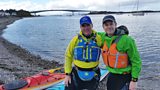 The magnificent Isle of Skye features some of most striking coastline in the UK, much of it packed full of wildlife in the autumn months. 
For local kayaker Kevin Williams, there's no better way to experience this firsthand than on the water itself.  
Matt joins Kevin on a kayak wildlife safari. Cormorants, oyster-catchers and seals are regular sights but today the pair are hoping to spot the elusive European otter. 
Skye has a large number of these otters that have taken to the sea to find food. Kevin has seen several recently so Matt's hoping luck is on his side!
Fire Pit Pottery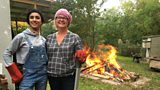 Patricia Millar is a pit-firing ceramicist whose work captures the environment and seasons around her. 
Anita travels to the Ards Peninsula in Northern Ireland to meet Patricia and visits the locations which inspire her and help create her bowls. 
The pair gather natural materials from the coastline and woodland before getting their hands dirty and using fire to transfer the colours of the materials onto ceramic bowls. 
Patricia's work is a beautiful mixture of science and art but what mark will autumn leave?
Mostyn Kitchen Garden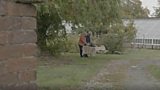 John heads to the beautiful Victorian Mostyn Kitchen Gardens in North Wales to help with their autumn harvest. 
The garden is a social enterprise run by Philip and Debbie Handley who invite local schools, youth groups and volunteers to help out and learn about gardening.
Today John joins a group of students from Coleg Cambria who are collecting in the final autumn produce and getting the garden ready for winter. 
He'll meet some of the gardeners, all with different abilities and needs, to discover what the project means to them as they bring in the harvest ready for the pot! 
Autumn in Mostyn Kitchen Gardens is jam and chutney season - so John rolls up his sleeves and helps the team produce their delicious runner bean chutney!
Giant Pumpkin Grower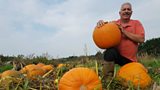 When Mark O'Hanlon was given a single pumpkin seed in lieu of payment for some charity work he had no idea of the colossal size the plant would grow into -  a record-breaker in fact! 
Now Mark's largest pumpkins are entered in competitions and used as props for films and TV shows. Meanwhile, his quirky/knobbly varieties are highly desired by chefs at top restaurants and, of course, he always has some on hand for Halloween.
But it can sometimes be a costly business - Mark once paid £2,000 for a single special seed...which then didn't germinate!
Leaf Peeping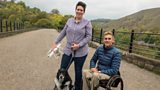 Think of autumn and you think of leaves changing from luscious greens to fiery oranges and copper reds.
And there's no better place to see autumn in all its glory than the Peak District National Park. 
Steve is here to meet two people who spend their time looking at autumn leaves - but on completely different scales.
Omid Asadi is an artist whose canvas is the autumn leaf. When he arrived in the UK from Iran, Omid was confused as to why no one paid any attention to the lovely autumn leaves under their feet, so he decided to use them as a canvas for his highly intricate pieces of work.
From looking at the individual leaf to taking in the beauty of a whole forest, Steve meets Stephanie Sutherland, a forester with a difference. 
Tired of walking around forests to complete surveys, Stephanie now uses a drone...what better way to experience autumn and all its colours than above the tree top canopy?
Foraging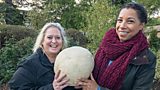 Margherita is in Doncaster with professional forager Alysia Vasey who supplies many Michelin-starred chefs with fresh, unusual ingredients.
Alysia was taught as a child how to forage by her granddad, who grew up in Poland. 
During the Second World War, he spent a year on the run from the Nazis, surviving only on what he could forage. 
Taking the knowledge passed down from her grandad, Alysia has built a reputation amongst culinary professionals as a distinguished consultant and supplier of all things wild. 
Margherita joins Alysia on an autumn forage to learn what this time of year has to offer before meeting Michelin-starred chef Andrew Pern, who cooks up a seasonal feast with their ingredients.
Otter Release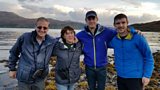 Grace and Paul Yoxon have been obsessed with otters since 1985 and set up the International Otter Survival Fund. 
Though they help protect otters all over the world, they also have a sanctuary on Skye. 
Here they rehabilitate distressed and underweight juvenile otters that are often found and brought to them. 
Matt joins them on a particularly important day, they're releasing an adult male otter that their son Ben rescued. 
After hitching a ride with the family to the beach release location, Matt is ready to see the cage door open and the otter (hopefully!) make a dash for the sea.
Liz Earle's Farm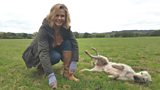 The idea of healthy living and well-being means a lot to Liz Earle.
And today the broadcaster, entrepreneur and writer of more than 30 books lives that life on her West Country farm. 
Liz and her family moved out of London looking for a different life and, 12 years on from converting a derelict farm, Liz now has 60 Hereford beef cattle, 300 sheep and 100 chickens.
It's been a learning experience and Liz has had to adapt the farm and the livestock breeds as she goes. 
But it's clear, as Liz shows us around her farm, that her determination to make it a success has paid off.
Credits
| Role | Contributor |
| --- | --- |
| Presenter | Matt Baker |
| Presenter | Anita Rani |
| Presenter | Steve Brown |
| Presenter | John Craven |
| Presenter | Adam Henson |
| Presenter | Margherita Taylor |
| Participant | Liz Earle |
| Series Producer | Joanna Brame |
| Executive Producer | William Lyons |