Main content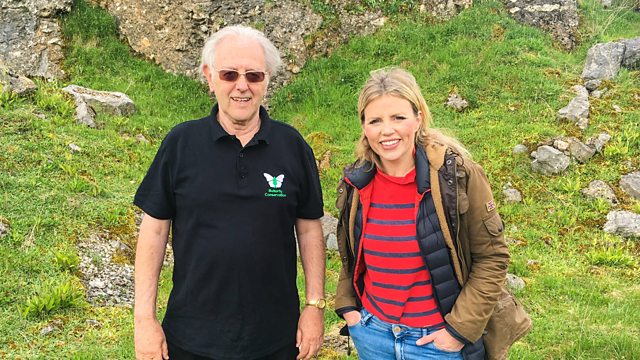 A Different Day Out
Ellie Harrison is in Derbyshire to explore ideas for a different day out, including building a makeshift raft and taking in an arts trail.
Ellie is in Derbyshire to explote some of the things people can do on a different day out. Her first stop is Carsington Water, where she learns how to build a makeshift raft before taking to the water and racing it. Back on dry land, she takes in an arts trail that features chainsaw sculptures, including a giant frame in which the landscape becomes the art. She heads to a limestone quarry to do some daytime moth-spotting and finds out that this unusual habitat is the ideal home for some of the country's rarest moths. And she takes part in the world-famous Bonsall Hen Racing Championships. She meets the current world champion, eight-year-old Jack Alsop Smith, and gets some hen-racing tips before going head to head to see who will be crowned 2018 champion. Ellie also looks back through the Countryfile archives to come up with other ideas for a different day out.
Music Played
Timings (where shown) are from the start of the programme in hours and minutes
Rafting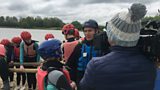 Ellie visits the beautiful Carsington Water in Derbyshire - a great place for a breath of fresh air or for working up a sweat.  
And for those with a mind for something a little bit different, there's certainly plenty of activities here to test you to your limits - not least of all raft-racing!
Ellie joins a team as they take on the task of building their raft that will hopefully see off the competition.
But with both teams also working up their own strategies for waterborne victory, who will win on the day? 
The Calvert Trust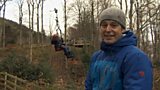 Matt Baker visits the Calvert Trust Outdoor Adventure Centre on the shores of Bassenthwaite Lake near Keswick. 
Set up in 1976, the Calvert Trust's mission is to make adventure activities accessible to people with a range of disabilities. 
At their centre, Matt joins ex-Royal Marine Alex Crow to tackle the trust's 'wheelchair challenge' assault course. 
He later finds out how a piece of specialist mountain rescue equipment, adapted by the trust's climbing instructors, is helping wheelchair users to abseil in the great outdoors.
Sheep Trekking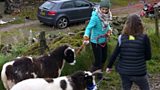 Sheep farming has played a significant role in the history of the Brecon Beacons. 
Today the  National Park remains criss-crossed with drover's roads from times gone by, when cattle and sheep were taken to market from the high mountain pastures. 
Helen Skelton meets local hill farmers, Paul and Liz Matthews, who have diversified from traditional sheep farming, and offer a very different experience in the hills and on the paths of the mountain pastures. 
Chainsaw Art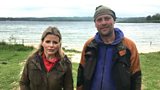 Back on dry land, Ellie takes a leisurely stroll round the edge of Carsington Water.  
Here, a specially-commissioned art trail encourages visitors to stop and ponder the landscape.  
Ellie catches up with wood sculptor Andy Frost, as he puts the finishing touches to a piece of art which places the countryside at its heart - a giant wooden picture frame sculpture which captures the best view of the lake. 
Starlight Safari
A glimmer in the dark… a flash on the ground… Anita Rani is on a safari like no other. 
Joining wildlife tour guide Keith Kirk at Threave Castle and Nature Reserve, Anita tiptoes into the black of Dumfries and Galloway's world-renowned dark skies in the hope of spotting some of the wildlife that comes out at night. 
Using thermal imagery cameras to pierce through the darkness and bring the landscape to life, Anita and Keith can't believe their eyes when they start seeing silhouettes of creatures glow all around them. 
But a close encounter with a darting field mouse, otherwise invisible to the human eye, is the highlight for Anita. 
Moths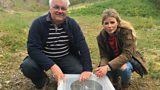 Just a short hop from the banks of Carsington Water is Hoe Grange Quarry where Ellie meets Adrian Russell, who is a County Moth Recorder.
Moth recorders are the skilled and dedicated volunteers who act as a central point for recording the number of moths in any given area.
Ellie and Adrian are out for the first ever moth-trapping here in the quarry to see what the evening's moth traps have yielded...
Husky Running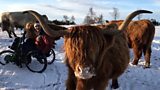 The Scottish wilderness can be a harsh environment in winter. Yet there are some people who crave these conditions and can't wait to get outdoors. 
John and Mary Carter met through racing and training huskies and between them hold a multitude of titles. 
Steve Brown has come to the farm to meet them, as well as fellow dog runner and family friend Catherine Lewis. 
Catherine has had spina bifida all her life, but this hasn't kept her from running dogs and even competing! 
Steve has come to see how Catherine works the dogs and to see if he has what it takes to become a musher!
Bikepacking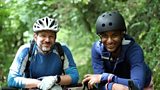 Sean Fletcher is heading to the Gower Peninsula to meet cycling journalist Laurence McJannet who has embarked on a 'Bikepacking' adventure. 
Sean learns that Laurence has been wild camping around the UK, covering more than twelve thousand kilometres in just nine months on his bike, pitching his tent in Britain's secret wild places. 
Sean jumps into the saddle with his own wild camping kit and Laurence takes him on his favourite coastal path before finding the perfect spot to pitch up off the beaten track.
Hen Racing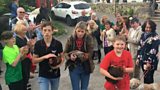 Hen-racing has taken place in Bonsall for more than twenty years and is a much-loved village tradition.
Ellie joins champion hen-racer Jack and his grandad at their smallholding where she's taught the basics of the sport.
The race itself takes place at the Barley Mow pub where Ellie meets another one of her rivals, Harvey, also a previous winner at the event. 
The competitors line up at the start line and prepare for the race, but who will top the pecking order...?
Credits
| Role | Contributor |
| --- | --- |
| Presenter | Ellie Harrison |
| Series Producer | Joanna Brame |
| Executive Producer | William Lyons |