Main content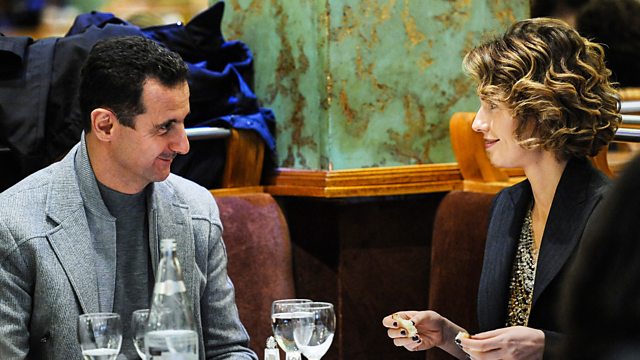 The story of the Assad dynasty. Bashar is now president and his wife is first lady, but they face problems on all sides and their regime is accused of killing a political enemy.
Three-part series delving into the story of the Assad dynasty. Right at the centre of it are President Bashar and his wife Asma, who met and fell in love in London. Bashar al-Assad trained to be an eye doctor at St Mary's Hospital in Paddington and Asma was a British-born girl from a Syrian family with a career in investment banking. Over a decade ago, they were being welcomed with open arms in Britain. Today, they are entrenched in a brutal war that has led to some of the most horrifying crimes of modern times. Told through rarely seen footage and testimony of those who knew them, worked with them and studied them, the series explores how the couple, who at first were seen as a modernising force, ended up running a regime accused of war crimes.
In episode two, Bashar Assad is now president of Syria. His glamorous wife Asma is now first lady. Both are faced with a number of problems. Asma's in-laws don't like the idea of her being first lady and want to keep her out of the limelight. An angry president of the United States names Syria as part of the axis of evil and the United Nations issue resolutions that Bashar's family want him to ignore. The Assads soon find themselves at the centre of a murder investigation, as one of their political enemies is blown up in a car bomb. With rare footage of Bashar and Asma, this episode takes us from the opening of their opera house in Damascus to the massacre of prisoners in Syria's biggest jail.
Music Played
Timings (where shown) are from the start of the programme in hours and minutes