Main content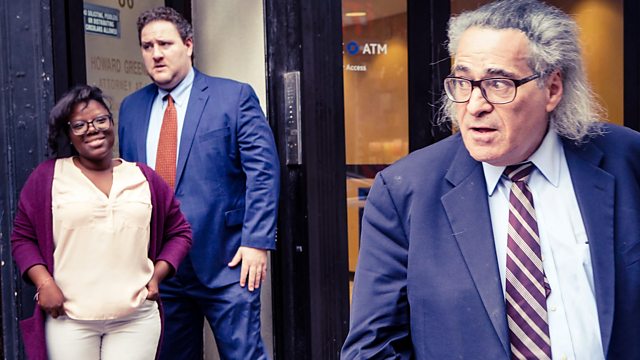 Following criminal defence attorney Howard Greenberg. Howard takes on the case of a young woman charged with murder. But was it really a suicide?
Four-part series that follows the exploits of attorney at law Howard Greenberg, a man who practises criminal law like you have never seen before.
In this episode we discover that for Howard 'belief trumps everything' when it comes to fighting a case, as he takes on a new defendant who is in deep trouble. 27-year-old Tiffany has never been arrested before. She has not even had a speeding ticket. But now she is accused of murder - and only Howard stands between her and a possible life sentence.
As the episode begins, Tiffany's husband lies dead, shot through the eye with a single bullet from an assault rifle. Only Tiffany and her husband were present in the apartment when the fatal round was fired. But was it suicide, or murder? By the time Howard takes on the case, Tiffany is locked up at the infamous Rikers Island prison complex. His first task is to help her prepare to give testimony at the Grand Jury - a mini trial that will determine whether her case will proceed. If she can convince the jurors of her story, she could walk free. We follow Howard as he meets with Tiffany via video-conference from jail to talk through her case.
As the wheels of justice grind slowly on, Tiffany remains in jail. The prosecutors do not have to reveal what, if any, evidence they hold. But as the episode draws to a conclusion, Tiffany's family dig up some potentially vital clues that would appear to strengthen Howard's hand and support his belief that Tiffany is innocent.
Between all this, we also discover that it is not just the clients that Howard feels compelled to help. From feeding his 'fish family' in Staten Island to looking after the chipmunks and birds down in New Jersey, Howard's caring nature casts him as someone to rival Dr Doolittle or St Francis of Assisi. Meanwhile, we discover that Marie has another role in the Greenberg household: that of closet prosecutor - according to Howard, at least. Marie chimes in with her thoughts on the Tiffany case: where Howard only sees certainty in his client's innocence, Marie sees a sliver of doubt, asking the questions that the prosecution will no doubt be asking at a future trial. But, as the episode progresses, Howard slowly convinces his wife that he might be right - especially when some compelling evidence comes to light.
Over in the Greenberg law office, this episode follows junior attorney Jonathan as he searches for a new apartment. Recently he has been living in the office, sleeping on a fold-down bed in the back room. Howard couldn't see any downsides to the arrangement - after all, he had Jonathan on call at the office 24/7. But Marie hated the arrangement. So inevitably, perhaps, Jonathan moved out. Now, in a potentially ill-advised move, Jonathan considers renting an apartment from Howard and Marie - an apartment in the same Staten Island building Howard lives in during the week. Lena thinks it is a good idea. But, as he weighs up the wisdom of moving one floor below his boss, Jonathan thinks he has worked out an ulterior motive. And when Howard runs the idea past, Marie - who happens to be the president of the residents association - it becomes evident they have different ideas regarding Jonathan's suitability as a tenant.
Music Played
Timings (where shown) are from the start of the programme in hours and minutes
Credits
| Role | Contributor |
| --- | --- |
| Director | Barnaby Peel |
| Series Producer | Max Andrews |
| Executive Producer | Stuart Cabb |
| Executive Producer | Emma Goddard |
| Production Company | Plum Pictures |