Main content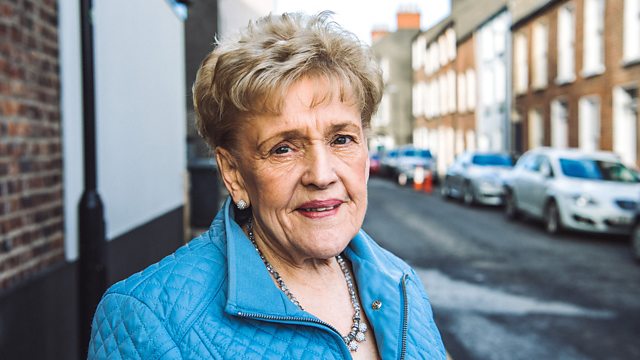 Troubles: The Life After
Interweaving archive footage and contemporary interviews with poetry by Nick Laird, the women who lost loved ones during the Troubles tell their story.
Poetic, intimate account of the Troubles in Northern Ireland, told through the stories of a handful of people who lost loved ones during the conflict. The Life After marks not only the 50th anniversary of the start of the Troubles but is a timely reminder of what could be at stake when the still fragile peace comes under new pressures, in the event of a hard border following Brexit.
From 1969 to 2001, 3,532 people were killed and 47,541 injured as a result of the Troubles. Many of these were civilians caught in the crossfire as conflict and murder became part of the daily narrative. A steady succession of British and Irish politicians made promises, looked for solutions, formed unlikely alliances and wondered privately what could possibly be done to bring peace to Northern Ireland. Politicians and diplomats around the world strove for a solution, and even American presidents felt compelled to get involved. Amidst the headlines and the rhetoric ordinary people were being killed, maimed and terrorised. This film, directed by multiple Bafta winner Brian Hill and first-time director Niamh Kennedy, tells some of their stories.
Stories like that of Virtue Dixon, whose daughter Ruth was killed on her 24th birthday when she was celebrating at the Droppin' Well Inn in 1982. An INLA bomb brought the roof down, killing both civilians and British soldiers. Virtue tells the story of the aftermath, of how life changed forever after the murder of Ruth. She does so partly in interview but also in specially written verses from Northern Irish poet Nick Laird. Each person in the film has their own poem, which crystallises and amplifies elements of their story.
Moving from the particular and the individual to the general, Laird has written a poetic narration, spoken by Northern Irish actress Bronagh Gallagher, in which issues such as collusion are discussed. Archive footage is also employed to reveal more about the conflict and the times. Within the narratives are important questions, many of which feel more relevant than ever today - for example, does terrorism ever advance a political cause?
Clips

Music Played
Timings (where shown) are from the start of the programme in hours and minutes
00:07

UB40

Present Arms In Dub
Credits
| Role | Contributor |
| --- | --- |
| Director | Brian Hill |
| Director | Niamh Kennedy |
| Producer | Alan Maher |
| Producer | Niamh Kennedy |
| Producer | Brian Hill |
| Executive Producer | Katie Bailiff |
| Production Company | Century Films Ltd |
| Production Company | Marcie Films |