Main content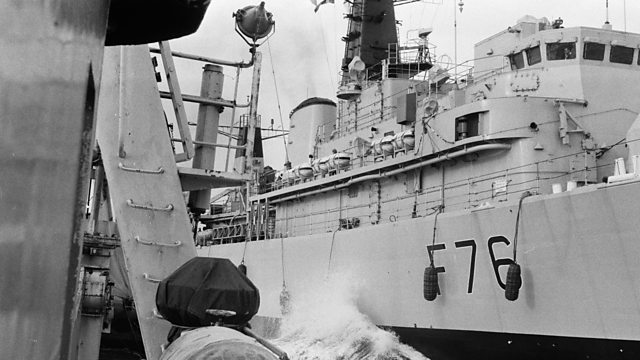 The Cod Wars Revisited
Julia Langdon tells the story of the 'cod wars' between Britain and Iceland - disputes which led to high drama at sea and the death of an industry at home.
When a country unilaterally takes back control of its waters, the results are dramatic.
This isn't a prediction about Brexit. It's a statement about our recent history.
The modern cod wars were a series of disputes (starting in the late 1950s and ending in 1976) between Britain and Iceland over fishing rights in the waters surrounding North Atlantic island. Each started when Iceland extended its territorial waters, claiming more and more of the seas that had been traditionally fished by the British. The final cod war started in 1975 when Iceland extended its territorial waters to two hundred miles. It ended one year later with Britain capitulating to Iceland's demands.
While they lasted, the cod wars were nightly news. British fishing boats and Icelandic coast guards clashed at sea. The Royal Navy were called in to protect the fishing fleet and take the brunt of the Icelandic aggression. Fishing lines were cut, sending vast trawler nets to the bottom of the North Sea. Their crews' fortunes sank with them. There were shots fired and arrests made.
At the time, Hull and Grimsby on England's east coast were two of the biggest fishing ports in Europe. The local families who sent their men to sea went back generations. It was a way of life that formed the heart of a whole community. The cod wars put an end to all of it.
Successive governments did try to negotiate with Iceland and in the mid 70s, Prime Minister Harold Wilson sent in the Royal Navy to protect the trawlers. But at the same time international treaties were being pushed that gave all countries the right to claim the amount of water Iceland wanted. By contrast the Icelandic government was prepared to do anything to assert its rights. In the end, Britain succumbed to international pressure and the tide of history and allowed Iceland all that it was asking.
In this programme, Julia Langdon brings this history to life through archive and new interviews with key figures from both sides. The sounds of the trawlermen on their way to the fishing grounds mingles with debate from the time. In Hull and Grimsby, Julia hears from trawlermen and their families about what life was like when cod was king.
The Cod Wars Revisited is a Made in Manchester Production for BBC Radio 4.
Last on