Main content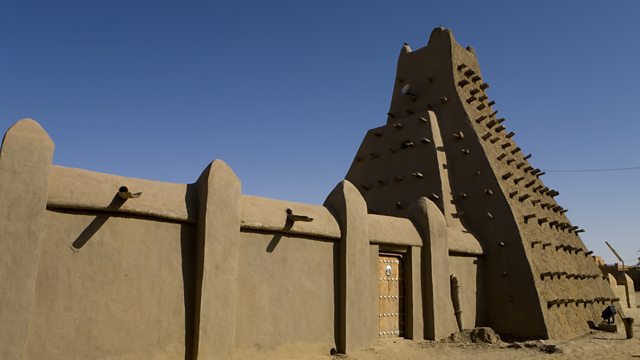 The Tales of Timbuktu
Bridget Kendall and guests examine how a Malian town became famous as the home of Islamic learning in West Africa and as a so-called 'African El Dorado' for European explorers.
The fabled city of Timbuktu is a curiosity. To 16th century Muslim scholars, it was the cosmopolitan hub of Islamic learning in West Africa, to European explorers 300 years later, it was a place of mystery whose name remains synonymous with being at the end of the earth. Most recently in 2013, Timbuktu was at the centre of the world's attention again after Islamist militants threatened thousands of valuable historic manuscripts stored in the city's famous libraries. Believed to be the richest person in history, it was Mansa Musa - the emperor of the vast Mali Empire - who first developed the desert settlement into a place of intellectual debate in the 1300s. The Golden Age of Islamic learning he began, still survives today.
Joining Bridget Kendall to discuss the importance of Timbuktu in Islamic history are Dr. Gus Casely-Hayford, Director of the Smithsonian National Museum of African Art in Washington, D.C. who has recently published a Ladybird Expert book about the city; Dr. Susana Molins-Lliteras, a researcher at the Tombouctou Manuscripts Project and postdoctoral fellow at the Department of Historical Studies, University of Cape Town; and Dr. Lansiné Kaba, Professor of History and Thomas M. Kerr Distinguished Career Professor at Carnegie Mellon University in Qatar.
Photo: Sankore Mosque in Timbuktu, Mali (Getty Images)
The 14th century African emperor who put Timbuktu on the map