Main content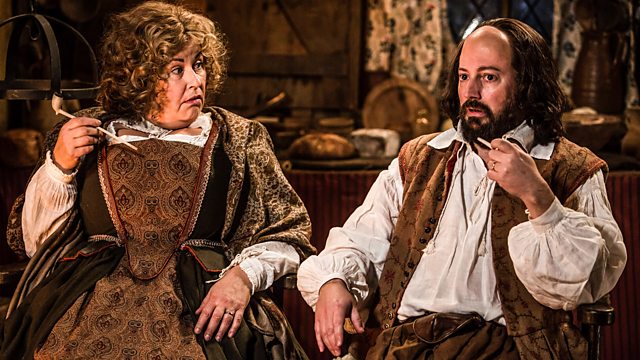 Shakespearean sitcom. When Kate stands in for Sue at a masked ball it causes problems. Will's ingenious solution doesn't quite work out as planned.
With the great fug making London too smelly to stay in, Will and his friends have all come to Stratford. Will hopes for some peace and quiet so he can write but with Kate and Marlowe bickering, Hamnet obsessed with playing at soldiers, Dad busy with his new role as Master of the Watch with not-so-able assistance from Sergeant Dogberry, and Sue excited about the upcoming masked ball there is very little peace to be had.
But when Kate stands in for Sue at the masked ball she accidentally sets off a chain of events that leaves Sue humiliated by the other local teenagers, and Will needs to come up with a ruse to turn the tables on the bullies. Meanwhile in all the confusion Hamnet has gone missing. Anne has a pretty good idea where he might be, and sets off to get her boy back.
Clips

Credits
| Role | Contributor |
| --- | --- |
| Margaret | Bessie Coates |
| Condell | Dominic Coleman |
| Kit Marlowe | Tim Downie |
| Sergeant Dogberry | Adrian Edmondson |
| John Shakespeare | Harry Enfield |
| Claude | Brandon Fellows |
| Kempe | Spencer Jones |
| Will Shakespeare | David Mitchell |
| Susanna Shakespeare | Helen Monks |
| Bottom | Rob Rouse |
| Burbage | Steve Speirs |
| Anne Shakespeare | Liza Tarbuck |
| Kate | Gemma Whelan |
| Don John | Joshua Wichard |
| Mary Shakespeare | Paula Wilcox |
| Judith Shakespeare | Rosanna Beacock |
| Hamnet Shakespeare | Joe Willis |
| Writer | Ben Elton |
| Director | Richard Boden |
| Producer | Gareth Edwards |
| Executive Producer | Chris Sussman |