Main content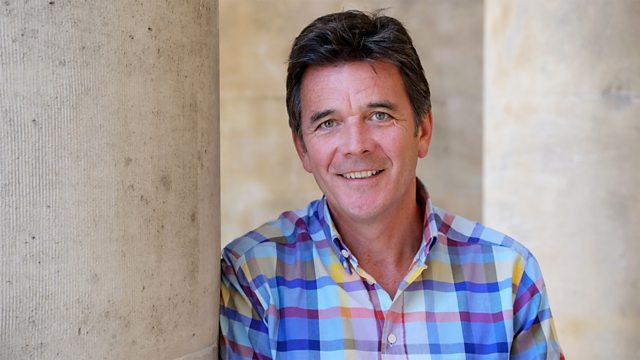 Stroke man recovers speech, Apple watch and ECGs, Newborn heel prick test
After a stroke Peter lost the ability to speak. For four years he wrote notes to communicate. But after a second stroke, he could suddenly talk again. He tells his remarkable story
Four years ago, Peter, a retired engineer from Gloucestershire, suffered a small stroke and lost the ability to speak. He communicated by hand signals and writing notes to his wife, Carol. But this summer, as he tells Dr Mark Porter, he woke up one morning and, much to everybody's amazement, began to talk....and he hasn't stopped since. Later that same day, a second stroke was diagnosed but his newly-returned speech was unaffected. It's a remarkable story and Alex Leff, Professor of Cognitive Neurology at the Queen Square Institute of Neurology in London discusses Peter's experience but describes what usually happens when stroke patients experience aphasia.
We're all familiar with devices like FitBits and gym monitors that measure your pulse rate but the latest development in wearable tech is a watch that monitors your heart. The latest Apple watch will offer ECG-like capabilities which can spot potentially worrying disturbances in heart rhythm. But Inside Health's Dr Margaret McCartney has serious concerns about the use of such tech for screening in healthy populations.
If you're under 50 you've almost certainly had it. The heel prick test or NHS newborn blood spot screening programme is done during the first week of life and it's designed to detect nine different conditions before they can cause symptoms or irreversible damage in young children. Dr Elaine Murphy is a consultant in inherited metabolic diseases at the Charles Dent Metabolic Unit at the National Hospital for Neurology and Neurosurgery in London and she tells Mark about the history of the heel prick test and describes the original condition, phenylketonuria or PKU, that the 1969 test was designed to detect.
Producer: Fiona Hill
Programme Transcript - Inside Health
Downloaded from www.bbc.co.uk/radio4
THE ATTACHED TRANSCRIPT WAS TYPED FROM A RECORDING AND NOT COPIED FROM AN ORIGINAL SCRIPT.  BECAUSE OF THE RISK OF MISHEARING AND THE DIFFICULTY IN SOME CASES OF IDENTIFYING INDIVIDUAL SPEAKERS, THE BBC CANNOT VOUCH FOR ITS COMPLETE ACCURACY.
INSIDE HEALTH – Programme 1.
TX:  25.09.18  2100–2130
PRESENTER:  MARK PORTER
PRODUCER:  FIONA HILL
Porter
Hello and welcome back.  Today:  Margaret McCartney on the latest wearable tech, she shares her thoughts on the new Apple watch which doesn't just monitor your pulse rate, but now has an ECG-type capability that can spot abnormal heart rhythms too.
And the newborn heel prick test, offered to every baby in the UK for nearly half a century, it was one of the earliest national screening programmes.  And, like Topsy, it has growed.
But first, a remarkable story, and something I have never come across, or even heard of, in over 30 years of being a doctor.   Four years ago, retired engineer Peter lost his ability to speak following a stroke, only to have it miraculously return this summer following another stroke. Much to everyone's amazement, not least his wife Carol's.
It all started in the car. 
Carol
Well we were driving and I was actually driving and I asked him the time and he didn't answer me.  So, I asked him again and I just sensed something was wrong.  When you live with someone and been married for 52 years you know everything don't you.  Anyway, the speech went and that was when we obviously got medical help.
Peter
It was gradual actually over a matter of a few weeks.  I found it more and more difficult to have a proper conversation with people.  And in the end, it became almost impossible and all I could really say to Carol was yes and no, an occasional very short phrase but that was about the best I could do.
Porter
How did it feel for you, I mean could you think of the right words, what was the problem, why couldn't you speak?
Peter
The words were difficult to find and I couldn't get any flow to it.  So, it became a bit staccato, if you like, you know, and then it went completely, down to this level of just yes and no and that sort of thing.
Porter
So, thumbs up, thumbs down.
Peter
Yeah.
Porter
What about your ability to write, could you do anything with notes?
Peter
Yes, yes that was fine, that was never affected.  And I always knew exactly what was going on around me.  So, I was completely aware but just unable to properly converse with people.
Porter
At its worst, how bad did it get then?
Peter
It was like a plateau really.  Over a period of weeks, it slowly got less and less and then it stayed fairly steady and we were getting by, by writing on paper…
Carol
We just lived with it really.
Peter
…and we found – we lived with it.
Carol
Yeah, we did, we just made light of it and said well we've got to carry on, we're getting old, we've got to expect something to happen I suppose.
Porter
And how long did that go on for?
Peter
Well around four years.
Porter
So, for four years essentially you were communicating with thumbs up, thumbs down…
Peter
Bits of paper.
Porter
Occasional yeses and noes and bits of paper.
Carol
Bought a load of pads.
Peter
I always carried a pencil and a pad with me.  We got by fairly well really, we could communicate pretty good but of course I couldn't speak to her properly.
Porter
It must be difficult for your relationship though…
Carol
It was, it was very…
Porter
…because being able to communicate and communicating properly are two very different things.
Peter
The thing that got me was when people were saying stuff I didn't agree with I couldn't respond.  Yeah, I found it particularly frustrating when people were arguing particularly about something I didn't agree with because I couldn't get involved in the conversation.  So, I did really find that extremely annoying.
Porter
So, essentially you were losing every argument.
Peter
Losing every argument, that's right, not even with any input.
Porter
Because it is an important part of your character isn't it?
Peter
It is, yeah, almost all of a human being really, being able to communicate with other people.  And of course, when that goes that's a big part of you gone.  And that's what they felt I think was that I'd sort of half disappeared off the scene, you know.
Daughter
I missed my dad.
Porter
What were you told about your chances of recovery?
Carol
Nil.
Peter
Not very good.  The speech therapist more or less gave up after a while and Carol asked her – are there any chances of it coming back.
Carol
We got fed up with it didn't we.
Peter
And she said it's very unlikely.
Porter
But earlier this summer, Carol and Peter were on holiday in Devon with their family, including son Jonathan who was staying in the next room.
Peter
Woke up as usual, Carol was other side of the bed.  I got out of bed and I stood up and I spoke to her but it didn't feel weird or anything…
Carol
Didn't register at first though did it?
Peter
It felt as though I was just talking to my wife, which seemed the most natural thing to do.  And I kept talking to her and her mouth sort of dropped open and she said – Pete, you're speaking.  And my son, from the next room, had heard two people conversing…
Carol
So, he came rushing in and he said what's going on in here.  He said mum I thought your voice had dropped, whose is that deep voice.  I said, it's your father, he's speaking.  And we all started crying and laughing at the same time.
Peter
Yeah it was a bit emotional.
Carol
It was very emotional, really was.
Peter
Because it had been so long, you know.
Porter
And yet you woke up and you didn't give it a second thought, you just opened your mouth and started speaking.
Peter
I didn't think ooh bloody hell I can talk again or anything like that.
Carol
I said Pete, Pete, Pete you're talking, you're talking and I was going come on don't stop, don't stop, don't stop I said because it might – it might not come back, so I said keep going, keep going…
Peter
It's funny, everybody said I was speaking a bit posh.
Carol
Posh, it was…
Porter
You sounded different?
Carol
…quite posh.
Peter
I sounded different.  And I told them that I'd always been posh really but I'm trying to hide it.
Porter
That same day, early in July, they went out to celebrate, but Peter felt unwell and developed weakness down his left side and a drooping mouth.  He was seen at the local hospital where a scan suggested he'd had another stroke, this time a small bleed into his brain, which might explain the miraculous return of his speech earlier in the day.
Porter
Now we're a few weeks on, I mean looking at you there's no obvious sign of any stroke…
Carol
No symptoms at all is there.
Porter
But your speech remains perfect?
Peter
… near perfect yeah.  I'm slightly slurred aren't I.
Carol
…evening when you get tired I…
Peter
When I get a bit tired in the evening it's gets slightly slurred but apart from that nothing, no problem at all.
Porter
And how's it changed your life as a couple since you've…
Peter
Oh yeah, a hell of a lot.
Carol
It really is, it's in fact back to normal really.
Porter
Do you worry that you might lose this new-found ability again?
Peter
Oh yeah, yeah, I do yeah because it seems such a delicately balanced thing, you know, bit like a watch, you know, it's had a bit of a knock and it's come back and it might have another knock and go away, like a bad contact…
Porter
Yes, exactly yeah.
Peter
Yeah, yeah that's right.
Porter
And is it nice to be able to argue again and get your point across?
Peter
Oh yeah, yeah.
Carol
Yes, it is.
Peter
I make a nuisance of myself now.
Carol
He's always been, we've always been very, I don't know…
Peter
Quite political really.
Porter
Debaters.
Carol
Yeah debaters, yeah.
Porter
Enjoy a good debate.
Carol
And we don't always agree with one another but on the whole…
Porter
But you must have had a bit of a monopoly for the last four years.
Carol
I have because I keep wanting to talk for him, you see, because it's a habit and I've got to learn to shut up and button it.  He said to this nurse, I think she's going to regret this, didn't you.
Peter
I think she does at odd times.
Carol
At times I did, I did tell you to be quiet the other day, said I can't take it, Pete, you've done nothing but natter all day.
Porter
Carol and her husband, Peter, getting used to both of them being able to talk, after four years of it just being Carol.
Alex Leff is Professor of Cognitive Neurology at the UCL Queen Square Institute of Neurology and has a special interest in the recovery of language after stroke and brain injury. Alex, this a remarkable story isn't it?
Leff
Yes, it's very unusual, certainly getting your speech back so quickly after a second stroke.  But the original description of him losing his speech and finding it very difficult to get the words that he wants, get them out, that's probably the commonest symptom after a stroke that has caused a language problem.
Porter
And have you come across cases like this where it has literally come back overnight?
Leff
I think that's very unusual.  The usual path back to recovery is usually a very slow one for people who've had severe language problems after a stroke and that's what Peter's one did sound like, he clearly described being barely able to speak at all.  So, some people have a mild stroke and they can get back to normal quite quickly via what's called spontaneous recovery, people don't fully understand it, but in the first few weeks or a month or so after a stroke some people do make remarkable recoveries without too much in the way of intervention or therapy.  But for another subset of people, probably about a third of people with an aphasic stroke, the road back to recovery is long and slow.
Porter
Is there anything that you can do, as a clinician, when you see someone who's lost their speech them get it back or is it just a matter of natural healing if they're lucky?
Leff
No, there's plenty that can be done to improve speech and language after a stroke.  Most of the work is done, of course, by speech and language therapists and frankly there just aren't enough of them.  The evidence suggests that you need an awful lot of practice to get your language abilities back.  It's unusual for somebody to completely lose all of their language but if you think about how long it takes you to develop language throughout your brain, I mean we continue to acquire language well into adulthood and what the stroke does is damage part but rarely all of the language systems.  So, even people with very severe aphasic strokes will have quite a lot of language still left in there, it's just a question of activating it and finding various strategies for helping them improve.  And the best way to get the brain to improve its behaviour is to train it because that's how you learn in the first place.  And what you need really, I'm afraid, is many, many hours of therapy and that's what a lot of people can't get access to.
Porter
And is this retraining a different part of the brain to take over the function because I'm presuming that if you've had a significant stroke that the part of the brain that's been affected is now dead and beyond repair?
Leff
Absolutely.  I think the most useful analogy is to think of the brain, certainly for language but also for many functions, as a network, so you can think of it a bit like the tube network in London.  And if you have an aphasic stroke then some of your key language nodes, if you like, have been taken out.  But there are still other parts of the network available and you can re-route language functions using what is remaining in the brain.  So, it's not like you grow a new part of the brain, but again if you lose a limb or fingers you don't grow your fingers back but you learn how to use what you've got left to be able to do the things that you want to carry out.  And I think this is the main way that therapy works by recruiting what's left in the brain and getting that to do the job, either in the same way or similar enough so that it does the same thing.
Porter
Another thing that you hear about people recovering from strokes is dramatic changes in – sometimes their ability, sometimes their personalities.  So, you hear somebody was able to take up and play a musical instrument, for instance, that they'd never been able to do before.  Is that explicable from a neuroscience point of view?
Leff
It can be, I think it's rare.  Usually strokes cause an impairment of function rather than a sort of flowering of abilities but I have heard several occasions, often with bleeds actually, where people have started doing things that they didn't use to do.  I think the likeliest explanation revolves around a concept called disinhibition, so the frontal lobes or the front part of the brain spends a lot of its energy helping you decide what to do and what not to do.  Often ideas will come into your head and you sort of get the feeling well I'd better not say that or I'd better not do that.  And if you have a stroke affecting those parts of the brain sometimes you become disinhibited.  Now usually disinhibition is a bad thing, especially socially, and you get all kinds of strange behaviours and some patients even end up in prison, certainly those who've had head injuries, it's something I hear quite commonly and their partners will say they're just not like they used to be anymore, which is rare to hear in patients with stroke.  But there are some rare cases where perhaps they've become a bit disinhibited and they've thought oh I'll give that a go.  And certainly, in the artistic sphere I've heard of people perhaps with the visual arts, so painting or sculpting where they've sort of taken that up because of their stroke and really sort of flowered and it's nice to hear that.
Porter
I think I know the answer to this next question but I'm going to ask it anyway.  I remember reading in the '90s about a person who'd had a stroke and speech returned but it sounded like he was an Italian, he had an Italian accent, the so-called foreign accent syndrome, is that explicable in any way?
Leff
It is, there are different causes of foreign accent syndrome and it can be caused by a stroke but there are other causes.  If it is caused by a stroke the evidence points to it being what's known as a dysarthria.  So, it's a problem with speech production but not with finding the right words, which is what Peter described early on, so you can find all the words you want to find but they just come out sounding a bit strange.  So, that's a problem with your motor plan of speech, if you like.  What is interesting about foreign accent syndrome is that people may sound Italian or may have a northern or regional accent but then if you actually get an expert or somebody from that region and say oh somebody said oh they sound Japanese, you ask a Japanese person, they say no it doesn't sound right.  So, it's not like we're born with pre-loaded software for how to do various accents, of course you can learn how to do an accent but the best way to get an accent is to live in the right place.  And this isn't put on, a bit like an actor might put on an accent, but it's a bit like that, so the brain has changed and the speech comes out distorted and it sounds to non-experts like a regional accent but it's actually just a dysarthria or a distortion of their speech.
Porter
What happens in people who have more than one native language, so someone who's bilingual in English and French for example, is there any evidence there that one of the languages might be preferential when they come back?
Leff
So often hear this from patients, the sort of dramatic stories that one language has been wiped out and the other language has been spared but when it's looked at more carefully I've actually never seen that happen.  All of us who are multilingual or bilingual people will be more proficient in one language than another, usually it will be their native language but occasionally when people move countries they actually become less proficient in their native language, just simply to do with usage.  When you have an aphasic stroke, it will affect both languages and it just depends how proficient you are as to which one is affected more than the other.  And so that really explains most of those stories.
Porter
Professor Alex Leff.  And there is more information on speech problems after stroke on the Inside Health page of the Radio 4 website.
Now to the latest development in wearable tech, a watch that monitors your heart like never before.  We are all familiar with devices like Fitbits and gym monitors that measure your pulse rate, but the latest Apple watch goes a step further, its ECG like capabilities means it can spot potentially worrying disturbances in heart rhythm too.  Which is clever and good right?  Margaret McCartney isn't so sure.
McCartney
Know thyself, said the Greeks.  Monitor yourself with our new technology, says Apple.  A new generation of Apple watches promises an upgrade.  We have got used to step counters, pulse monitors in the gym or on our wrists.  Now the offer is for something that used to be available only by attending a hospital or clinic, a modern equivalent of a cardiograph, a trace of the heart's electrical activity.  Commonly used to investigate possible heart symptoms, like palpitations or chest pain, it is now on offer to people who are feeling entirely well and otherwise just wanted to catch up on their emails or even just know the time.  This shift from a test being aimed at the symptomatic to people who are entirely well is not just a semantical change it's a statistical downfall.
Why? What could be wrong with 'knowing thyself' just a little better?  Isn't it good that medicine loses the barriers to access and citizens have access to things that used to be only available via a doctor?  The last couple of decades have meant big changes to what people have access to, pregnancy tests used to be only available from a doctor, blood pressure monitors now cost a few pounds.  There is no doubt that this serves many people well.  But this is not what bothers me.  Minor blips in heart rhythm are not uncommon.  Will highlighting these create anxiety and worry even put people off exercise unnecessarily?  And then there is another condition, atrial fibrillation.  Here the atrium, upper chambers of the heart, don't pump properly, meaning that the blood can clot.  Using blood thinners reduces the risks of clots causing strokes.  But here is the first of the statistical problems.  The trials that have been done showing benefit of these treatments have been done in patients who either had symptoms of atrial fibrillation – like breathlessness – or have been found to have it incidentally, when they have already been attending a healthcare professional with some other problem.  These are very different groups from people who are well and just happen to have bought a new watch.  In fact, a massive trial is due to start in the UK to find out whether looking for atrial fibrillation in people who are feeling well is useful or not.  Because the side effects of the medication used for atrial fibrillation includes bleeding, which is occasionally catastrophic, you have to be sure you are doing more good than harm by searching for a previously unknown condition.
For the other big statistical problem is prevalence, the amount of disease in a population. False positives, when you think you find a problem but in reality, there isn't one, are a big issue in medical testing.  Statistical calculations find that as a disease becomes rarer in a population a test for it will become less accurate, creating more false positives.  So, in a group of people known to have atrial fibrillation, the watch will pick it up most of the time. But in a real-life group of people who rarely have atrial fibrillation, the watch is far more likely to generate a false positive.  In fact, one study published in JAMA Cardiology earlier this year found that when the watch picked up atrial fibrillation it was right only 8% of the time, meaning that it usually gets it wrong.  Meaning that this watch could actually end up causing more appointments in GP surgeries, A&Es, and clinics, meaning longer queues and fewer appointments for people in bigger need. 
Know yourself, sure, but know the fallibility of technology too.
Porter
Margaret McCartney concerned, once again, about the unintended consequences of screening.
And talking of screening, next up is a test that you may not be that familiar with but if you are under 50 you will almost certainly have had it.  And if you over 50 your children or grandchildren have.
The NHS heel prick test or newborn blood spot screening programme is done during the first week of life and looks for nine different conditions in order to catch them before they cause symptoms and/or irreversible damage.  But it all started with just one disease.
Dr Elaine Murphy is a consultant in inherited metabolic diseases at the Charles Dent Metabolic Unit at the National Hospital for Neurology and Neurosurgery in London.
Murphy
It really starts back in the 1930s with two Norwegian children called Liv and Dag.  Two apparently healthy children at birth but within a few months it became clear that they weren't developing as they should.  So, they were failing to do the normal things like sit up, crawl, stand, as children normally would.  And they approached a Norwegian physician called Ivar Føllin and asked for his help essentially.  So, he saw the children and one of the things the mum had noticed was that as the children were getting older they had a sort of a musty smell about them, particularly their urine, so it had an unusual odour.  So, Dr Føllin correctly, as it turned out, thought this must be due to a particular chemical that was being excreted in the children's urine.  To cut a long story short he investigated this further and identified that this compound was called phenylpyruvate or phenyl pyruvic acid and he recognised that this might therefore have something to do with the metabolism of a particular amino acid called phenylalanine.  So, phenylalanine is one of the amino acids with the building blocks of protein.  So, he thought this might be a disorder of protein metabolism.
Porter
And essentially what was happening is that these children couldn't break down this phenylalanine properly, couldn't metabolise it and they were slowly poisoning themselves effectively.
Murphy
Exactly yeah.  So, these children had very high phenylalanine levels circulating in the blood which was then crossing across what we call the blood/brain barrier into their brain and damaging their developing brain and nervous system from a young age.  And it took a few more years and various other researchers to eventually work out that what these children had was a deficiency of a single enzyme or protein that we call phenylalanine hydroxylase, the long name for the condition is phenylketonuria and we all call it PKU for short. 
Porter
So, what was happening to these babies before this Norwegian doctor identified this, presumably they were just missed, we didn't understand?
Murphy
Yes, and one of the things that he did after he identified the first two children was visit institutions that were looking after individuals with severe intellectual disability and begin testing either the children or the adults that were in these long-term institutions.  So, sadly many of these individuals didn't learn to speak or communicate properly and had very low IQs of around 50.
Porter
And it's important because if you identify this you can change the diet in such a way that the children develop normally is that the case?


Murphy
Absolutely, so that's where the UK really comes in because it was a combination of work between various biochemists and physicians in the UK and some good team work between the teams at Birmingham Children's Hospital and also the Institute of Child Health attached to Great Ormond Street Children's Hospital and they effectively devised a low phenylalanine diet as something that could be tried in children with PKU.
Porter
But given that abnormality was detected in these cases because of a musty smelling urine, how does this fit with the heel prick test?
Murphy
So, everyone at that time felt that what was really important was diagnosing these children as early as possible, so you could start treatment before significant brain damage had occurred.  So, the first idea that we should be screening for this condition really came in the 1950s.  So, really the story then moves across to the United States and a physician there, actually a microbiologist called Robert Guthrie, who happened to have both a son with intellectual disability who didn't have PKU but also a niece who did have PKU and she wasn't diagnosed till 15 months of age.  And he effectively spent the rest of his life working on developing appropriate tests that could be rolled out across large populations of babies.  And then the real major development, which allowed us to expand newborn screening across all babies, was the development of the blood spot card.  So, he and others, it wasn't just him, that you could spot a little bit of blood from a baby's heel prick on to a piece of filter paper and this could then go directly into the post to the laboratory.  And that allowed mass screening and speeding up of the whole process.
Porter
And what about the impact on these children, how hard is the diet to follow and if you do follow it is – what's the prognosis?
Murphy
It's hard, there's no two ways about it.  It's quite straightforward, we have specialist metabolic dieticians who work in this field but to put it in context, for many of these children they cannot have any protein containing foods at all.  So, that means for the entire of their life they would not have meat, fish, eggs, diary products, nuts, pulses.  The only foods that they can really have freely are things like fruit and some vegetables.
Porter
And the outlook for these children is good?
Murphy
The outlook for these children is fantastic these days.  So, whereas we were looking at in the untreated situation many children and adults having IQ of around 50 or less, now we would expect all individuals picked up on screening to have a normal IQ comparable with the general population.
Porter
Now the heel prick test may have started looking for PKU but it's been broadened extensively since, can you give us some idea of the scope of what happens today?
Murphy
So, now we screen for nine separate conditions.  Six of those are inherited disorders of metabolism and then there are three other conditions on the card at the moment – congenital hypothyroidism, which started quite early, we've been screening for that since the early 1980s; cystic fibrosis and sickle cell disease.
Porter
Underactive thyroid is another example of a disease that's quite easy to diagnosis eventually and to treat but there's a golden window isn't there with developing children, it's important to have a normal thyroid for brain development?
Murphy
Absolutely, so in fact very similar to phenylketonuria, we want to pick the underactive thyroid up within the first few weeks of life, so that critical period of brain development for a newborn is when we want to diagnose these conditions.
Porter
As with all screening tests there are pros and cons, what are the potential harms from doing a heel prick test on babies, fairly minimal I would imagine?
Murphy
There are pretty minimal, obviously it hurts momentarily for the baby and no parent wants to hurt their child but the children settle within seconds, bit of a cuddle and a feed and they're absolutely fine.  We have put and the National Screening Committee have put a lot of effort into making sure most importantly we don't miss any children, the test must be very reliable, must pick up all affected cases but equally we do not want to have too many children screen positve but condition negative because obviously that's an extra stress and worry for parents because they're called back for extra tests.
Porter
Do some parents refuse the test?
Murphy
It's very, very, very unusual, it's a fraction of less than 1% of parents who would decline.  And we…
Porter
What sort of reasons do they give for that?
Murphy
Usually it relates to not fully understanding the reasons for the test.  We put a lot of effort into educating and health visitors and the midwives who do the test because it's actually quite challenging for them because the conditions are so rare many health visitors or midwives will never have seen an individual with the disease, so we need to educate them properly so that they can give correct counselling to parents, so that parents can really understand what the test is for and what the implications are if they decline the test.
Porter
Dr Elaine Murphy.  And since the introduction of the heel prick test it has picked up at least 5,000 children in the UK with PKU alone who would otherwise have faced a life with severe long-term disability.  More details, as ever, on our website.
Just time to tell you about next week when I visit a busy labour ward to ask why, as we plan the first manned mission to Mars, we are still debating when to cut the umbilical cord.
ENDS