Main content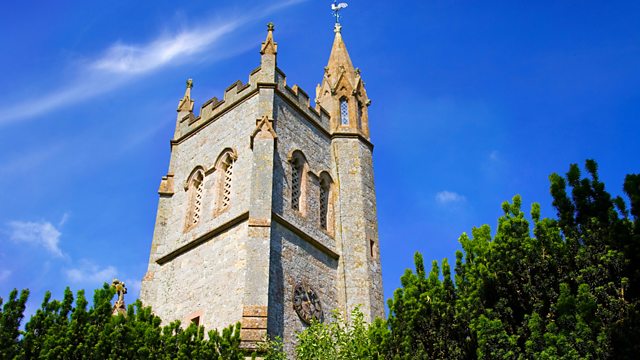 The Nature of Discipleship
The Rev Dr Peter Stevenson leads staff and students from South Wales Baptist College in a live service from Albany Road Baptist Church, Cardiff.
The Rev. Dr. Peter Stevenson reflects on the experience of following Jesus 'on the way' by drawing attention to the hopeful message which the church is called to communicate. He recalls an occasion recorded in Mark 9:30-37 when Jesus tried to teach his argumentative friends that true discipleship is costly because it involves forgetting self in order to serve God and others.
Members of South Wales Baptist College are joined by Cambrensis Choir, accompanied and directed by Jeffrey Howard and Anne Brown in a live service from Albany Road Baptist Church, Cardiff.
Producer: Karen Walker.
Script:
PLEASE NOTE: This script cannot exactly reflect the transmission, as it was prepared before the service was broadcast. It may include editorial notes prepared by the producer, and minor spelling and other errors that were corrected before the radio broadcast.
It may contain gaps to be filled in at the time so that prayers may reflect the needs of the world, and changes may also be made at the last minute for timing reasons, or to reflect current events
Continuity announcement:
BBC Radio 4.  "Following Jesus 'on the way'" is the theme for Sunday Worship now, led by staff and students from the South Wales Baptist College.  The preacher is the principal, the Rev'd Dr. Peter Stevenson.  The service, which comes live from Albany Road Baptist Church, Cardiff, is led by the Rev'd Jonathan Davis and begins with an invitation to worship: -  'Come people of the risen King'
1.MUSIC 1 CAMBRENSIS/CONG/ORGAN or PIANO
Come people of the Risen King   
2.WELCOME & INTRO JONATHAN DAVIS
Bore Da – Good morning and welcome to Cardiff.
For over 100 years Cardiff's been home to the South Wales Baptist College which seeks to equip men and women for effective Christian service in a changing world.  We're a community of people who encourage one another to follow Jesus 'on the way' of discipleship.
And right at the beginning of the Gospel story we hear the call to prepare the way of the Lord
3.INTRO TO MUSIC  SARAH & LAURA
Sarah: The beginning of the good news of Jesus Christ, the Son of God.
Laura: As it is written in the prophet Isaiah,
"See, I am sending my messenger ahead of you,
who will prepare your way;
Sarah: The voice of one crying out in the wilderness:
Laura: 'Prepare the way of the Lord, make his paths straight,'
4.MUSIC 2 CAMBRENSIS / PIANO or ORGAN
Prepare ye the way of the Lord
5.OPENING PRAYER & LINK JONATHAN DAVIS
Let us pray:
Lord, as we receive your gift of a new day,
We worship you as the one who is merciful and gracious,
As the living God who is slow to anger and abounding in steadfast love.
Lord, we thank you for people whose loving lives
prepared the way of the Lord,
by making faith visible, and helping us see,
what following Jesus on the way looks like in practice.
Lord, touch our lives today,
So that our love and faith
Might encourage others to explore the way of Jesus,
for it is the way that leads to life in all its fulness. Amen
In a few moments our College Principal, Peter Stevenson, will begin his reflection.   But before that we turn to our first Bible reading which comes from Second Corinthians chapter 4 beginning at verse 1.
6.READING
Therefore, since it is by God's mercy that we are engaged in this ministry, we do not lose heart. 2 We have renounced the shameful things that one hides; we refuse to practice cunning or to falsify God's word; but by the open statement of the truth we commend ourselves to the conscience of everyone in the sight of God.  5For we do not proclaim ourselves; we proclaim Jesus Christ as Lord and ourselves as your slaves for Jesus' sake. 6 For it is the God who said, "Let light shine out of darkness," who has shone in our hearts to give the light of the knowledge of the glory of God in the face of Jesus Christ. 7 But we have this treasure in clay jars, so that it may be made clear that this extraordinary power belongs to God and does not come from us.
7.REFLECTION 1  PETER STEVENSON
One of the perks of teaching at a theological college, is being invited to preach at Ordination services. And this month I'm privileged to be preaching at the ordinations of two recent college graduates.
Sharing in such services reminds me of my own ordination in Bedford 40 years ago this month. And the church that commended me for training as a Baptist minister presented me with a useful book of 'orders and prayers for church worship' which has accompanied me on my ministry journey over the years.
Inside the front cover there's a greeting from friends at a Baptist Church, in Cowley who helped launch me into Christian ministry.
And at the bottom of the page there's a reference to a part of that reading from 2nd Corinthians, which we've just heard, which says:
We do not proclaim ourselves; we proclaim Jesus Christ as Lord and ourselves as your slaves for Jesus' sake.
Now whoever chose to point me to those verses was clearly someone with a good bit of spiritual insight, for as one biblical scholar observes: "It would be hard to describe the Christian ministry more comprehensively in so few words".
Over the years as I've followed 'on the way' of discipleship, I've often reflected on that little text because those words remind me that one aspect of following Jesus 'on the way' involves proclaiming the good news that Jesus Christ is Lord.
And we focus on the one who is Lord over all as Cambrensis lead us in singing The Lord's my shepherd – and I will trust in Him alone.
8.MUSIC 3 CAMBRENSIS/CONG
THE LORD'S MY SHEPHERD
9.REFLECTION 2 PETER STEVENSON
On holiday earlier this year my wife Susan and I travelled to Italy and our trip included a visit to the city of Pompeii and it was poignant and moving to walk around the remains of that community which was overwhelmed and frozen in time by the eruption of Vesuvius in AD 79.
At one point in our tour of Pompeii we visited a building where freed slaves would offer worship to the Roman Emperor. For back in the first-century world Roman Emperors, with delusions of grandeur, were fond of declaring that 'Caesar is Lord'. And one of the ways in which freed slaves and others could demonstrate that they were good law-abiding citizens was by offering sacrifice and also confessing that 'Caesar is Lord'.
And that's the kind of world that Christianity was born into. Living under that kind of political regime it was a daring and dangerous thing to declare not that 'Caesar was Lord' but that 'Jesus is Lord'. And yet the reality is that from the earliest days of the Christian church new believers affirmed their allegiance to Christ by making that dangerous declaration at their baptism.
And it's clear that this message is a disturbing one because it challenges people to surrender control of their lives to Jesus Christ. But that doesn't exhaust the meaning of this exciting and hopeful  message.
For when the apostle Paul uses that particular phrase he's trying to convey the mind-boggling truth that Jesus Christ is the one who shares in the unique divine identity, the one who shares Almighty God's sovereignty over all creation.
For those with ears to hear, this title 'LORD' implies that Jesus Christ is the one whose power and authority are sovereign and supreme.
So when Paul sums up his ministry as proclaiming that Jesus Christ is Lord he's not simply saying that Christ is Lord of their lives and Head of the Church.
Paul wants his friends to realise that as they preach this exciting message they're affirming that Christ is:
• Lord of time and history,
• Lord of the living and the dead,
• The one who rules over past, present and future, now and for ever.
All of which means that the message which the church is called to proclaim, as we follow Jesus on the way of discipleship, is a message which has a much larger agenda than 'my personal life' or 'the life of the church'.
If Jesus is Lord over all, that means there's no division between sacred and secular and no separation between how we're called to live on a Sunday and how God wants his people to live as they follow Jesus 'on the way'  throughout the rest of the week.
The message entrusted to me as a young minister 40 years ago is the one entrusted to the church at all times as we press forward 'on the way'. And it's a supremely hopeful message for a world where hope is sometimes in such short supply.
I have to confess that it's very easy to end up feeling fearful about the future as we absorb the steady drip drip, drip of bad news. All too often it feels as if evil, violence and chaos rule the day.
But with our eyes wide open to the harsh realities of a world groaning in travail, the Church proclaims the good news about the loving Lordship of the living Christ.
Standing on the firm foundation provided by the death and resurrection of Jesus, God's people can face the future with faith and with hope, daring to believe that the day is coming when every knee shall bow and every tongue confess that Jesus Christ is Lord to the glory of God the Father.

10.MUSIC 4 CAMBRENSIS/CONG/ORGAN or PIANO
My hope is built on nothing less
11.LINK JONATHAN DAVIS
In our second Bible reading, from Mark chapter 9 verses 30 to 37, Jesus tries to help his friends see what's involved in following Him 'on the way' of discipleship.
12.READING 2  
They went on from there and passed through Galilee. He did not want anyone to know it; 31 for he was teaching his disciples, saying to them, "The Son of Man is to be betrayed into human hands, and they will kill him, and three days after being killed, he will rise again." 32 But they did not understand what he was saying and were afraid to ask him.
33 Then they came to Capernaum; and when he was in the house he asked them, "What were you arguing about on the way?" 34 But they were silent, for on the way they had argued with one another who was the greatest. 35 He sat down, called the twelve, and said to them, "Whoever wants to be first must be last of all and servant of all." 36 Then he took a little child and put it among them; and taking it in his arms, he said to them, 37 "Whoever welcomes one such child in my name welcomes me, and whoever welcomes me welcomes not me but the one who sent me.
13. REFLECTION 3 PETER
When our older son completed his history degree, as proud parents we were pleased to attend his graduation. And after all the students had walked across the stage, received their handshakes and got their degrees, a distinguished academic came forward to deliver the Graduation Address. As someone who's involved in public speaking I was interested to hear what he'd say to these young graduates standing on the threshold of their careers.
I don't know exactly what I was expecting - but that Graduation Address turned out to be memorable - for its key message was simply this: Be kind to people as you climb the greasy pole of success – because you're going to need their help when you go down the other side…'
Now implicit in that short talk was the idea that in a competitive world a sound university education can give you an advantage – give you a leg-up in the race to the top…
And we're aware that we do indeed live in a competitive world where people struggle and compete, not only for work, but also for success and status, for reputation and honour, for power and prestige.
And sadly, it's all too easy for that competitive virus to infect the church, and when that happens it causes all sorts of problems…
But the truth is that this isn't a new phenomenon….
Our reading from Mark's Gospel this morning reveals that a competitive spirit had infected even those first followers of Jesus.
Because as they're travelling 'on the way' they're arguing with one another as to which of them was the greatest…
Now when we hear that the disciples were 'on the way' we're not being given the Travel News, that traffic's flowing smoothly on the dual carriageway to Jerusalem; but those words remind us that Jesus and his friends are on a journey which is heading relentlessly towards suffering and the cross.
Over and over again Jesus has been trying to warn his friends that he's going to be betrayed into human hands and killed; and that they'll also need to walk the way of the cross. But 'the disciples…have chosen another way, a way of self-promotion, which is not the way of the Lord.'
They don't want to hear about the cost of discipleship – because they're far too busy arguing about which of them's going to be at the head of the queue in the kingdom of God.
And Jesus knows that they've been arguing about who's going to be at the top table, and so he adopts the formal role of the teacher, as he sits down and says to them: "Whoever wants to be first must be last of all and servant of all."
But as usual the disciples are slow on the uptake - and knowing that actions can often speak louder than words, Jesus takes a little child in his arms and says to them: "Whoever welcomes one such child in my name welcomes me, and whoever welcomes me welcomes not me but the one who sent me."
Now when we hear about Jesus welcoming a little child -  if we react with a warm, fuzzy, glow and say 'how lovely that was'  - then we've actually missed the point here.
For Jesus lived and worked in a world where there were neither child protection policies, nor any legislation promoting the rights of the child.
He lived and worked in a harsh First-Century world where children had
no rights or value
no status, or power.
So, by welcoming a child, Jesus is welcoming someone who's unimportant in the eyes of the world; he's embracing a person who's on the margins - who's almost invisible.
And that shows that being a servant of all, involves embracing and welcoming those whom society ignores and overlooks, and leaves on the margins.
It means serving and welcoming others - including those who've no power or prestige - because in welcoming them we'll find that we've been welcoming Jesus.
Faced with a bunch of bickering disciples Jesus sat down and called the twelve, and those words imply a 'renewed call to discipleship'
Yes, the disciples have already responded to the call to follow Jesus –
but now he's renewing that call.
Renewing the call to follow Him on the way of the cross…
Renewing the call to a way of living summed up in the words 'Whoever wants to be first must be last of all and servant of all.'
And that renewed call to follow Jesus on the way of discipleship and service comes through clearly in our next hymn which prays to the one who is the God of the poor, and the Friend of the weak.
14.MUSIC 5 CAMBRENSIS/CONG/
BEAUTY FOR BROKENNESS   
15.PRAYERS JONATHAN/LAURA/SARAH
Jonathan: We respond to the God who calls us to follow as we pray together:
Loving God
Open our ears
so that we can hear again
the call to follow Jesus 'on the way'.
Enable us by your Holy Spirit
To live in ways which will make faith visible
and help prepare the way
for others to discover and experience life in all its fullness.
Laura:Loving God
Open our eyes
And help us to see others as Jesus views them,
Not as rivals, but as neighours;
people of value and dignity, created in your image.
And show us the ways in which you want us to serve others in your name. 
Sarah:Loving God
We find it hard to know how to pray
For those communities in America, the Phillipines and in China
Where devastating storms have left such a trail of death and destruction.
We ask that those who mourn will find the comfort they need;
And we pray that governments and other agencies will work effectively together in bringing relief and help to people in those broken communities.
Jonathan:
And with an awareness of a world in pain we pray as Jesus taught his disciples to pray:-
Our Father in heaven, hallowed be your name,
your kingdom come, your will be done,
on earth as in heaven.
Give us today our daily bread.
Forgive us our sins as we forgive those who sin against us.
Lead us not into temptation but deliver us from evil.
For the kingdom, the power, and the glory are yours
now and for ever.  Amen.
Jonathan: So we gather up this act of worship as we sing Crown Him with Many Crowns
16.MUSIC 6 CAMBRENSIS/CONG/ORGAN or PIANO
CROWN HIM WITH MANY CROWNS,
17.BLESSING PETER
1 Jesus Christ is the same yesterday, today and forever.
We go in peace to follow Jesus on the way,
Trusting in the one who says
'I will never leave you or forsake you.'
2 As we go in peace to serve the Lord,
May the strength of God pilot us,    
May the power of God preserve us,
May the wisdom of God instruct us,
May the hand of God protect us,
May the way of God direct us,
May the shield of God defend us,
May the host of God guard us
Now and always. Amen
3 May the Lord bless you and take care of you;
May the Lord be kind and gracious to you;
May the Lord look on you with favour and give you peace.
Amen
ORGAN PLAYOUT Jeffrey Howard
BACK ANNO:
Albany Road Baptist Church in Cardiff was the host to staff and students of South Wales Baptist College in this morning's live Sunday Worship.  The service was led by the Rev'd Jonathan Davis and the address was given by the Principal, the Rev'd Dr. Peter Stevenson.    Cambrensis was conducted by Anne Brown, and the Musical Director and accompanist was Jeffrey Howard.  The producer was Karen Walker.
This Friday is BBC Music Day and BBC Radio 4's Daily Service will be marking the occasion with a special programme broadcast live from Emmanuel Church in Didsbury, south Manchester.  If you'd like to join the congregation and be part of the service, then go to the BBC Shows and Tours website for tickets"