Main content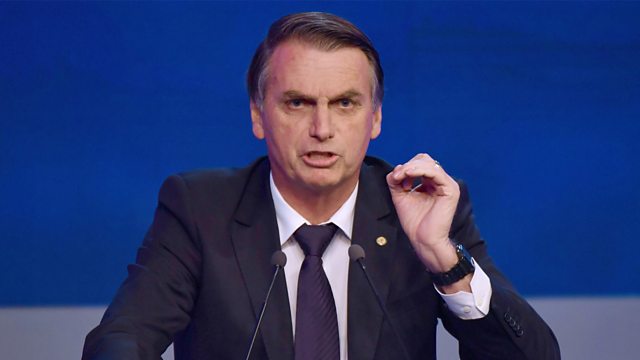 The 'Tropical Trump' topping the polls in Brazil
A look at Jair Bolsonaro, Brazil's controversial presidential front-runner. Kate Adie introduces the story behind the candidate's surprising rise.
Jair Bolsonaro, the front-runner in Brazil's presidential election, is famously tough on crime and infamous for his unashamedly controversial comments. Katy Watson meets supporters of the man drawing comparisons to Donald Trump.
Kate Adie introduces this and other stories from around the world.
On the shores of Lake Prespa, Maria Margaronis visits Greece's little-known Macedonian speaking population.
In Tehran, Lois Pryce meets Issa Omidvar, whose globetrotting adventures were documented in a weekly TV show in the 1960s and who's now advising young Iranians on how to satisfy their wanderlust
In India, Laura Dawson meets young women who've been abandoned by their families but are finding new hope in a government-backed refuge.
And while international courts and tribunals have given hope to victims of atrocities in many parts of the world, Fergal Keane reflect that there has been no justice for the majority of those killed in Uganda's past conflicts.
Producer: Joe Kent
Last on
Broadcast