Main content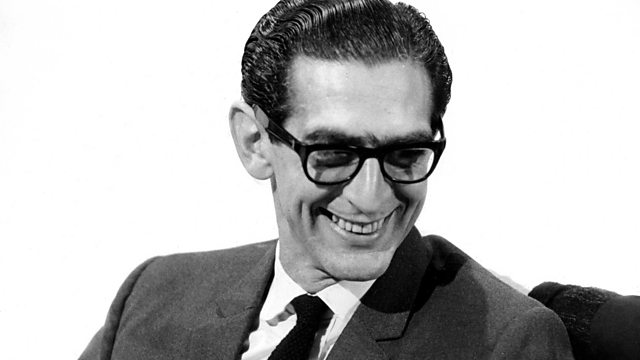 Denis Norden, Diane Leather, Johnny Kingdom, Fenella Fielding
Andrea Catherwood tells the life stories of broadcaster Denis Norden, athlete Diane Leather, wildlife expert Johnny Kingdom, and femme fatale Fenella Fielding.
Pictured: Denis Norden
Andrea Catherwood on Denis Norden, the television presenter and comedy writer who made Britain laugh for half a century.
Diane Leather, the first woman in the world to break the 5-minute mile, just 23 days after Roger Bannister broke the 4-minute barrier, but achieved much less acclaim.
Johnny Kingdom, the poacher turned filmmaker who enthralled TV audiences with his love and knowledge of wildlife in his native Exmoor and beyond, and became an unlikely celebrity in the process.
And Fenella Fielding, the femme fatale with a throaty drawl and come-hither stare best known for her roles in the Carry On and Doctor comedy capers.
Interviewed guest: Russell Davies
Interviewed guest: Lindsey Armstrong
Interviewed guest: Anna Kessel
Interviewed guest: Richard Taylor Jones
Interviewed guest: Robert Chalmers
Archive clips from: Gabby Logan, Radio 5 Live 12/10/2008; The Original Godfathers, Radio 4 27/03/2007; The Robert Peston Interview Show, Radio 4 07/09/2015; Midlands Today 06/05/2004; Midweek, Radio 4 14/05/2008; Loose Ends, Radio 4 31/05/2008; This Land: Johnny's Kingdom, BBC Two 14/04/2000; Johnny Kingdom: A Year on Exmoor, BBC Two 13/10/2006; Valmouth, Radio 4 28/04/1975; Desert Island Discs, Radio 4 05/06/1965; Front Row, Radio 4 17/11/2017; www.metafenella.com: 'Metafenella' is an interactive video portrait by public artist Martin Firrell offering advice for living well from the life and work of Fenella Fielding.
Denis Norden
Born 6 February 1922; died 19 September 2018, aged 96.
Last Word spoke to broadcaster Russell Davies.
Diane Leather
Born 7 January 1933; died 5 September 2018, aged 85.
Last Word spoke to her daughter Lindsey Armstrong, and sports writer Anna Kessel.
Johnny Kingdom
Born 23 February 1939; died 6 September 2018, aged 79.
Last Word spoke to Richard Taylor Jones, a friend and cameraman who worked with Johnny on his television series.
Fenella Fielding
Born 17 November 1927; died 11 September 2018, aged 90.
Last Word spoke to feature writer Robert Chalmers.