Main content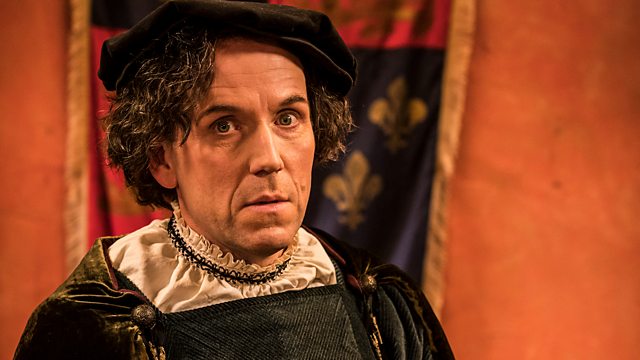 If You Prick Us, Do We Not Bleed?
Shakespearean sitcom. A brilliant new actor has some surprising views about the authorship of Will's plays.
London is full of anti-immigrant rioting. Will looks forward to an age when such sentiments are long gone, but in the meantime he and the players plan to do their bit to help those worse off than themselves with a fund-raising charity gala night. Inflated Pig's Bladder Day is a triumph.
As it happens, Will's newest play, the Merchant of Venice, is also about an oppressed outsider. But who will play the groundbreaking character of Shylock? Step forward the greatest actor of the age, Wolf Hall, a man with amazing stage presence and some rather controversial theories about who really wrote Shakespeare's plays.
Clips

Credits
| Role | Contributor |
| --- | --- |
| Condell | Dominic Coleman |
| Kit Marlowe | Tim Downie |
| John Shakespeare | Harry Enfield |
| Lucy | Jocelyn Jee Esien |
| Robert Greene | Mark Heap |
| Kempe | Spencer Jones |
| Wolf Hall | Ben Miller |
| Will Shakespeare | David Mitchell |
| Susanna Shakespeare | Helen Monks |
| Bottom | Rob Rouse |
| Burbage | Steve Speirs |
| Anne Shakespeare | Liza Tarbuck |
| Kate | Gemma Whelan |
| Mary Shakespeare | Paula Wilcox |
| Judith Shakespeare | Rosanna Beacock |
| Rodney | Thomas Smith |
| Hamnet Shakespeare | Joe Willis |
| Writer | Ben Elton |
| Director | Richard Boden |
| Producer | Gareth Edwards |
| Executive Producer | Chris Sussman |