Main content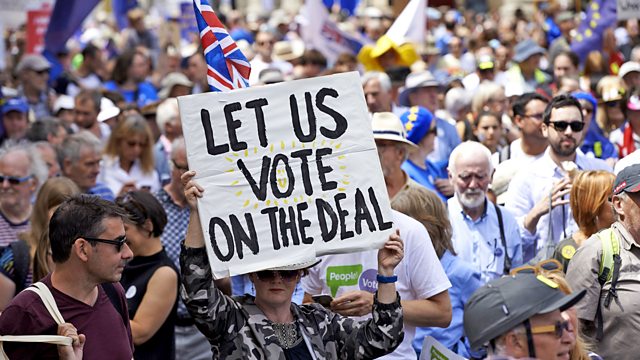 Another Brexit Referendum?
If there were to be another referendum on Brexit, how would it work? Is there enough time to hold such a vote, and what could the question be?
How could a new referendum on Britain's relationship with Europe work? As pressure mounts on Theresa May to seal an agreement on Brexit, there are growing calls for a further referendum on the issue. From across the political spectrum, MPs, trade unions and campaigners are demanding another vote on the terms of the deal, or lack of one. In the Briefing Room, David Aaronovitch examines the mechanics of this hypothetical proposition. What would the procedure be to trigger another referendum and how would it be organised? And is there enough time?
Guests:
Chris Morris, BBC Reality Check
Alan Renwick, deputy director of the Constitution Unit, University College London
Professor Catherine Barnard, Senior Fellow at the UK in a Changing Europe Initiative at King's College London
Professor Matt Qvortrup of Coventry University
Katya Adler, BBC Europe Editor
Last on
The Brexit secretary has been in Brussels - what kind of deal does the UK now want?

Is the failure to build at the core of the housing problem or are other factors at play?

The collapse of the Turkish lira has exposed deeper problems. How bad is the situation?
Broadcast