Main content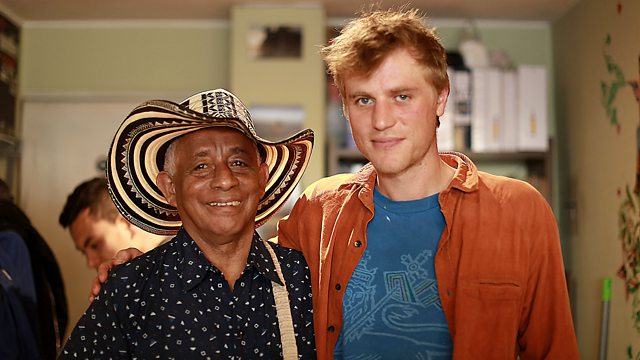 Johnny Flynn travels to Colombia
Gemma Cairney travels to Bogota in Colombia to take Johnny Flynn for a musical collaboration with accordian legend Carmelo Torres.
The Sound Odyssey is a new series in which Gemma Cairney takes British artists for musical collaborations in different countries around the world, hearing the musicians in a new light, and exposing their artistic process as they create something new in different and unfamiliar surroundings with an artist they have never met before.
In this programme musician and actor Johnny Flynn heads to Bogota in Colombia. Here he will be collaborating with Carmelo Torres the Colombian accordion legend of Cumbia, to combine his British folk storytelling with the folk sounds of Colombia. The aim, to see if they can create a new track together in just two days.
Johnny is the lead singer and songwriter of the band Johnny Flynn & The Sussex Wit. He's also an acclaimed stage and screen actor and has scored the BBC Four television series Detectorists. Johnny grew up surrounded by old folk music and developed an interest and deep passion for the traditions of folk song collecting, and the migration of musical instruments especially in South American and Amazonian culture.
Carmelo Torres is the greatest representative of the San Jacinto accordion-style cumbia, a music legacy he inherited from the legendary accordionist Andres Landero, his teacher. Carmelo is now one of the last living legends of this Sabaneros style of accordian playing which is sadly on the decline.
Carmelo talks about the movement of the accordion from Europe to Colombia, where it arrived in boats and found its way into the Colombian countryside to become a staple traditional sound of Cumbia music. Johnny draws the links between this same diatonic button accordion being used in British and Irish folk music, and shares his books of ancient folk ballads and poems with Carmelo for their collaboration.
Presented by Gemma Cairney
Produced by Jax Coombes
A BBC 6 Music Production for BBC Radio 4
Last on
Clips

Broadcasts