Main content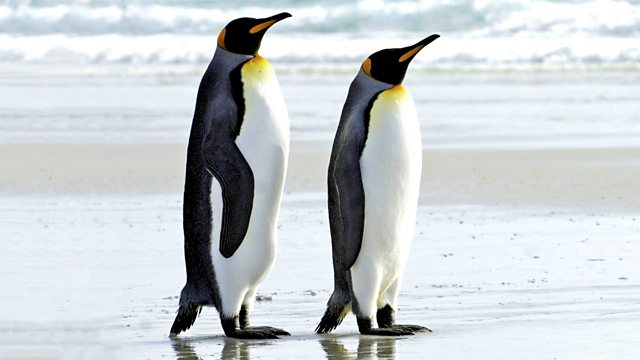 Penguin
From engaging funny figures to sentinels of change, penguins have entertained us and taught us life lessons.
Its arguable that a certain dinner-suited bird has captured our hearts and minds more than any other creature over the centuries. As Brett Westwood discovers, Penguins remind us of ourselves - Like us they stand upright, they travel in groups, they communicate all the time and they walk (or waddle) on land. They have both entertained us and taught us life lessons. Our earliest encounters with Penguins very often resulted in the slaughter of these flightless birds for food and oil and they may well have gone the same way as the Great Auk had public campaigns to put an end to their slaughter not been successful. Since then, they have been adopted as a brand name for books and biscuits inspired music, animations, films, tv shows, children's stories and there is even a Penguin Post Office, surrounded by Penguins, on a tiny island in Antarctica where you can post a card with a Penguin stamp. Producer Sarah Bunt
Contributors
Henry Eliot - Editor of Penguin Classics
Arthur Jeffes - Composer, Musician and frontman of the musical group, Penguin Café
Stephen Martin - writer and Antarctic Historian
Camilla Nichol - Chief Executive of the UK Antarctic Heritage Trust
Ruth Peacey - Film-maker and Ornithologist
Douglas Russell - Senior Curator of Birds, Nests and Eggs at the Natural History Museum in Tring
Cleopatra Veloutsou - Professor of Brand Management at the University of Glasgow
Adrian Walls - Assistant Zoo Manager. ZSL London Zoo
and Reader - Elizabeth Counsell.
Last on

Broadcasts