Main content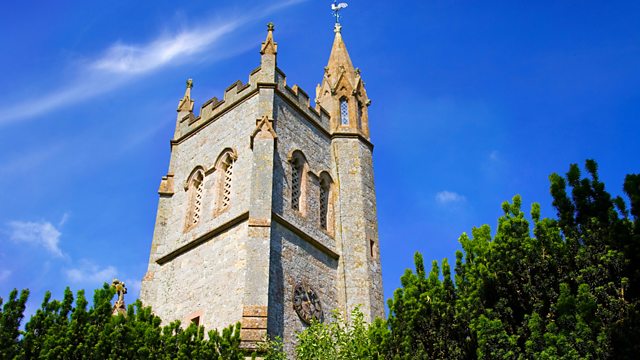 Sacred Space: Common Ground
Live from Lichfield Cathedral. The preacher is Becky Clark, director of the church buildings division of the Church of England.
Live from Lichfield Cathedral ahead of the first National Cathedrals Conference and led by the Dean, the Very Reverend Adrian Dorber. Preacher Becky Clark, Director of the Church Buildings division for the Church of England, will explore how the ministry of cathedrals contributes to the life of church and nation as a place for meeting and reconciliation. Music from Lichfield Chamber Choir includes Gjeilo "Ubi caritas et amor" and John Tavener's "Mother of God here I stand". Readings from Philippians 2: 5-11 and John 19: 25-30. The producer is Stephen Shipley.
Script
Please note:
This script cannot exactly reflect the transmission, as it was prepared before the service was broadcast. It may include editorial notes prepared by the producer, and minor spelling and other errors that were corrected before the radio broadcast.
It may contain gaps to be filled in at the time so that prayers may reflect the needs of the world, and changes may also be made at the last minute for timing reasons, or to reflect current events.

Radio 4 Opening Announcement:
BBC Radio 4.  Now it's time to go live to Lichfield Cathedral for today's Sunday Worship.  It's led by the Dean of Lichfield, the Very Revd Adrian Dorber, and it begins with the hymn 'There's a wideness in God's mercy.'

Hymn: There's a wideness (Corvedale)
Dean: Introduction and Welcome
Good morning and welcome to Lichfield Cathedral for Sunday Worship. Tomorrow, through to Thursday, cathedral staff from all over England, together with representatives from other parts of the Anglican Communion will be gathering in Manchester for the first ever National Cathedrals' Conference called 'Sacred Space: Common Ground'. We'll be thinking about the role and contribution cathedrals play in the life of the church and nation. Every cathedral is a visible sign of the church. They range in style, history and architecture: from the vastness of St Paul's to the dignified cosiness of Bradford, but each meant to be a place where bishops gather their people, and each in its own right is a centre of worship and mission. We are places of immense historical interest. Between 10 and 11 million people visit English cathedrals each year.
 
Here in Lichfield we can trace our origins back to the 7th century and the missionary zeal of our founder St Chad. We're a thick layer cake of stories and signs: we were one of the three great pilgrimage sites in the middle ages, we bear the marks of the 16th Reformation, the 17th century Civil War, the restoration of the monarchy and the church in Charles II's reign and then the nineteenth century's fascination and enchantment with the gothic tradition and the re-instalment of much that was lost. Our cathedral, in common with many others, is cruciform, cross-shaped: a sign that the cross is the saving mystery at the heart of our faith.
 
Two days ago we celebrated the Feast of the Exaltation of the Holy Cross, a day reminding us of the Empress Helena's pilgrimage to Jerusalem early in the fourth century and her discovery of the remains of Christ's cross. It is also a day marking the consecration of the Church of the Holy Sepulchre in 325. Two days ago here in Lichfield we dedicated and blessed a new cross-shaped icon of Christ crucified, risen and exalted. Today we meditate on how the cross is the sacred space God has made for us to have access to the fullness of his love and how under it and around it we find common ground. And here, in this place, we offer our worship in the shadow of the Icon of Christ dying and rising.
 
 
Let us pray:
 
We adore you, O Christ and we bless you
because by your holy cross, you have redeemed the world.
 
God our Father, we thank you for this house of prayer
in which you bless your family on its pilgrimage.
So quicken our consciences by your holiness,
nourish our minds by your truth,
purify our imaginations by your beauty,
and open our hearts to your love, that,
in the surrender of our will to your purpose,
the world may be renewed in Christ Jesus our Lord. Amen.
Jesus said: 'When I am lifted up from the earth
I will draw all people to myself.
Dean:
God is perpetually calling all the people of the world into discovering themselves as beloved children, bearers of his image and likeness. The great protestant theologian Karl Barth famously declared "There is no justification for setting any limits on our side to the friendliness of God towards humanity which appeared in Jesus Christ." Cathedrals are great gathering spaces not only for worship, but for dialogue and discovery; beautiful open spaces to restore and refresh the spirit.
 
Hymn: Gather us in (Marty Haugen)
Reader: Helen Grew
A reading from the Epistle to the Philippians Chapter 2
 
Let the same mind be in you that was in Christ Jesus, who, though he was in the form of God, did not regard equality with God as something to be exploited, but emptied himself, taking the form of a slave, being born in human likeness. And being found in human form, he humbled himself and became obedient to the point of death—even death on a cross.
 
Therefore God also highly exalted him and gave him the name that is above every name, so that at the name of Jesus every knee should bend, in heaven and on earth and under the earth, and every tongue should confess that Jesus Christ is Lord, to the glory of God the Father.
 
For the word of the Lord.
Thanks be to God.
Dean:
Those well known lines from St Paul's letter to the Philippians remind us of the humility of Jesus Christ: he comes to us as a servant, tending our needs, going down into the depths of our anxiety and fear to meet us in our lostness. This pattern of loving service, which we see in Jesus's washing of the disciples' feet, is the Christian mandate to give loving service to the world. For where charity and love are found there is God. We find common ground with one another when we love and respect, when we care to discover what is good and unifying.
Sometimes that discovery takes a long time to develop especially if we've been the victims of other people's selfishness and cruelty or if we're in a misunderstood minority. Yet the pattern of God's love in Christ is its determined tenderness and appropriateness.
 
Anthem: Ubi caritas (Ola Gjeilo)

Dean:
Ubi caritas et amor … where charity and love are found, there is God - an anthem often sung on Maundy Thursday during the ritual washing of feet.
 
The Christian story brims with the good news of people discovering a new identity and dignity through their encounters with Christ. Even in his dying moments, Jesus completes his work by giving his Mother to his beloved disciple, John, and John to his Mother. They are brought together to form the nucleus for the gathering of all his people.
 
Throughout Europe reminders of Christ's cross as wayside shrines or crosses in Market places were gathering points for communities. During the horrors of the First World War these town crosses in France and Belgium caused many to rethink their whole idea of God – not King of Kings and remote and ineffable, but the suffering one, bearing the colossal impact of our hatred and rejection and somehow absorbing evil in order to redeem it.
 
Reader: Kate Alcock
A reading from the Gospel according to John.
 
Meanwhile, standing near the cross of Jesus were his mother, and his mother's sister, Mary the wife of Clopas, and Mary Magdalene. When Jesus saw his mother and the disciple whom he loved standing beside her, he said to his mother, 'Woman, here is your son.' Then he said to the disciple, 'Here is your mother.' And from that hour the disciple took her into his own home.
 
After this, when Jesus knew that all was now finished, he said (in order to fulfil the scripture), 'I am thirsty.' A jar full of sour wine was standing there. So they put a sponge full of the wine on a branch of hyssop and held it to his mouth. When Jesus had received the wine, he said, 'It is finished.' Then he bowed his head and gave up his spirit.
 
For the word of the Lord.
Thanks be to God.
 
Anthem: Mother of God here I stand – John Tavener
Dean:  back announce anthem and introduce Becky Clark
  
Address: Becky Clark
When I was two, I chased yellow butterflies around Exeter Cathedral green. On short, chubby legs, I tottered around in front of one of the world's most beautiful buildings, thinking of nothing more than how to catch those elusive flutters of colour. It is my earliest memory.
When I was ten I came to this cathedral, Lichfield, for the first time. The cathedral building was surrounded by a medieval fair, involving thousands of people and many stalls of riotous energy; birds of prey, axe throwing, hog roasts; while the ruddy stone and the triple spires stood above it like a mighty ship sitting proud in turbulent waters.
Since then I have visited all of England's Anglican cathedrals, and most of those in Wales and Scotland. It's a project I'd recommend anyone to undertake. This week, the first National Cathedrals Conference will bring together many of those who put their heart and soul into opening up and caring for these incredible spaces. Today I want to consider what cathedrals, and the spiritual space they inhabit, can tell us about our common humanity.
Human life is intrinsically relational.  We are nothing if we are un-loved and un-loving.  The great biblical truth is that we are made in God's image and we are made for life with one another.  Even when that image gets cracked and distorted, when our life together is fractured and chaotic, God's love does not give up or write us off as hopeless.
 
In the reading from the letter to the Philippians we traced the parabola of God's love for us, descending from heaven, coming right down to our level. Christ humbled himself for us taking on the form of a servant, to redeem the world.  He raised us up and connects us with one another so that 'every tongue should confess that Jesus Christ is Lord'. In the reading from John's Gospel, we heard the story of Jesus' crucifixion, when, as Edward Muir has it, the people around the cross were "Sucked by the dream of curiosity". The crowd that day was not made up of the faithful; most of these people came to mock, and to pry. Yet through this hateful situation Jesus reconciles us to God and to one other. Many of our cathedrals are deliberately cross-shaped, because the Church begins at the foot of the cross. When we gather together, the crowd of guilty bystanders is transformed. Christ's last words are those of forgiveness, sheer pity for us in our lost-ness and alienation.  Even in his dying Jesus wills a new future for us.
Cathedrals occupy and represent, like the Church as a whole, the space that God's love in Christ makes possible. They carry this out in a variety of ways:  servant ministries to the homeless and long-term unemployed; public ministries to traumatised and bereaved people as we saw last year after the terrorist attacks in London and Manchester. They offer dialogue about great matters of ethics, and public policy; they sustain lively patterns of visitor and educational engagement, reaching out to millions each year. They are, as the Archbishop of Canterbury once said, safe places to do risky things in Christ's service.
Best of all, day by day, they offer access to everyone.  They are places where we can plug into history, but also find our way to awe and wonder.  Wonder is the beginning of wisdom. It is also the gate of prayer. Cathedrals offer a low threshold, visible, open and welcoming.  Prominent in their cityscapes, they are as unavoidable as the open-air demonstration of God's love on Calvary that first Good Friday.  Every day, a rhythm of prayer, music and worship allows us to come close to God. Cathedrals are the common ground because they serve the common good.
I never did catch those butterflies, although at the Lichfield fair I did reveal a natural aptitude for archery. But cathedrals were the lens through which I discovered something fundamental about faith: that we learn of God's love through gathering together. I rejoice in the invitation of Christ to worship, pray and experience life as part of the community of the faithful, and to support and encourage others as they support and encourage me. This sacred space of love, this common ground of witness, is open to everyone.
Prayers led by the Canon Precentor
  
Choir:
Bless the Lord my soul and bless God's holy name,
Bless the Lord my soul who leads me into life.
 
We come to God our Father,
through Jesus Christ our Lord in the power of the Holy Spirit, seeking blessing, healing, direction and peace
for ourselves and all the people of the world.
Fill with your Spirit, Christ's broken body the church.
Give to Christian people everywhere
a deep longing to find their home and unity in Christ' cross,
to take up the cross and to understand its mystery.
Choir:
Bless the Lord my soul and bless God's holy name,
Bless the Lord my soul who leads me into life.
 
We pray for the ministry and mission
of all the cathedrals of this land
that through their openness, their beauty,
their tradition and innovation
they may provide sacred space and common ground
for the church and the world.
 
Look in your mercy upon the world you loved so much
that you sent your Son to suffer and die.
Hear our prayers for all places of conflict, violence and war (especially ……………………)
Strengthen those who work to share the reconciliation
won at such a cost upon the cross.
Choir:
Bless the Lord my soul and bless God's holy name,
Bless the Lord my soul who leads me into life.
 
Bring healing by the wounds of Christ
to all who are weighed down by pain and injustice.
Help the lonely and the betrayed,
the suffering and the dying,
to find strength in the companionship of Jesus,
and in his dying and rising
to know their salvation and the gate of eternal life.
 
Therefore in confidence we pray:
Our Father, who art in heaven, hallowed be thy name;
thy kingdom come; thy will be done;
on earth as it is in heaven.
Give us this day our daily bread.
And forgive us our trespasses,
as we forgive those who trespass against us.
And lead us not into temptation;
but deliver us from evil.
For thine is the kingdom,
the power, and the glory,
for ever and ever.  Amen.
 
Hymn: Lift high the cross  (Crucifer)
 
Dean: Blessing
May God keep you in all your days,
May Christ and his cross shield you in all your ways,
May the Spirit bring you healing and peace.
May God the Holy Trinity drive all darkness from you.
And the blessing of God, Father, Son and Holy Spirit
be with you today and always.
Amen.
Organ Voluntary: Toccata in F (BuxWV 157) – Buxtehude