Main content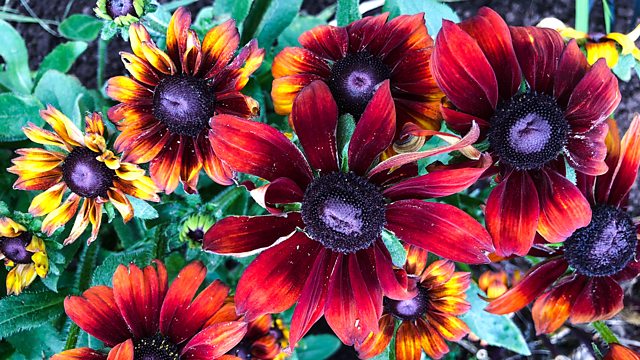 Episode 23
Monty Don gives advice on how to deal with overcrowded clumps of summer-flowering bulbs and plants yew to make a start on creating a topiary Nellie.
Monty gives advice on how to deal with overcrowded clumps of summer-flowering bulbs and plants yew to make a start on creating a topiary Nellie.
Frances Tophill travels to Somerset to the garden of a woman who grows a huge collection of unusual vegetables used in Thai cooking, Carol is in Devon celebrating one of the brightest additions to the late summer border - the rudbekia - and Mark Lane gives design tips on the main elements of a formal garden. Adam Frost puts the finishing touches to the newbuild garden in Leicester he started earlier in the year and we meet Luigi Valducci, who, for over 30 years, has had an abiding love for the highly perfumed, summer-flowering and tender Brugmansia.
Clips

Nid Hill's Thai veg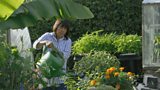 Nid Hill left Thailand in 1992, eventually settling in Somerset in the West Country. When Nid first arrived, ingredients for Thai cooking were hard to find. The basic condiments and flavourings were brought back from trips home, but Thai vegetables and herbs were difficult to source, forcing her to either do without or to grow her own.
Her family always grew their own vegetables in Thailand, so she learned early on how to raise them. Somerset was a different story though. Through trial and error she managed to create a Thai vegetable garden with a West Country twist. Though some of the growing is done outdoors, most of it is done inside protective structures. This recreates perfectly the warm moist environment needed by many Thai plants.
Nid has sourced many seeds from regular  trips back to Thailand, but thankfully  more and more varieties are becoming available from British seed companies. Her gardening style reflects her adaptable nature, and the garden is constantly evolving as she tries out new varieties.
As committed as she is to cooking genuine Thai dishes, Nid is an innovator who over the years has been combining traditional British vegetables with Thai condiments to create a unique style of fusion food.
Using more conventional veg like carrots, spring greens and potatoes, she spices them up using flavouring such as chillies, fish sauce and shrimp paste. The end result is not only incredibly tasty, but very hard to distinguish from authentic Thai cooking.


Houseplants for beginners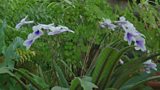 If you are new to houseplants it might be an idea to start off small. This way you won't need to spend huge amounts on a large specimen plant which you might not yet know how to care for. Starting out small gives you a chance to try new plants cheaply, and get used to caring for them from scratch.
If you have friends that have houseplants which you like, see if you might be able to get a cutting and create a new plant for free. This may take a little more patience, but the knowledge you will gain in doing so will enable you to try more challenging plants later on.
Seeing a smaller plant flourish and grow into a larger specimen can be hugely rewarding. Once you have got the knack of caring for a small collection of houseplants, it might be time to invest in some larger plants which can have an amazing impact within the home.
Strong fast growing plants tend to be easier to look after.  The rapidly growing trailing plant Tradescantia zebrina is a great plant to start with. It roots well from cuttings and is great on a shelf in a bright position where it will soon trail down over.
The spider plant Chlorophytum comosum is tough as old boots, but also very attractive and will soon produce endless trails of offsets which can easily be used to make more plants.
If you want to go for the jungle look, try Monstera delicosa the Swiss cheese plant. These are quite often sold clambering up a moss pole, which makes watering really easy. They do grow fast though, so make sure you have enough room!
Zonal pelargoniums or geraniums do well on a sunny windowsill and will reward you with plenty of flowers. They take really well from cuttings and root so readily, this can simply be done in a jar of water.
Finally cacti and succulents are easy and very rewarding. They need several hours of full sun a day otherwise they become etiolated, growing upwards looking for light. Be very sparing with watering especially in the winter. Rosette shaped Echeverias are a great one to start with and come in many different shapes and sizes.

Credits
| Role | Contributor |
| --- | --- |
| Presenter | Monty Don |
| Presenter | Frances Tophill |
| Presenter | Adam Frost |
| Presenter | Carol Klein |
| Presenter | Mark Lane |
| Series Producer | Sharon Fisher |
| Executive Producer | Paolo Proto |
| Production Manager | Michael Rogers |