Main content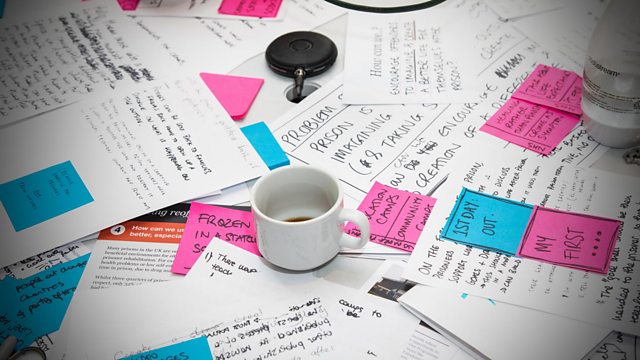 Twelve of the country's brightest young minds gather to solve difficult social problems.
Junior doctors are the backbone of the NHS, including its emergency services. But more and more of them are now leaving the profession, due to low morale and burnout.
Can our two teams find a solution? Follow them as they gather in St Thomas Hospital in London where they have just one day to come up with a fix that will convince a panel of judges - including the hospital's medical director.
But with such a tricky problem, can they succeed?
Presented by Matthew Taylor and facilitated by Cat Drew from Uscreates.
Team One:
- Rebecca Ford - head of design programme, RSA
- Abi Freeman - Organisational psychologist, Brink
- Alma Berliner - IPSOS Mori
- Sanjan Sabherwal - Policy expert, Policy Lab
Team two:
- Lil Adair - Design consultant, USCreates
- Cathy Runciman - Atlas of the Future
- Oliver Sweet - IPSOS Mori
- Jennie Mcshannon - Organisational consultant, Tavistock Consulting
- Saskia Revell - National Investigator at Healthcare Safety Investigation Branch
Expert witnesses:
- Roland Walker - Consultant surgeon
- Professor Dame Jane Dacre - Head of the Royal College of Physicians
- Azra Zyada - Junior doctor and independent researcher
- Celia Glass - Professor of Management Science, Cass Business School
Judges:
- Simon Steddon - Medical Director, Guy's and St Thomas' Trust
- Will Owen - Chief Registrar, Guy's and St Thomas' Trust
- Patrick Reyburn - Engagement manager, Guy's and St Thomas' Charity
Series producer: Estelle Doyle and Producer: Jordan Dunbar.
Editor: Penny Murphy.