Main content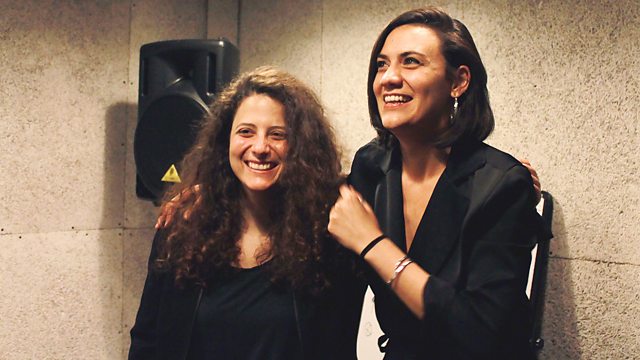 Nadine Shah travels to Beirut
Gemma Cairney takes British musician Nadine Shah for a collaboration in Beirut with Lebanese musician Youmna Saba.
The Sound Odyssey is a new series in which Gemma Cairney takes British artists for musical collaborations in different countries around the world, hearing the musicians in a new light, and exposing their artistic process as they create something new in different and unfamiliar surroundings with an artist they have never met before.
In the first of a series of journeys Nadine Shah a British Muslim artist travels to Beirut, to collaborate with Lebanese singer songwriter and musicologist Youmna Saba. The challenge will be for them to create a track together in Beirut in just two days.
Both have very different musical styles and cultural heritages. Nadine was born in Whitburn, South Tyneside, to an English mother of part-Norwegian ancestry and a Pakistani father. Her music is very much inspired by conflict, immigration, and cultural and religious identity, and her latest Mercury Prize nominated album, Holiday Destination was written about the Syrian refugee crisis. Although Nadine's lyrics have been very much inspired by the conflict in Syria she has never been to the Middle East.
Youmna Saba holds a master's degree in Musicology, focusing mainly on the parallels between classical Arabic music and Arabic visual art. She is a part-time instructor at the musicology department at the Antonine University. Her sound borrows elements from the Arabic music tradition, and blends them with electronic treatments, sonic textures and loops.
They will meet and collaborate in Beirut, a city once ravaged by civil war that has been gaining a reputation as a burgeoning cultural hub where cultural and religious diversity sits side by side.
Once dubbed "the Paris of the Middle East", the Lebanese capital is a beautiful and daringly hopeful vision of what the future of the region might hold - A city of new ideas -art, fashion, political movements, multiculturalism and a thriving music scene.
Whilst in the city Gemma Cairney meets local artists including Dima Matta the host of Cliffhangers, a storytelling group and platform which offers a safe space for people to express themselves in a country where this is very problematic and censorship is very much a real thing. And we hear from Syrian rock group Tanjaret Daghet, who now live in Beirut as exiles, anxious about their families and homes.
Presented by Gemma Cairney
Produced by Jax Coombes
A BBC 6 Music Production for BBC Radio 4.