Main content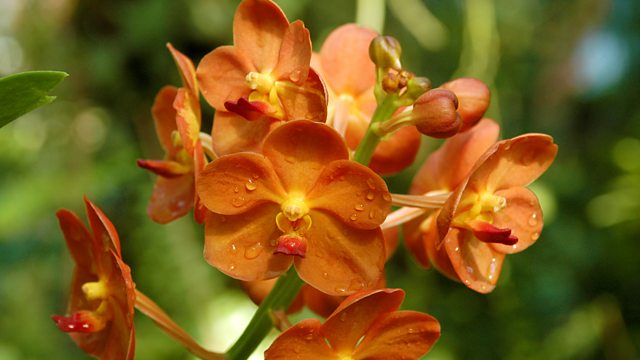 Orchid
Brett Westwood explores our relationship with orchids and uncovers a world of obsession, beauty, femme fatales, ghosts, sex and deception.
Mark Flowers is a wildlife film maker and a man with a passion for orchids. He has been collecting and growing orchids since he was a child - and as he guides Brett round his collection he reveals just how these stunningly beautiful plants have captivated him over the years. The story of our relationship with Orchids is a story of obsession, money, deceit, beauty, femme fatales, ghosts deception and let's be honest, sex. Orchid flowers come in a variety of colours, shapes and sizes - but they all have one thing in common - they have evolved to maximise their chances of luring a pollinator and be fertilised - and they do so with such style! It's easy to see why have they captivated and lured us too! Producer Sarah Blunt.
Contributors
Chris Cleal - Head of Botany at the National Museum Wales
Mark Flowers - Wildlife filmmaker and keen orchid grower
Amy Hinsley - Researcher at the Oxford Martin Programme and a member of the IUCN's Orchid Specialist Group.
Karl Kusserow - John Wilmerding Curator, Princeton University Art Museum
Susan Orlean - staff writer at the New Yorker magazine and author of eight books including The Orchid Thief.
Jacob Phelps - lecturer at the Environment Centre at Lancaster University and a member of the IUCN's Orchid Specialist Group.
Fiona Stafford - Professor of English Literature at the University of Oxford
And the reader is Elizabeth Counsell.
Last on

Broadcasts